Curried monkfish & clams
Ed Smith
A light, fragrant yet warming mid-week meal for late summer or autumn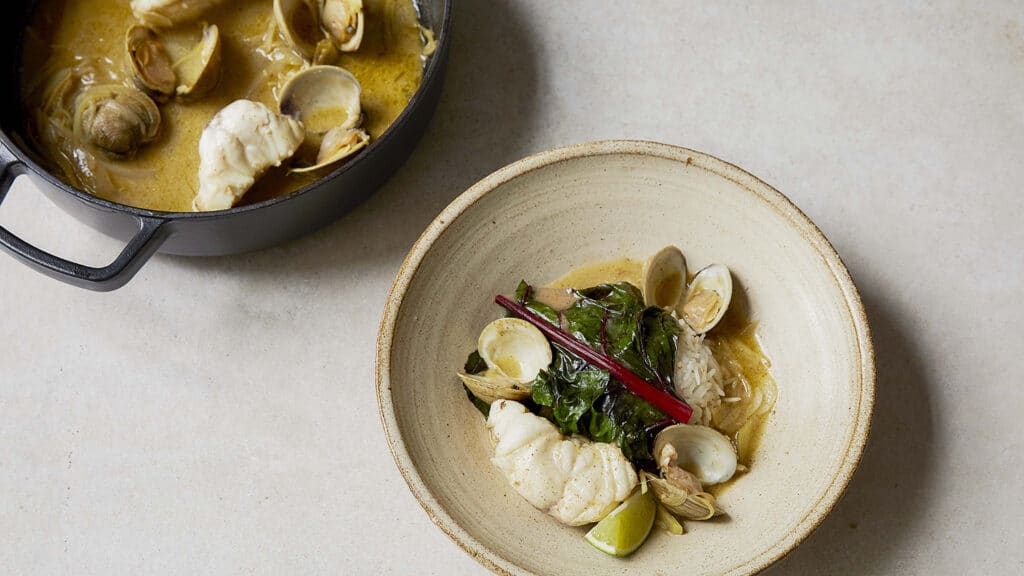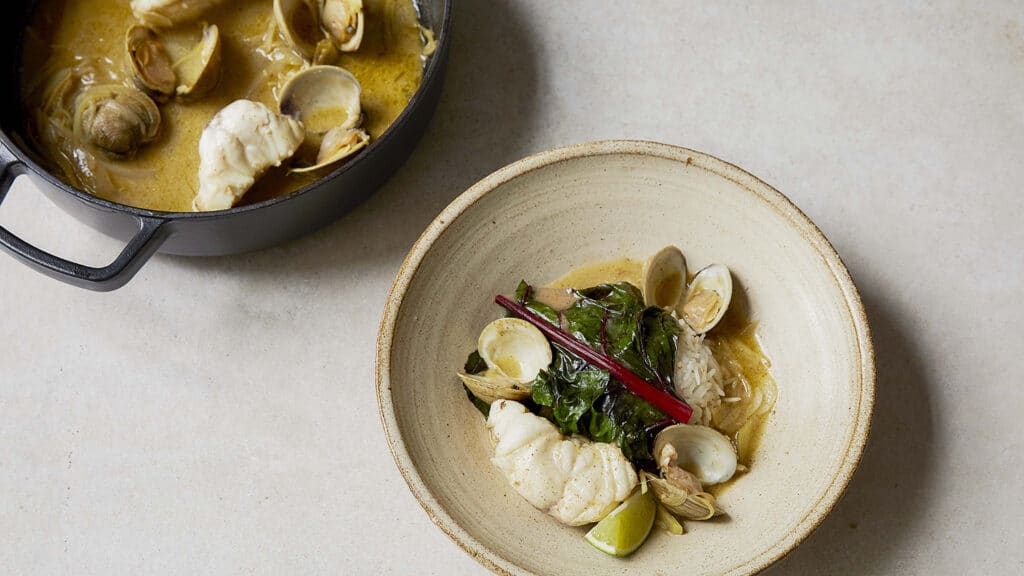 Ingredients
250g palourde clams
200g rainbow chard
240g basmati or jasmine rice
A thumb-sized piece of ginger, cut to matchsticks
1 large banana shallot, finely sliced
2 cloves of garlic, finely sliced
2 tsp Thai green curry powder
200ml coconut milk
2 tsp golden caster sugar
450-500g monkfish fillet
1 lime
Method
Purge the clams by placing them in a bowl and covering with cold water. Leave for 5 mins, drain the gritty cloudy water away and repeat until clear. Discard any clams that remain open if tapped.
Cut the stems off the chard at the point those stems meet the leaves. Cut the stems into 2cm lengths, and halve any leaves that are bigger than your hand.
Rinse the rice, then place in a saucepan of rapidly boiling salted water. Cook for 2 mins fewer than the packet instructions, drain and leave to steam.
Once the rice is on, start cooking the monkfish. Place a heavy-bottomed sauté pan (for which you have a lid) on a medium heat. Add 1 tbsp sunflower oil, then the ginger, shallot and a pinch of salt. Sweat and soften over a low-medium heat for 4-5 mins, stirring occasionally. Add the garlic and cook for 1 min more, before measuring the spice powder into the pan and cooking for 1 min, stirring continuously. Pour in the coconut milk, fill the tin with water, then pour that into the pan. Add the sugar and simmer for 5 mins.
Cut the monkfish into four equally weighted portions (probably around 4cm deep). Add the clams to the broth and place the lid on top of the pan. After 2 mins, add the monkfish pieces to the bubbling broth, return the lid and simmer for 2-3 mins more, shuffling the pan once or twice, until the clams are all open and the monkfish has turned from translucent to pearlescent white. Remove the pan from the heat, squeeze in the juice of half the lime and cut the other half into quarters.
While the monkfish and clams are cooking, place another large frying pan or sauté pan over a medium-high heat with a knob of butter or 1 tbsp coconut oil or light olive oil. When warm, add the chard stems, fry for 2 mins, then add the chard leaves and stir occasionally until wilted – this should take around 4 mins.
To serve, pile a ladle of rice into the middle of each bowl or plate. Lay chard leaves and stems over the rice. Add the monkfish portions and ladle the clams and curried sauce on top and around, with a wedge of lime on the side.
Image: Kim Lightbody
Where to buy these ingredients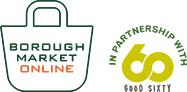 Shop online
If you can't make it to the Market, Borough Market Online offers a wide selection of our traders' produce, delivered direct to your door.