Fish stew & rouille on toast
Angela Clutton
A showcase for the dish-lifting abilities of rouille: a rustically delicious version of mayonnaise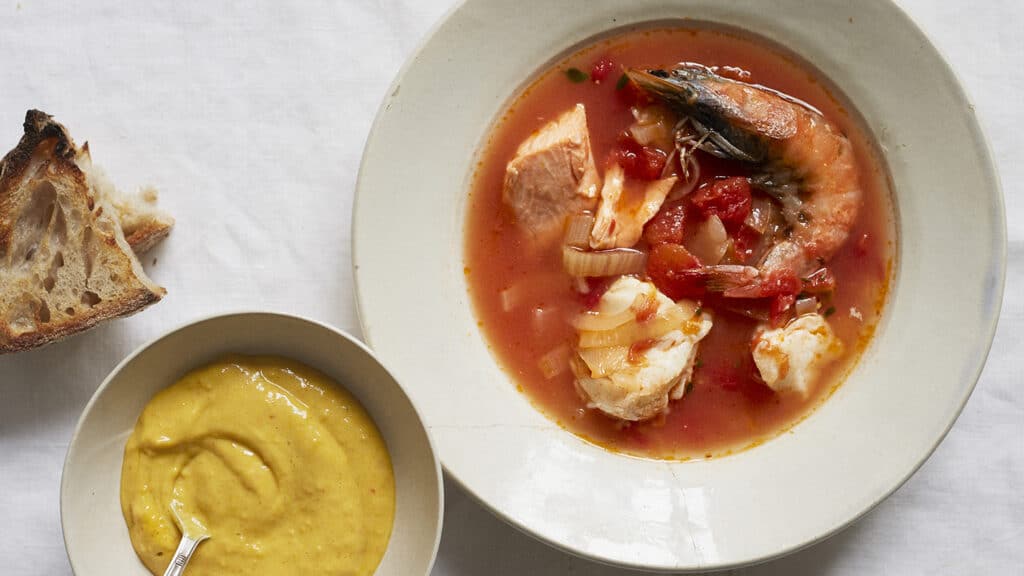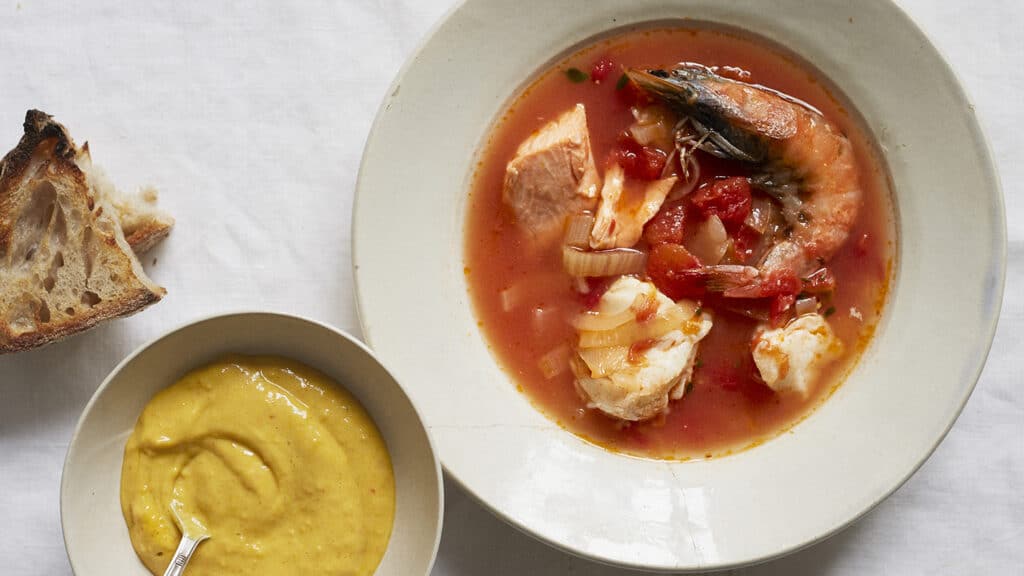 Ingredients
For the rouille
½ slice of bread, crusts removed
2 tbsp hot fish stock or water
1 garlic clove
A pinch of saffron
2 egg yolks
½ tsp cayenne pepper
2 tsp red wine vinegar
1 tsp Dijon mustard
100ml extra virgin olive oil
For the fish stew
2 onions
2 fennel bulbs
Oil or butter, to sauté
2 garlic gloves, crushed
150ml fish stock
100ml white wine
1 tin of chopped tomatoes
4 fish fillets of your choice
4 king prawns
Chopped parsley, to garnish
Method
Soak the bread in the hot stock or water. While that is soaking, peel the garlic clove and crush in a pestle and mortar with a good pinch of salt until it becomes a paste. Add the soaked bread and saffron, and pound again to a paste. Transfer to a mixing bowl and whisk in the egg yolks, cayenne, vinegar and mustard. Then slowly whisk in the oil, adding it bit by bit. Taste for seasoning.
To make the fish stew, slice the onions and fennel bulbs. Heat the oil or butter in a large sauté pan, and gently cook the vegetables for 15 mins. Add the garlic and cook for 5 mins. Pour in the fish stock, white wine and chopped tomatoes. Simmer for 5 mins. Cut the fish fillets into chunks and slide into the pan. Cook for 5 mins, until opaque. Finish with the king prawns fried in oil, chopped parsley, and the rouille thickly spread on toast.
Image: Kim Lightbody
Where to buy these ingredients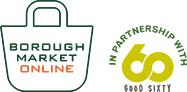 Shop online
If you can't make it to the Market, Borough Market Online offers a wide selection of our traders' produce, delivered direct to London addresses and, where available, by post to the rest of the UK. The service also includes a range of Best of Borough Market hampers and meal boxes.