Heritage tomatoes on tahini
Ed Smith
Chunky, sharply dressed tomatoes, served on top of whipped tahini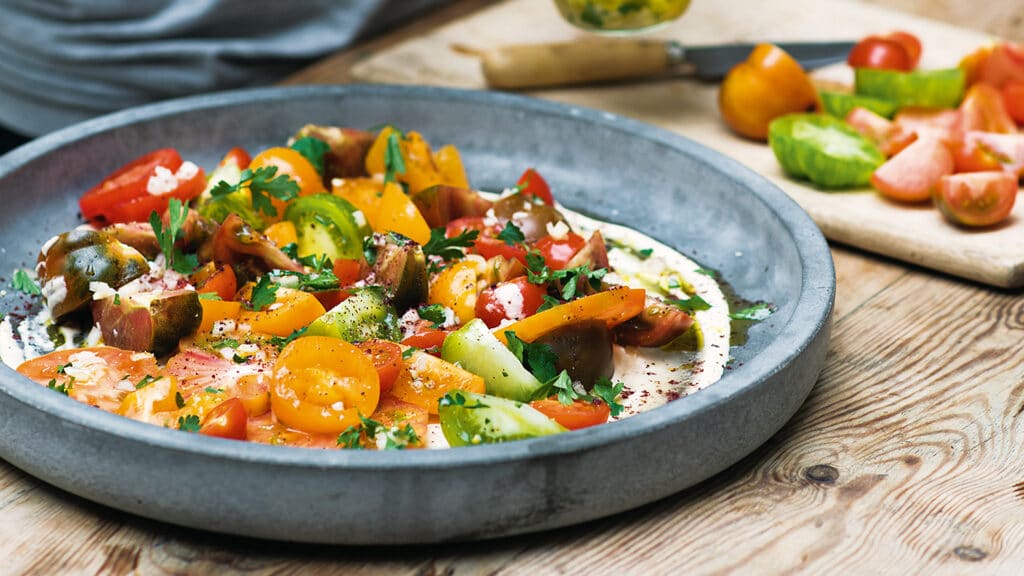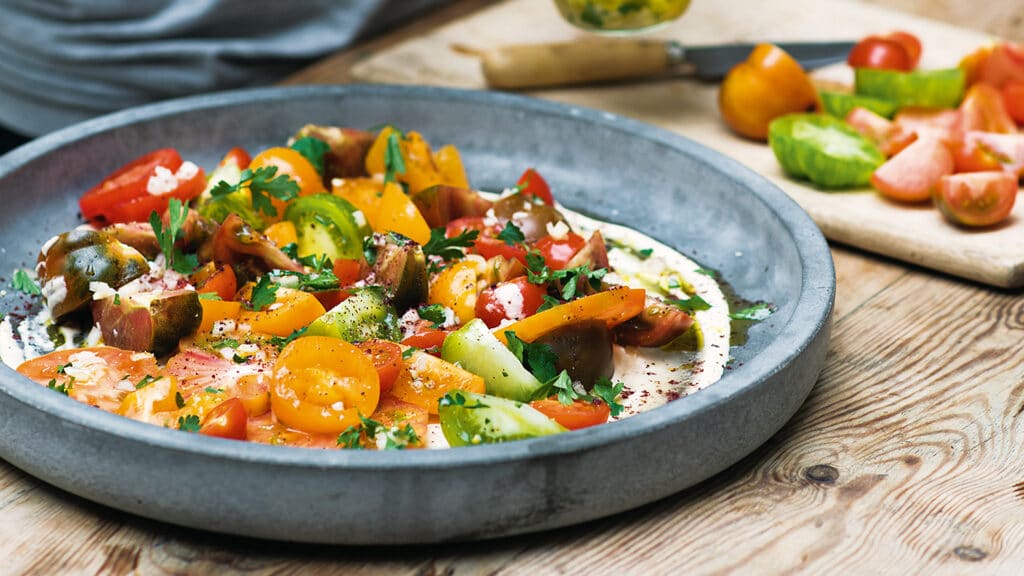 Recipe Meta
Prep
10 mins (plus 20 mins resting)
Ingredients
80g tahini
60ml chilled water
Juice ½ lemon
500g heritage tomatoes
For the dressing
2 small shallots, finely diced
2 cloves of garlic, crushed
1 tsp sugar
3 tbsp extra virgin olive oil
Juice of ½ lemon
4 sprigs of parsley, leaves picked and finely chopped
To serve
1-2 tsp sumac
Fresh sourdough or ciabatta
Method
Whisk the tahini in a bowl with the chilled water and lemon juice. Initially it might appear as though the tahini and liquids won't combine, but a little perseverance with a balloon whisk will result in a light, thick yoghurt-type texture. Cover and refrigerate until required.
Cut the tomatoes into 3-4cm chunks. Transfer them to a mixing bowl and sprinkle generously with flaky sea salt. Mix and leave to rest at room temperature for 20 mins.
Whisk the dressing ingredients together in a bowl, including 3-4 grinds of the pepper mill. Drain away the excess juices from the tomatoes, then stir the dressing through the tomatoes.
Remove the tahini from the fridge 5 mins before serving. Dollop it onto a large plate or platter, then tumble the dressed tomatoes on top. Sprinkle with the sumac and parsley and serve with the bread.
Image: Issy Croker
Recipe from The Borough Market Cookbook by Ed Smith (Hodder & Stoughton)
Where to buy these ingredients