Jerusalem artichoke soup with hazelnut oil & crispy skins
Ed Smith
A classy, velvety winter soup from The Borough Market Cookbook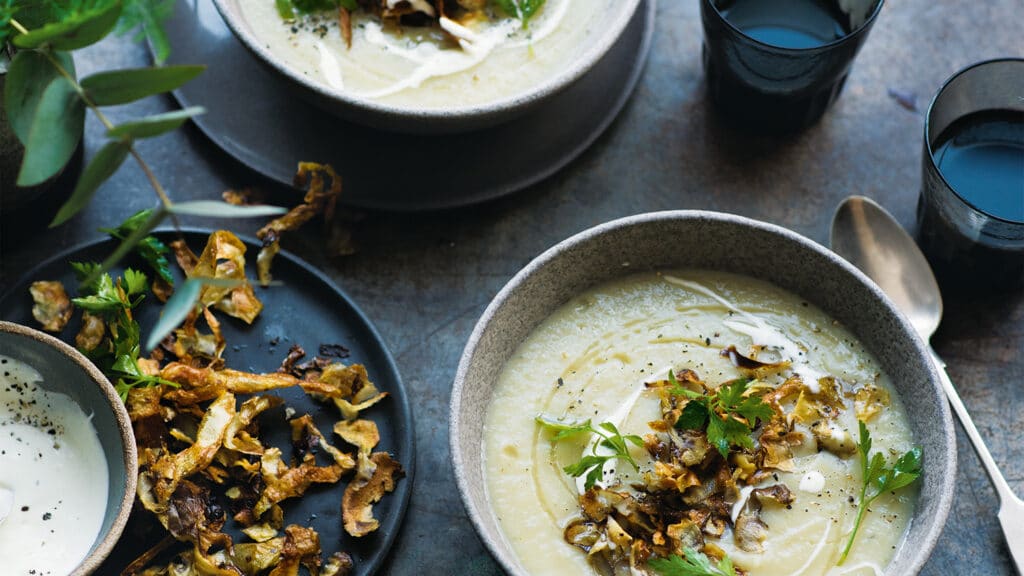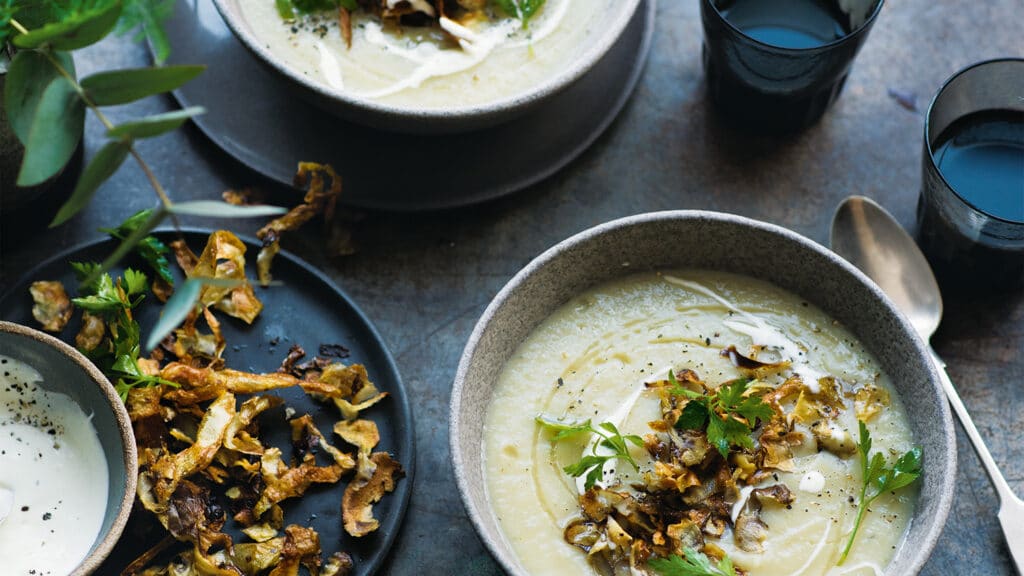 Ingredients
30g butter
1 onion, chopped
2 medium leeks, trimmed, finely sliced and washed
1kg jerusalem artichokes, 900g of them peeled and cut into 2cm chunks (skin reserved),
100g unpeeled 250g floury potatoes, peeled and cut into 2cm chunks (skin reserved)
6 sprigs of thyme, leaves picked
Parmesan rind (optional)
1.3 litres hot vegetable or chicken stock
Hazelnut oil, for drizzling
100g full-fat creme fraiche
3 cloves of garlic, crushed
Chopped chives or parsley (optional)
Method
Heat the oven to 240C. Melt the butter in a large, heavy-based saucepan over a medium heat. Add the onion, leek and a pinch of flaky sea salt and cook for 4-5 mins until softened but not coloured, stirring frequently.
Put the chunks of artichoke and peeled potato in the saucepan, along with the thyme leaves, garlic and parmesan rind (if using). Reduce the temperature to low, place a lid on top and cook gently for 15 mins, stirring occasionally. Pour the stock into the pan and simmer for a further 30 mins until the artichokes are completely soft. Use a hand-held blender, food processor or stand blender to puree the soup until velvety smooth.
Just after the artichoke and potatoes are added to the saucepan, toss the vegetable peelings in 1 tbsp vegetable or sunflower oil then scatter them over a baking tray in one layer – use a fork to spread the peelings out so they roast and crisp up, rather than clump and become soggy. Place towards the top of the hot oven and roast for 10-15 mins until golden and crisp, shuffling them around after about 8 mins. Remove, sprinkle with lots of salt and a few drops of hazelnut oil, mix, and try to avoid eating them before the soup is ready. If making in advance, store in an air-tight container at room temperature.
Check the soup is at a desirable consistency – it should be neither too watery nor thick like a purée; cook to evaporate liquid or add a splash more as necessary. Once happy, season generously with salt and black pepper and serve with a dollop of creme fraiche and a generous swirl of hazelnut oil in each bowl, plus a scattering of chives or parsley (if using) and a handful of the peeling crisps. Finally, slice the reserved artichokes very thinly (with a mandoline if you have one), and add a few to each bowl to garnish.
Recipe from The Borough Market Cook by Ed Smith (Hodder & Stoughton)
Image: Issy Croker
Where to buy these ingredients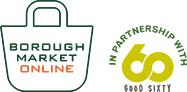 Shop online
If you can't make it to the Market, Borough Market Online offers a wide selection of our traders' produce, delivered direct to London addresses and, where available, by post to the rest of the UK. The service also includes a range of Best of Borough Market hampers and meal boxes.