Loaf-baked whole cheese with girolles
Angela Clutton
Bread stuffed with baked cheese and mushrooms, from Borough Market: The Knowledge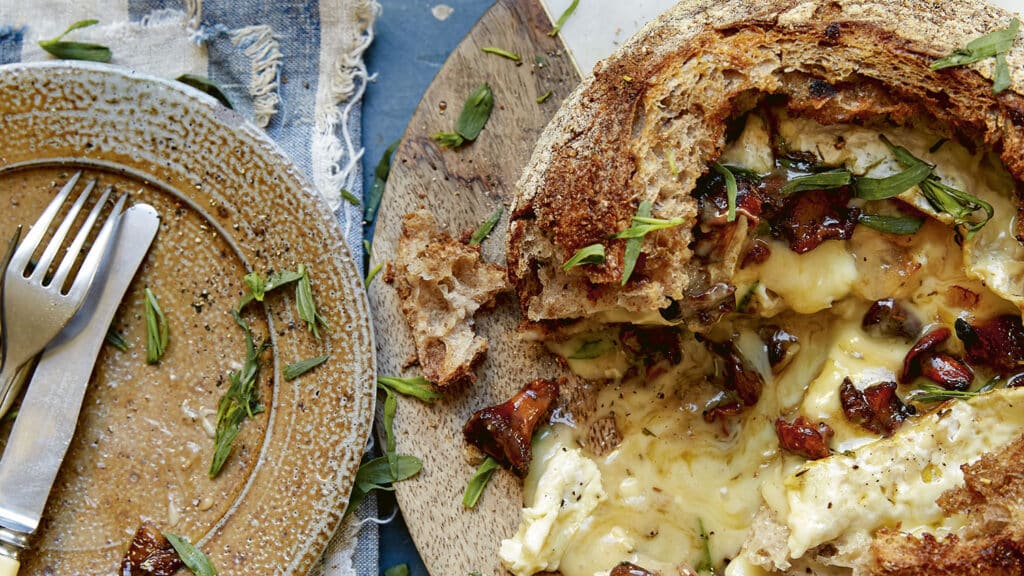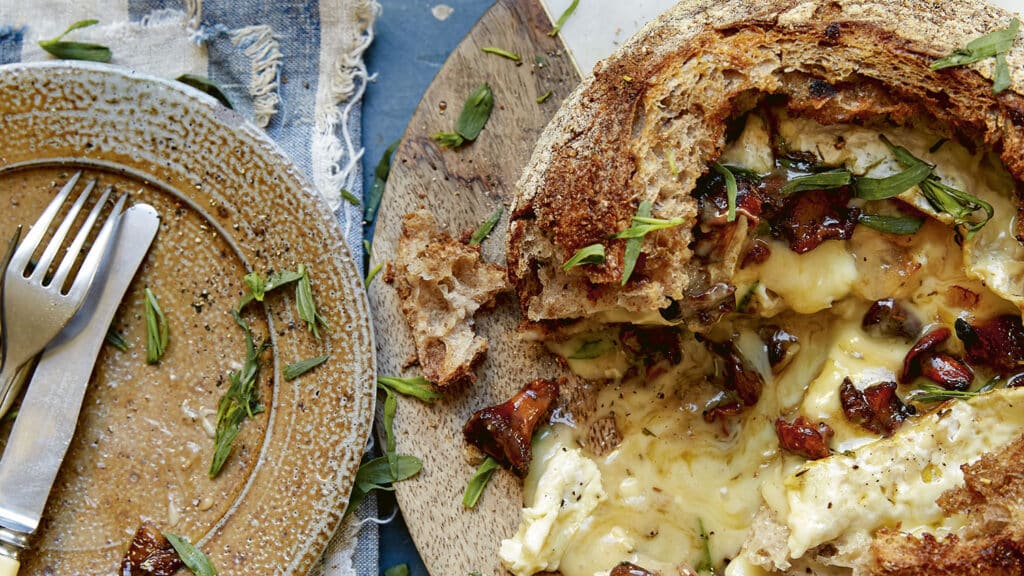 Recipe Meta
Serves
3-4 as a main, 6 as part of a feast
Ingredients
1 round baking cheese such as camembert (about 250–300g)
1 round sourdough or cob loaf
1 clove of garlic
30g butter
25g small girolle mushrooms
½ tsp herbes de Provence
2 tsp honey
50ml white wine or vermouth
Method
Preheat the oven to 190C.
Cut the top rind off the cheese. Then cut the top off the loaf and pull out enough of the crumb inside that the cheese can sit comfortably in the loaf.
Peel the garlic and cut into slivers. Melt the butter in a small saucepan over a low-medium heat. Cook the mushrooms until just softening, then add the garlic slivers and stir in the herbes de Provence. Take off the heat and stir in the honey and the wine. Mix well and season lightly.
Sit the loaf on a large piece of foil on a baking tray. Spoon the mushroom mix over the top of the cheese, then spoon the rest of the juices over, allowing some to go over the outside of the bread too. Push at the garlic pieces so they sink into the cheese a little. Wrap loosely in the foil and bake for 20 mins. Increase the oven temperature to 210C, open the parcel up just enough to reveal the cheese, and return to the oven for another 5 mins to finish off.
Cut or tear the loaf into wedges and serve immediately while the cheese is still meltingly hot.
Image: Kim Lightbody
Recipe from Borough Market: The Knowledge with Angela Clutton (Hodder & Stoughton 2022)
Where to buy these ingredients