Mussels in lemongrass, galangal & turmeric broth
Angela Clutton
Mussels in an aromatic broth, from Borough Market: The Knowledge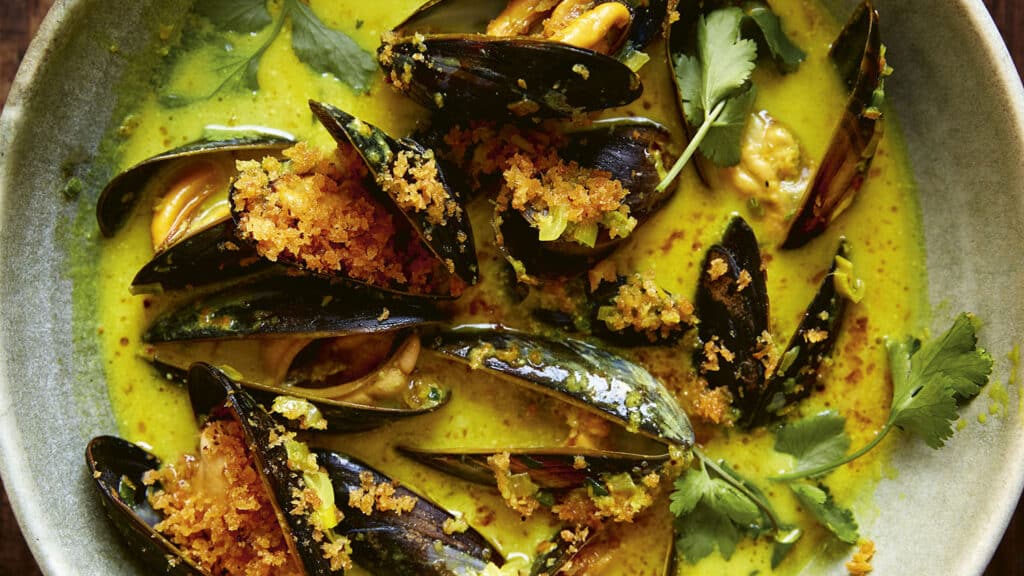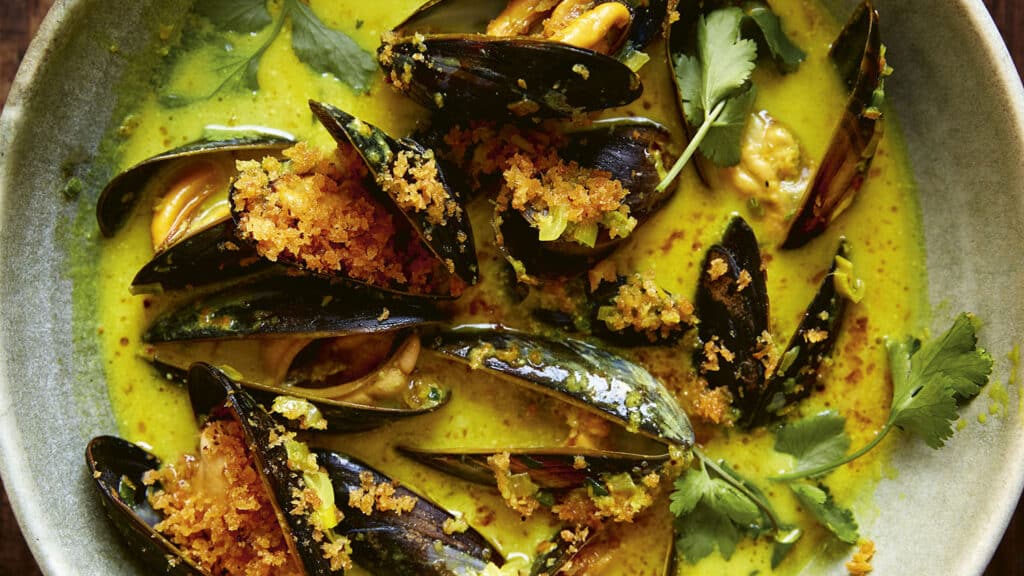 Recipe Meta
Serves
2 as a main, 6 as a starter
Ingredients
1kg mussels
1 banana shallot
2 tbsp ghee or rapeseed oil
1 lemongrass stalk
2 cloves of garlic
5cm piece of turmeric root
5cm piece of galangal
50g coriander
400ml tin of coconut milk
30g panko breadcrumbs
¼ tsp chilli flakes
Method
Wash the mussels in cold water. De-beard as necessary and tap any that aren't quite closed. If they don't close up straight away, discard them, along with any broken ones. Sit your mussels on a bowl of ice in the fridge until needed.
Peel and finely chop the shallot. Heat 1 tbsp of the ghee or oil in a wide pan over a medium heat. Add the shallot and cook for 5 mins or so until just softening. In the meantime, trim the lemongrass, remove its tough outer leaves and finely chop along with the peeled garlic. Add to the shallot, stir for a couple of minutes, then grate in the turmeric root and galangal – there's no need to peel them. Finely chop just the stalks of the coriander and add those too. (Be sure to keep back the leaves.) Stir everything for another minute or until nicely softening, then pour in the coconut milk, add some salt, and let it simmer gently for a few minutes.
Increase the heat and add the mussels. Put the lid on the pan and let them cook, undisturbed, for 4 mins. While that is happening, heat the remaining tablespoon of ghee or oil in a small frying pan over a medium heat, add the panko breadcrumbs with the chilli flakes and toss around until nicely golden. Tip into a bowl.
Take the lid off the pan of mussels and you should see them excitingly opening. If some are still closed, replace the lid and cook for another 2 mins, then remove from the heat and discard any that have remained closed. Chop the coriander leaves. Scatter half over the mussels and broth and stir the rest through the crisped chilli breadcrumbs. Finish by scattering the breadcrumbs over the top of the mussels and broth, and serve straight away.
Image: Kim Lightbody
Recipe from Borough Market: The Knowledge with Angela Clutton (Hodder & Stoughton 2022)
Where to buy these ingredients