Rhubarb crumble loaf cake
Juliet Sear
A simple loaf cake elevated by a sweet, crunchy topping and roast rhubarb accompaniment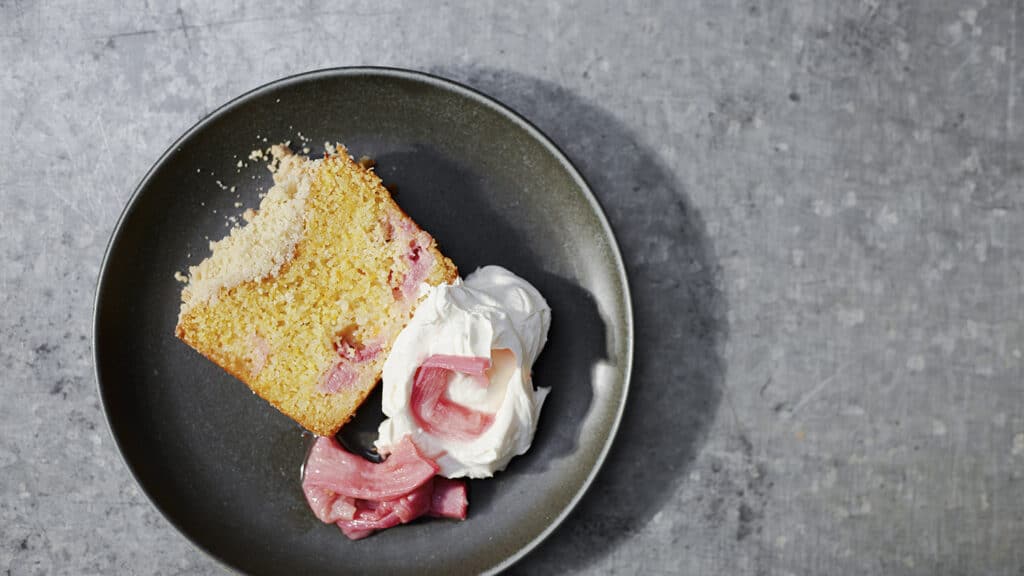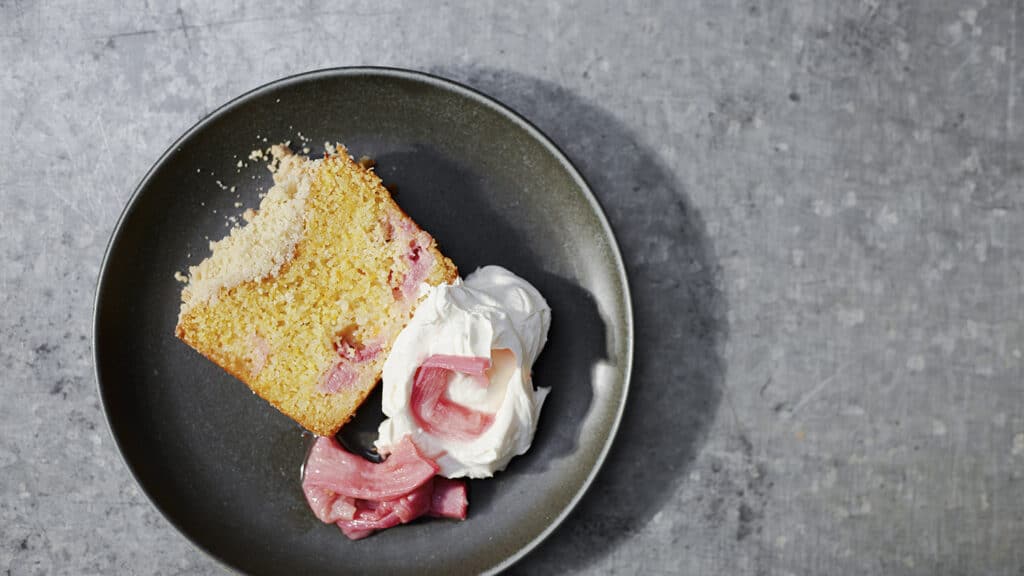 Ingredients
For the loaf cake
100g golden caster sugar
100g butter
Zest of 1 orange
2 medium eggs
80g polenta
1 tsp baking powder
60g ground almonds
120g rhubarb (chopped into 2cm lengths)
For the crumble topping
40g plain flour
20g slightly salted butter (cold and cut into cubes)
30g golden caster sugar
For the roast rhubarb (optional)
200g rhubarb cut into 8cm lengths
20g caster sugar
Mascarpone
Equipment
Stand mixer with paddle attachment or bowl and wooden spoon
Small 1lb loaf tin, greased and lined with baking parchment, sitting on a small baking tray to catch any crumbs
Small roasting dish
Method
Heat the oven to 180C. Beat the sugar and butter together in a stand mixer with a paddle attachment until light and fluffy. Add the orange zest, then beat in the eggs one at a time. Fold in the polenta, baking powder and ground almonds.
Spoon half the mixture over the base of the cake tin and spread it out evenly with a pallete knife or the back of a spoon. Arrange the chopped rhubarb over this layer of cake mixture, then drop the rest of the mixture over the top. Smooth with a spoon or palette knife. Bake for 20-25 mins.
While the sponge is baking, prepare the topping by rubbing the flour and butter between your fingertips until it resembles breadcrumbs, then mix in the sugar.
When the cake has been baking for 20-25 mins and is set enough to hold the crumble and not sink, remove it from the oven. Turn up the heat to 200C. Crumble the topping onto the part-baked cake, creating a single layer of lumps and crumbs. Bake for a further 20 mins until the cake is cooked through and the crumble is lightly golden.
While the crumble-topped cake is back in the oven, place the rhubarb in a small roasting dish, sprinkle with the caster sugar and toss through with your hands. Cover with tin foil and bake for 15 mins, then remove the foil and roast for a further 5 mins. Leave the rhubarb to cool in its syrupy juices.
When the loaf is cooked, leave to cool in the tin for 10 mins, then cool fully on a wire rack. Serve in slices dressed with a couple of pieces of glorious roasted rhubarb and a generous sprinkling of crumble, finished with mascarpone.
Image: Kim Lightbody
Where to buy these ingredients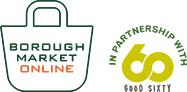 Shop online
If you can't make it to the Market, Borough Market Online offers a wide selection of our traders' produce, delivered direct to London addresses and, where available, by post to the rest of the UK. The service also includes a range of Best of Borough Market hampers and meal boxes.