Rhubarb & ice cream
Tim Maddams
Slow-cooked forced rhubarb with a vegan coconut ice cream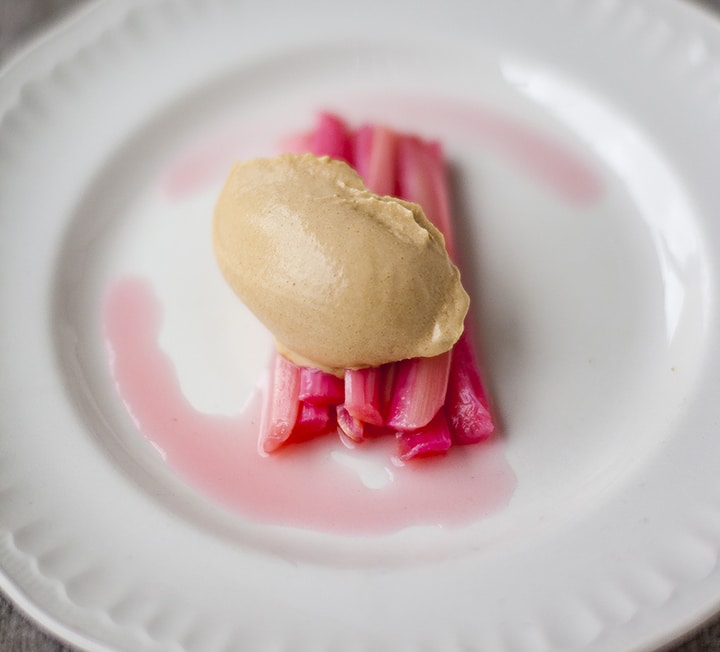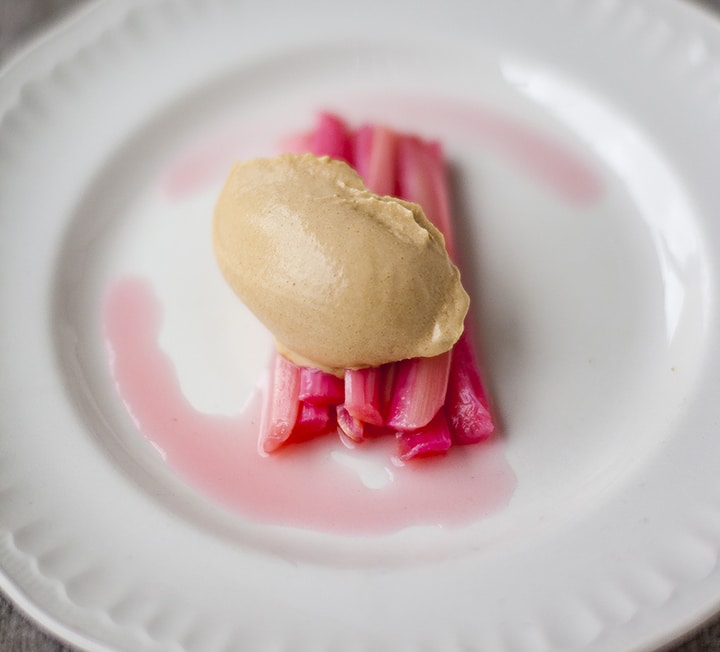 Ingredients
300g fresh forced rhubarb, trimmed and washed
100g caster sugar
1 star anise
1 tin organic coconut milk
150g organic coconut palm sugar
1 dessert spoon cornflour
Method
Preheat the oven to 100C. Cut the rhubarb stems into 3cm lozenges, cut on the angle, just to be fancy. Toss the rhubarb in the sugar and place in a wide glass dish, break up and scatter over the star anise. Cover with a lid or cling film and place in the very low oven, checking back every 20 mins or so to make sure it's not cooking too fast. It's done when it's just tender, but still firm and full of colour – usually around 45 mins, but thicker stems may take longer. If you have a mixture of thick and thin, cut the thick bits in half lengthways to even up the cooking time.
Meanwhile, place the coconut milk, coconut sugar and cornflour in a pan, stir and bring to a simmer. Once thickened, remove from the heat. Allow to come to room temperature before churning in an ice cream machine. If you don't have a churn, just place in a bowl in the freezer and stir every 20 mins until ice cream is formed. You can churn the ice cream in advance and keep it in the freezer, but it's better churned last minute. If you do churn in advance it's a very good idea to take it out of the freezer half an hour or so before you want to serve it.
Serve the rhubarb and ice cream together in bowls.
ALTERNATIVES Toasted hazelnuts can be sprinkled over the top. Fresh ginger can be grated into the ice cream while it churns.
Image: John Holdship
Where to buy these ingredients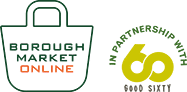 Borough Market Online
If you can't make it to the Market, Borough Market Online offers a wide selection of traders' produce, delivered direct to your door.