Roast garlic, almond & bread soup
Ed Smith
A refreshing, zippy, chilled soup, perfect for a summer dinner party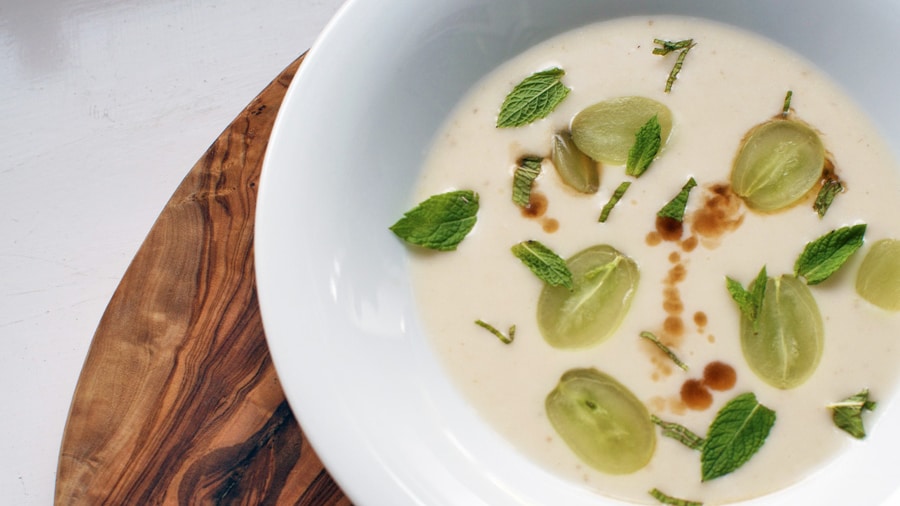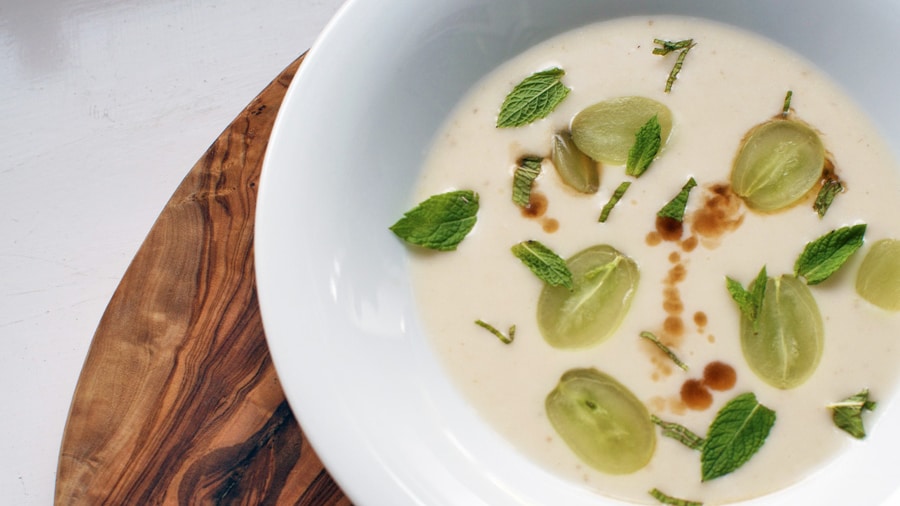 Ingredients
3 large bulbs of garlic (or 4 medium)
Olive oil, for roasting and frying
1 banana shallot, finely diced
100g fino or manzanilla (dry) sherry
250g vegetable stock
300g almond milk (unsweetened)
100g white sourdough bread (60g after crusts cut off)
30g ground almonds
2 tsp sherry vinegar
30g whole almonds, to serve (optional)
Orange slices, to serve (optional)
If serving chilled
60ml almond milk
Mint, to serve
Grapes, sliced, to serve
Method
Preheat your oven to 170C. Separate the garlic bulbs into cloves. Place in a roasting tray with approximately 2 tbsp olive oil. Toss well so all the cloves are coated. Put the tray into the oven and cook for 30 mins. Shake it a couple of times over that period and check after 25 mins that the bulbs aren't blackening. We're looking for golden, soft and sweet.
Squeeze the soft garlic from each of the cloves into a bowl, discarding the skins. This is a bit of a pain but it's the only time-consuming part of the dish. Once all the garlic flesh is removed, stir it with a spoon so you've a mass of roast garlic paste. Put to one side.
In a large saucepan, sweat the shallot in a little olive oil until soft and translucent – don't let it colour. Once they're almost done, turn the heat up for 15 secs then pour in the sherry so that it quickly reduces by half. Turn the heat to low again, add the garlic and stir it into the liquid so that the garlic and sherry are fully incorporated.
Pour in the chicken stock and the almond milk. Bring to a simmer. Cut the crusts off the bread and tear the dough into chunks. After 5 mins, add to the soup along with the ground almonds. Cook for 5 mins more, then pour into a blender or use a hand blender to blitz into a satin smooth soup.
Pour the liquid back into a clean saucepan. Add a hefty pinch of good salt and 2 tsp sherry vinegar. You could serve this straight away (with flaked almonds, oranges and another dash of sherry vinegar), or leave to cool in the fridge until you need it.
For those taking the chilled option: you will need to thin the soup a little with more almond milk. Ladle into each bowl and top with sliced grapes, a good sprinkle of mint and a dash of sherry vinegar.
Image: Ed Smith
Where to buy these ingredients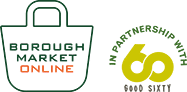 Borough Market Online
If you can't make it to the Market, Borough Market Online offers a wide selection of traders' produce, delivered direct to your door.