Tarragon tvorog, roasted beetroot & pickled grapes
Alissa Timoshkina
Crostini topped with soft Russian cheese, earthy beetroot and lightly pickled fruit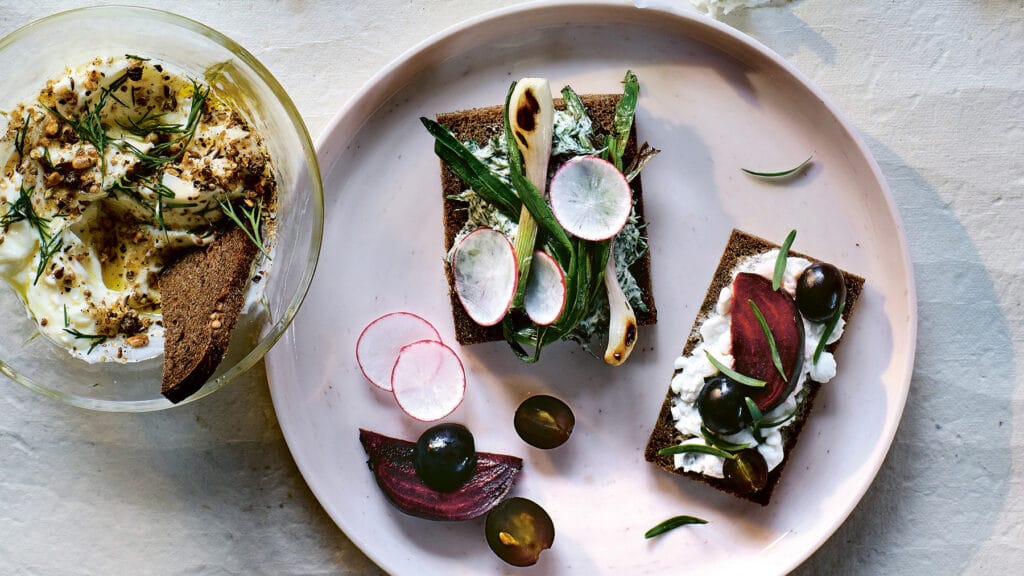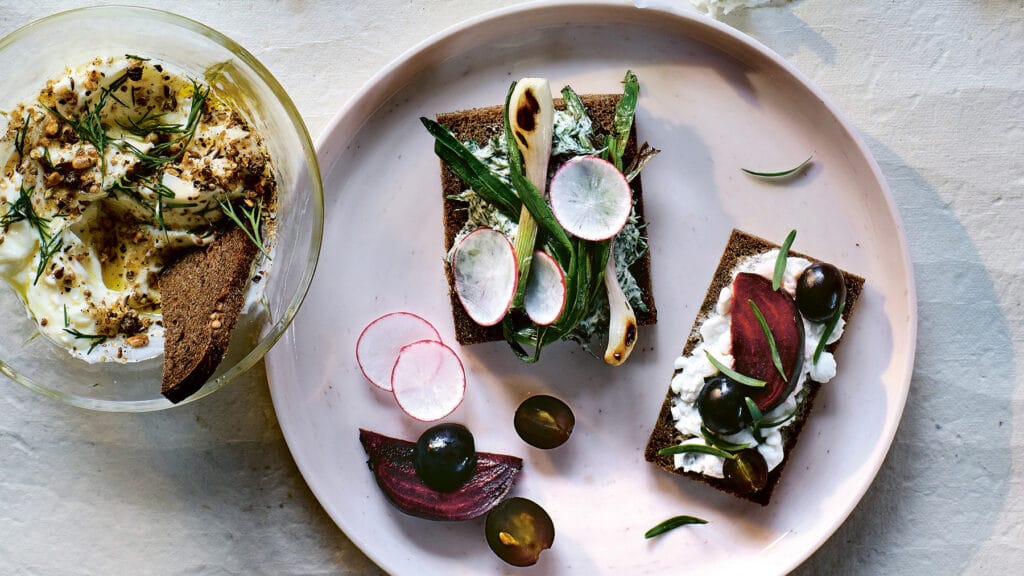 Ingredients
100ml red wine vinegar
50ml water
Finely grated zest and juice of 1 lemon
1 small hot red chilli, halved
2 tsp brown sugar
A handful of red seedless grapes
2 raw red beetroots, washed
1 tbsp olive oil, plus extra for dressing the beetroot
A small bunch of tarragon, leaves only
200g tvorog, or cottage cheese or curd cheese
4 slices of dark rye or borodinsky bread
Method
Start by making the pickled grapes. To prepare the brine, in a small non-reactive bowl, mix together the vinegar, measured water, half the lemon zest and juice (reserve the remainder for the cheese), the chilli, sugar and a pinch of sea salt flakes. Cut each grape in half and add to the brine. Give the mixture a stir, cover with clingfilm and put into the refrigerator to pickle while you get busy with the rest of the dish.
To roast the beetroots, preheat the oven to 220C. Sit the whole beetroots on a roasting tray, brush them with the olive oil and sprinkle them with sea salt. Cover with foil and roast for 40 mins or until they can be pierced easily but still retain a bit of a crunch.
To peel the beetroots, let them cool down, then simply pinch the skin, which should come off easily. Cut each beetroot into medium-sized wedges (roughly 8 per beetroot), dress with a little olive oil and salt and set aside.
Finely chop the tarragon leaves (reserve a few for garnish), then mix them with the tvorog or cottage or curd cheese, add the remaining lemon zest and juice and season with salt. Give it a good mix and taste to adjust the seasoning.
To assemble the crostini. Cut in half if serving eight people as canapes or leave the slices whole if serving as a starter. Top each slice with 1 heaped tbsp of the tvorog mixture, followed by a wedge of roasted beetroot and one or two pickled grape halves. Garnish with the reserved tarragon leaves and a few crystals of sea salt.
Recipe from Salt & Time: Recipes from a Russian Kitchen (Mitchell Beazley)
Image: Lizzie Mayson
Where to buy these ingredients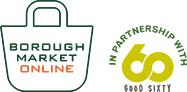 Shop online
If you can't make it to the Market, Borough Market Online offers a wide selection of our traders' produce, delivered direct to London addresses and, where available, by post to the rest of the UK. The service also includes a range of Best of Borough Market hampers and meal boxes.