Chicken thighs with tarragon creme fraiche sauce
Ed Smith
Roast chicken with a fragrant herb cream sauce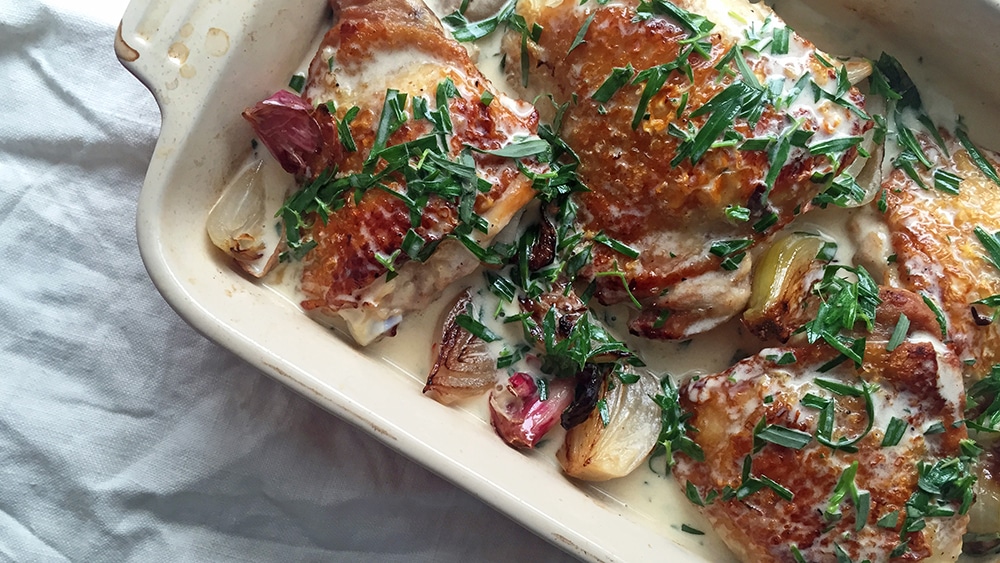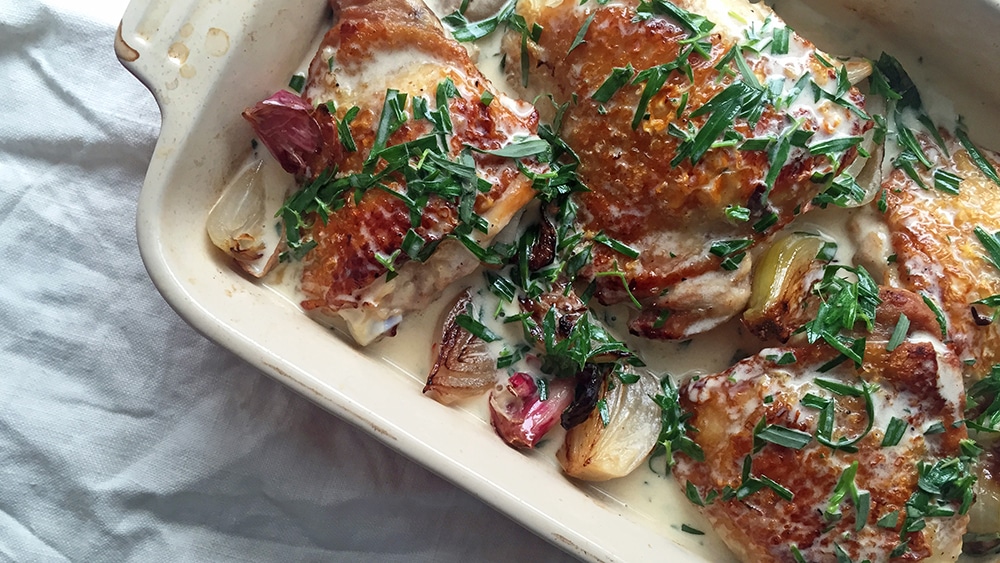 Ingredients
8 bone-in, skin-on chicken thighs
3 cloves of garlic, skin on but flattened with a heavy knife
6 small shallots, peeled and halved
12-14 sprigs of fresh tarragon
200ml dry white wine
200ml creme fraiche
Juice from ¼ lemon
To serve
Method
Heat the oven to 180C. Place a thick-
bottomed frying pan on a high heat and add
1 tbsp cooking oil. When that's hot, salt the chicken thighs then place them skin-side down in the pan. Cook for 5-7 mins until the skin is golden and crisping, adding the garlic and shallots for the last minute or so.
Transfer the chicken, garlic and shallots to an oven-proof dish. Ensure the chicken is skin side up and put the 5 woodiest tarragon sprigs (still with leaves) underneath. Bend and snap the herbs to help release their oils. Try to fit everything in snuggly so the chicken is spread across one layer only.
Deglaze the frying pan by pouring the wine
in and allowing that to boil and reduce for
30 secs. Pour this into the oven dish without
getting the top of the chicken wet. Place this in the oven and cook for 25 mins.
Strip the leaves from the remaining tarragon stems and chop roughly.
Just before serving, remove the dish from the oven and pour the wine and juices into a gravy pan or small saucepan, leaving the chicken in the warm dish. Bring the saucepan to the boil and bubble away until the sauce is reduced by half. Add the creme fraiche and stir to homogenise. Turn the heat off and throw in the tarragon leaves. Allow the tarragon to infuse for 3 mins. Season to taste with a little salt and pepper and more herbs if you think it needs it. Pour the sauce over the chicken.
Serve directly from the cooking dish, with new potatoes and green beans on the side.
Image: Ed Smith
Where to buy these ingredients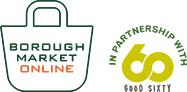 Shop online
If you can't make it to the Market, Borough Market Online offers a wide selection of our traders' produce, delivered direct to London addresses and, where available, by post to the rest of the UK. The service also includes a range of Best of Borough Market hampers and meal boxes.