Tiroler gröstl
Ed Smith
A Tyrolean blend of potatoes, bacon, beef and caraway seeds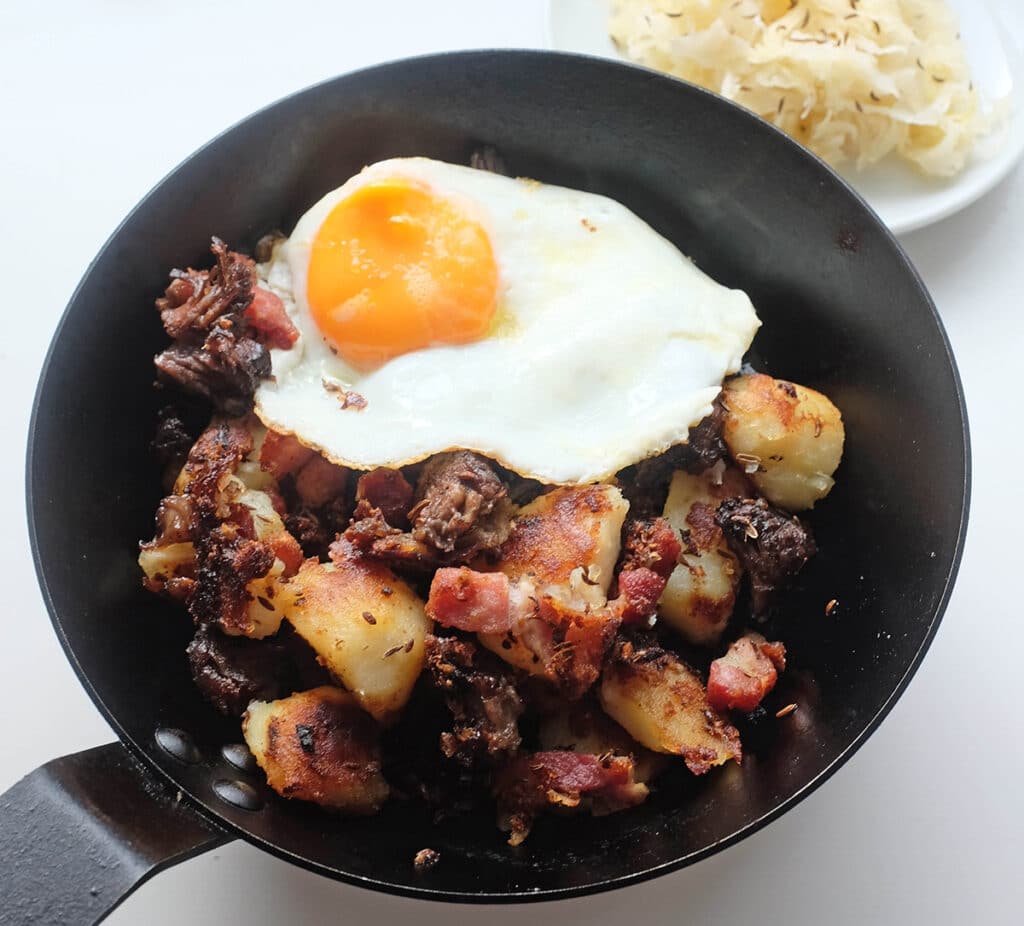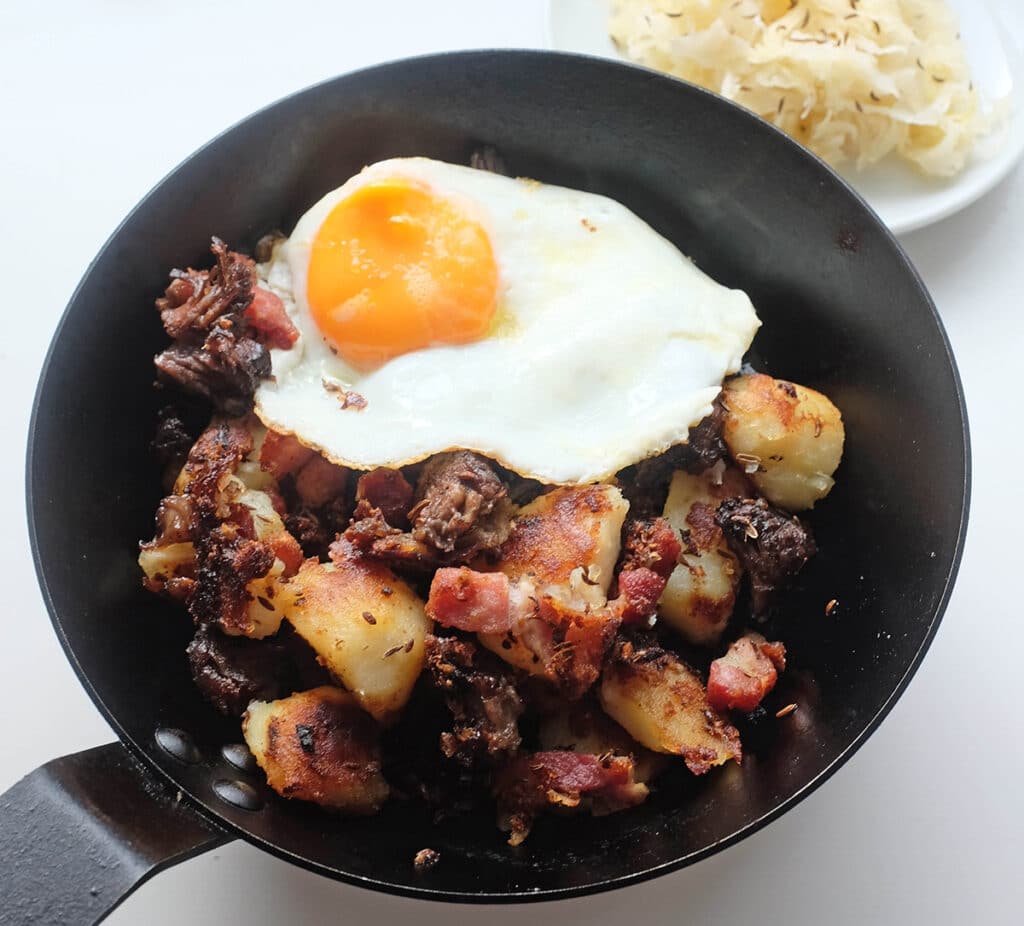 Recipe Meta
Cook
20 mins (if beef and spuds are pre-cooked)
Ingredients
For the beef
500g beef shin steak
1 tbsp sunflower or vegetable oil
1 red onion, cut in half
3 cloves of garlic, squashed
1 heaped tsp caraway
1 heaped tsp dill seeds
250ml red wine, dark beer or oloroso sherry
For the gröstl
1kg waxy potatoes, peeled
4 tbsp sunflower or vegetable oil
200g lardons
1 large brown onion, roughly chopped
300g cooked beef shin, brisket or salt beef
2 heaped tbsp caraway
1 heaped tbsp dill seeds
4 eggs
Method
If you're making the beef from scratch, heat the oven to 140C. Find a small casserole or oven proof dish with a closely fitting lid, in which the meat will fit snugly. Place it on a hob over a medium-high heat. Add 1 tbsp oil and warm for 30 secs. Place the beef shin in the pan and brown on both sides for 2-3 mins each side. Squeeze the onion and garlic into the pan and pour the alcohol in, together with the spices. Allow the liquid to cook and bubble for 1 min more, before placing a lid on top of the pan and putting in the oven to cook slowly for 2½-3 hours, until the beef breaks apart at the touch of a fork. Break up the beef with a fork so you've lots of chunks of tangled beef strands, then leave to cool and refrigerate until needed.
Cut the potatoes into 3-4cm chunks and place in a large pan. Cover with cold water, bring to the boil, then simmer for 15-20 mins, until cooked through but not mushy. Drain and leave to cool, then refrigerate. If you are doing this at the last minute, just leave under a cold tap for a bit.
When you're ready to eat, find a heavy bottomed frying pan that'll comfortably hold the quantity of cooked potatoes in broadly one layer. Add 2 tbsp oil and the lardons. Cook for 3-4 mins to render the fat from the bacon and begins to turn it golden. Now add the potatoes and onion, tossing in the hot oil and spreading out so as much of the potato flesh is touching the base of the pan as possible. Cook without interfering for 4-5 mins, so the spuds begin to crisp, then shuffle the pan so paler potatoes get a tan too.
Add the clumps of beef to the potato mix along with the caraway and dill seeds and shuffle the pan again. You may need to add the rest of the oil now. Fry for another 5 mins or so until you've a lovely mass of crisp, flavoursome fried potatoes, onion, bacon and beef. Season with sea salt and pepper.
Towards the end of the process, fry 4 eggs and decant plenty of sauerkraut into a serving bowl. Scatter the sauerkraut with extra caraway, then serve up.
Image: Ed Smith
Where to buy these ingredients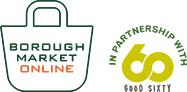 Shop online
If you can't make it to the Market, Borough Market Online offers a wide selection of our traders' produce, delivered direct to London addresses and, where available, by post to the rest of the UK. The service also includes a range of Best of Borough Market hampers and meal boxes.