In the name of the father
Borough Market is full of family businesses – be it sons and daughters who work alongside their parents, or companies that have been passed down through the generations. To mark Father's Day, we asked three current traders to tell us what it's like working with their dads and how they're going about carrying the torch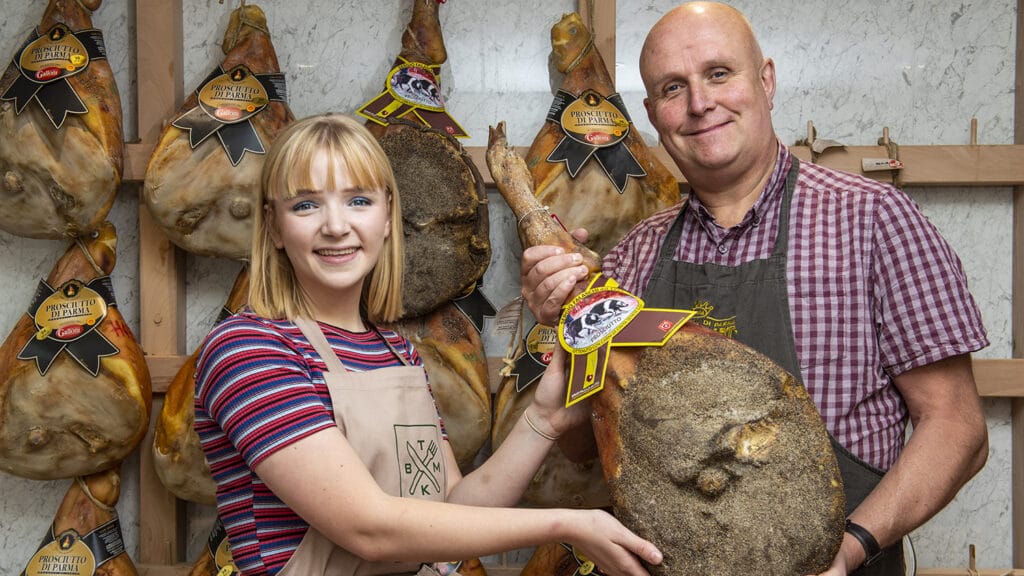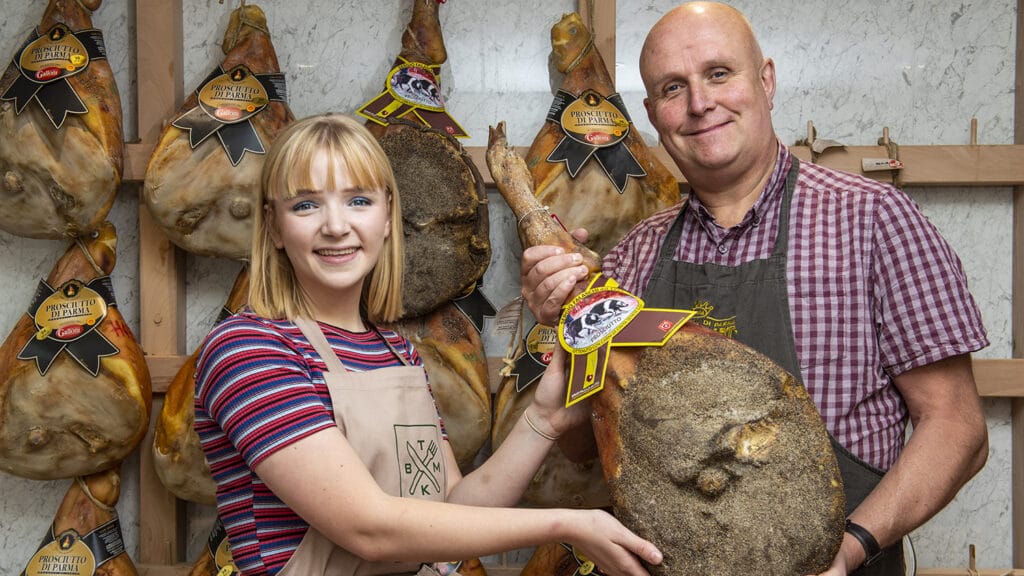 "BOROUGH MARKET ITSELF IS A WHOLE FAMILY – I'VE REALLY SEEN THAT IN THE PAST YEAR"
Interviews: Clare Finney / Images: Lucy Young, Christopher L Proctor, Alice Mann
---
Esther Crouch on Philip Crouch, The Parma Ham and Mozzarella Stand (pictured above)
I've been doing the odd shift with The Parma Ham and Mozzarella Stand since I was 15 but when I was first working for my dad, I just treated him like my dad. I would be mean and snappy if I felt like it. It was only when I went and worked for someone else in a bar in Tooting that I learned to be more professional with him while at work. It was good to learn how to be in a work environment, because I think when you're with family there is a tendency to just be how you usually are with them.
It was at the bar that I learned I can bring a really happy energy to work. My old boss told me they noticed that no matter what happened, I remained positive, which was great. I've since brought that to The Parma Ham and Mozzarella Stand. Dad said over the last year it's been a saving grace that I've brought that attitude, while from him I have learned how to run the shop and manage people in such a way that they don't feel like they are being managed. You don't really realise he is telling you to do something because his approach is so natural, and he doesn't bring his stress about margins and so on to the shop floor. I try to be like that and remember that at work, you can choose how to present yourself.
In this last year in particular dad and I and my brother Jonathan, who also works in the business, have developed a good, balanced working relationship – partly because we've had to. It's been such a tough time and it has affected everyone in all sorts of ways. I am so thankful that I've had work. My respect for my dad has also grown in this time. I've seen how traders come to him for advice and heard how they talk about him. The Market itself is a whole family – I've really seen that in the past year.
---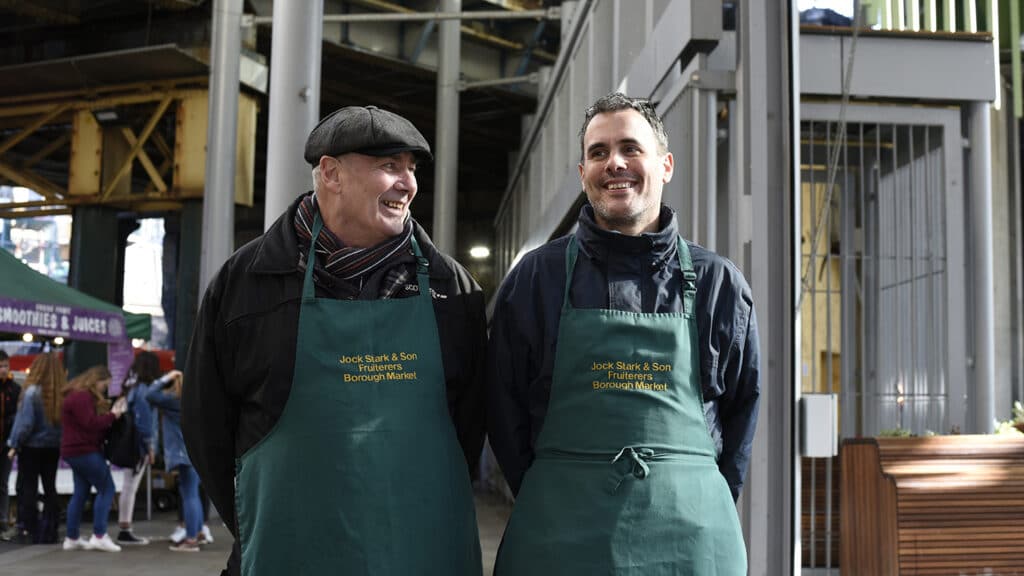 Richard Stark (right) on Jock Stark (left), Stark's Fruiterers
My dad has had shops for as long as I can remember. I worked with him part-time all during school and then for four years after sixth form. Then I trained as a joiner and went into the building game but after 15 years, I was tired of going into the City with a big bag of tools every day. That was six days a week, this was three and I enjoyed it, so when he asked me to come and work with him full-time, it was a no-brainer. We worked together for four years, then I took over Stark's Fruiterers when he retired.
We had our moments when we were working together – because you do, when you're under each other's feet all day long. Sometimes we couldn't stand each other. I'd drive home and think, I can't do this anymore – but we were always absolutely fine the following morning and we get on really well now that he's retired!
The way we buy and sell is slightly different. He was more conscious of price. He'd buy a class two lemon, for example, whereas I know people love a quality Sicilian lemon and are happy to pay for it. I've also introduced more vegetables and did home deliveries during lockdowns. Dad was worried I wouldn't be able to pull through this last year, but I've just about managed to do it.
I have to admit I have taken a lot of leaves out of his book when it comes to selling. The way dad talks to customers, talks about the produce – he doesn't talk in order to sell but it helps, naturally. Like him, I never try to force a sale on someone. If I talk about some asparagus, it's because it's really nice produce and I want you to eat it and enjoy it. I've definitely learned from him – though when people say, "you're just like your dad", that really annoys me!
---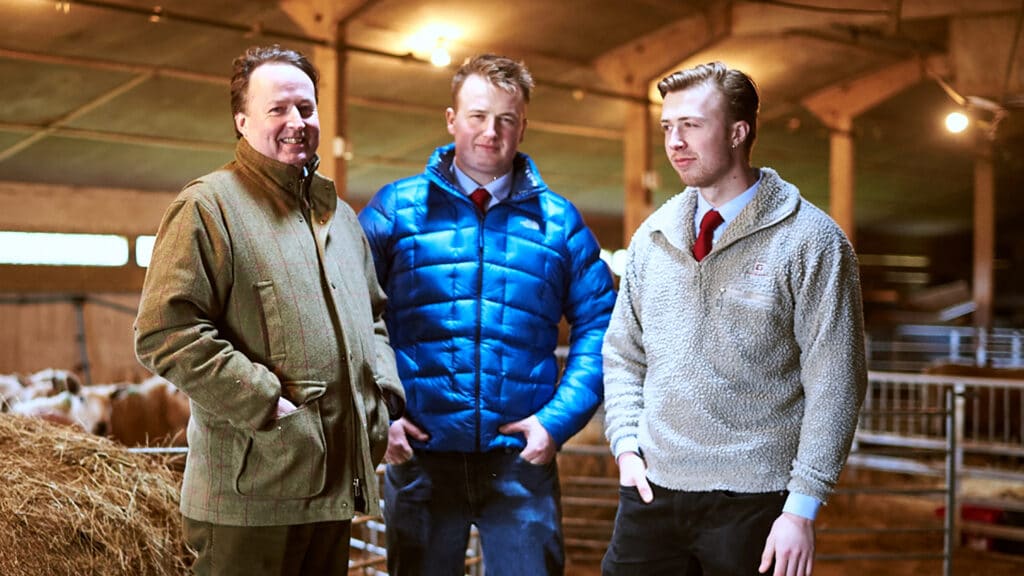 Dominic McCourt (right) on Jan McCourt (left), Northfield Farm
I've got a brother, Leo, who handles the farming side of the business. He has been orientated toward farming and meat since he came out of the womb. Leo's first word was tractor – but I was not like that. I just kind of fell into it. I was drifting along after college, unsure what to do with myself, and dad suggested I come down to London and give butchery and selling a go.
I loved it as soon as I started. It's been really positive, working with dad, and I'm grateful he's given me this career. It has also been good having some independence; being based here rather than under his watchful eye at the farm! In the last few years, as he's given me more autonomy to make decisions at the stall, we've undergone a transition from him being my boss to me being more like his boss. My brother and I drive the business, and we look to him for advice when we need it – mostly when we're doing something new, like the restaurant pop-up we've just launched, or on financial matters. We're good at handling product and service but he is more financially minded, so when it comes to that we look to him.
Leo and I have changed a lot over the past few years. We've rebranded and changed the structure of the Northfield Farm shop – but we've maintained dad's principal values, the ones he started out with. Rare and traditional breeds grown slowly, that is the heartbeat of the business that dad set in motion. We are driving forward.