Tools of the trade: florist scissors, secateurs & strimmers
Sharon Crane of The Gated Garden on the essential tools of her business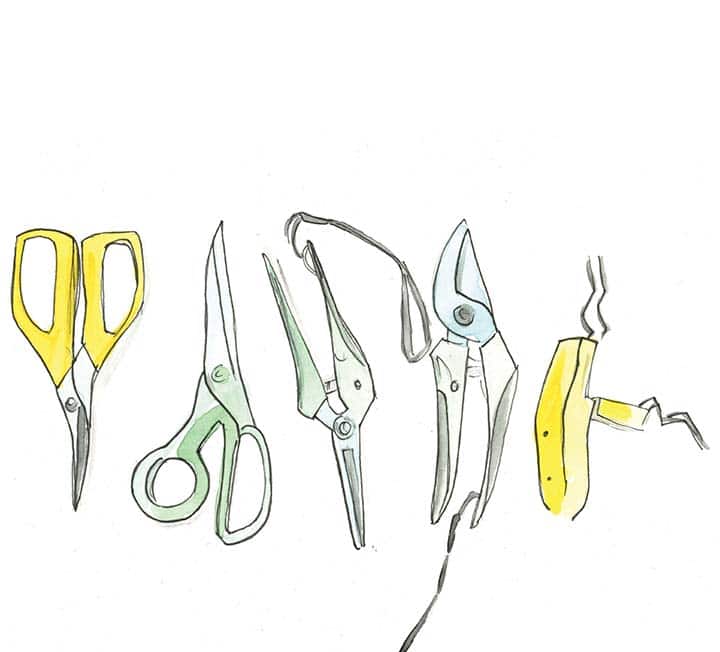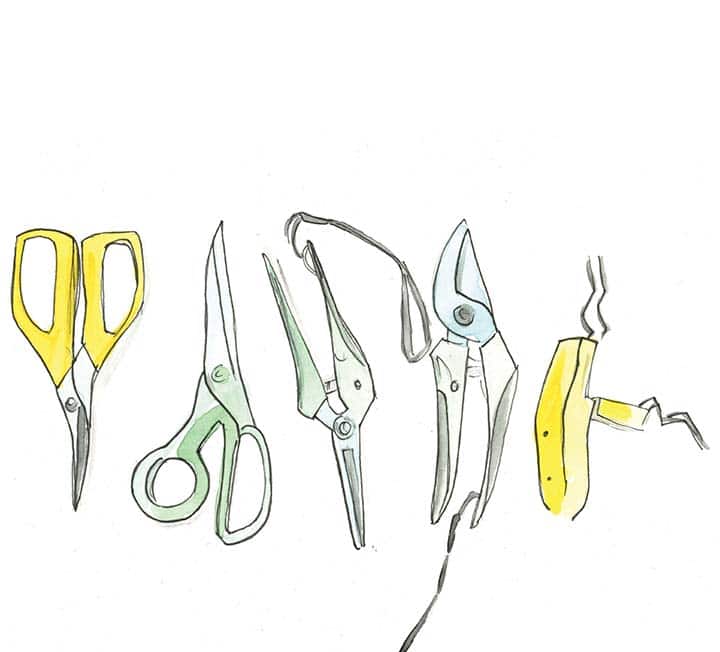 "I KNOW FROM PERSONAL EXPERIENCE THAT FLORIST SCISSORS CAN TAKE THE TIP OFF YOUR FINGER WITH ONE SWIPE!"
Interview & illustration: Ed Smith
There are a number of different sources for the flowers and plants we sell at The Gated Garden. I have a wholesaler in Kent, I go to New Covent Garden market, and I also buy direct from Holland. I try to focus on the seasons: like fruit and veg, flowers are better quality and bigger when in season. They're better value, too, which works for me and the customer. Come May, I try to work as much as possible with English flowers, turning to our suppliers in Essex. It's nice to do that, but it also makes sense.
Our offer is a mix of cut flowers and pot plants. House plants are very popular at the moment – things that hang, things that grow up the wall, things that don't need too much attention. I think it's an Instagram-driven thing. We also make a lot of bouquets. And that means using four or five different tools to cut and strip the flowers so they're ready to arrange, tie and wrap.
My bright yellow florist scissors, which I use to snip flower stems on a diagonal, are extremely sharp. I know from personal experience that they can take the tip off your finger with one swipe! I have two types of secateurs: the smaller, lighter ones for stems that aren't too woody, and the 'proper' secateurs, with their thick, strong blades, for the big woody stems. Paper scissors are really important – and the most expensive of the lot – as you need a really sharp blade to cut a straight line through the wrapping paper, so the edges look good. And finally, although sometimes we'll strip the leaves off the stems by hand, most often we'll use a crafty little strimming tool, which speeds things up a bit.
It takes roughly 15-20 minutes to make a bouquet. We'll take the flowers into the office and use a work table there. We're constantly picking up scissors. It's hard work and tough on your hands, even though your skin hardens. And we're exposed to the elements through the day here, too. I can't really work in gloves – they get in the way and I can't feel what I'm putting together. I don't sharpen the scissors; they're very utilitarian and basic, so when they go blunt, I'll just replace them. I'm not that sentimental about them – except for the paper ones, which are definitely my favourite. Overall, as long as they cut and they're sharp, I don't really think too much about them. That said, they have to be bright colours so that we can see them quickly. Not just so that they're quick to grab, but because they've a habit of ending up in the bin, in among the ends of wrapping paper and raffia!