Asparagus, lemon & pine nut salad with garlic bruschetta
Kathy Slack
A simple salad that brings to the fore the juicy, crisp greenness of English asparagus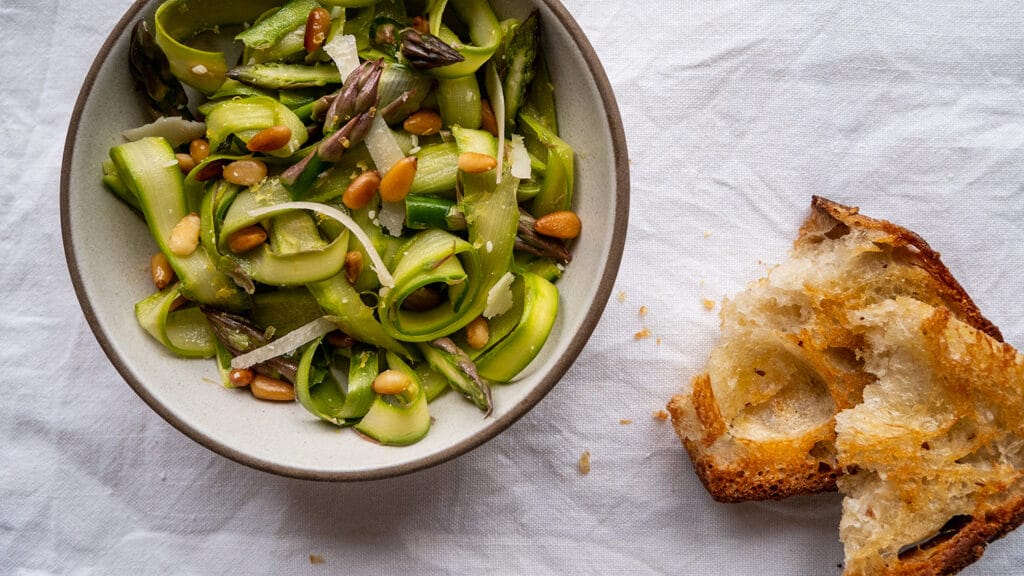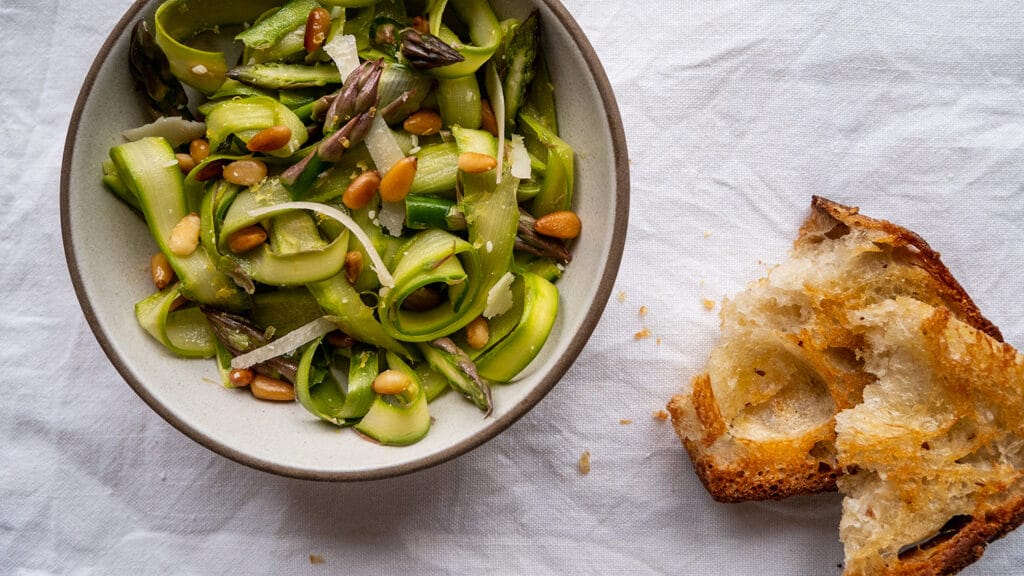 Ingredients
For the bruschetta
2 thick slices of sourdough bread
1 tbsp extra virgin olive oil
1 clove of garlic
For the salad
500g asparagus
½ lemon, zest and juice
2 tbsp extra virgin olive oil
2 tbsp pine nuts
20g parmesan, or vegetarian alternative
Method
Start with the bruschetta. Heat the oven to 200C. Drizzle the bread with the extra virgin olive oil, making sure all sides are well coated. Peel the garlic clove and slice it in half from top to bottom. Rub the cut sides all over the bread. Give it some wellie – the more battered the clove, the more the garlic juices will infuse into the bread. Sprinkle the bread with a pinch of flaky salt and roast in the oven for 15 mins until golden and crispy, turning over half way through.
For the salad, snap the woody base off the asparagus and discard. Cut the tops off the asparagus, half them lengthways and put them in a large bowl. Using a vegetable peeler, peel the stems into long ribbons and add them to the bowl as well.
Whisk together the lemon juice, zest, extra virgin olive oil and a pinch of salt. Pour this dressing over the asparagus and toss to make sure the asparagus is well coated. Leave to mingle for 5 mins. The asparagus will soften slightly but still retain its crunch.
Toast the pine nuts in a dry frying pan until golden then add them to the bowl. Use the vegetable peeler to make parmesan shavings and add these to the salad too. Toss everything together gently then pile onto a plate and serve with the bruschetta.
For extra luxury, you can omit the parmesan and add 100g of white crab meat at the end instead. Or, load the bruschetta up with prosciutto then pile the asparagus salad on top for a decadent lunch. Either way, this is a dish best served with spring sunshine.
Image: Kathy Slack
Where to buy these ingredients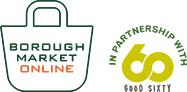 Shop online
If you can't make it to the Market, Borough Market Online offers a wide selection of our traders' produce, delivered direct to London addresses and, where available, by post to the rest of the UK. The service also includes a range of Best of Borough Market hampers and meal boxes.