Cauliflower gnocchi with sage butter & hazelnuts
Kathy Slack
Gorgeously flavoursome gnocchi made from roasted cauliflower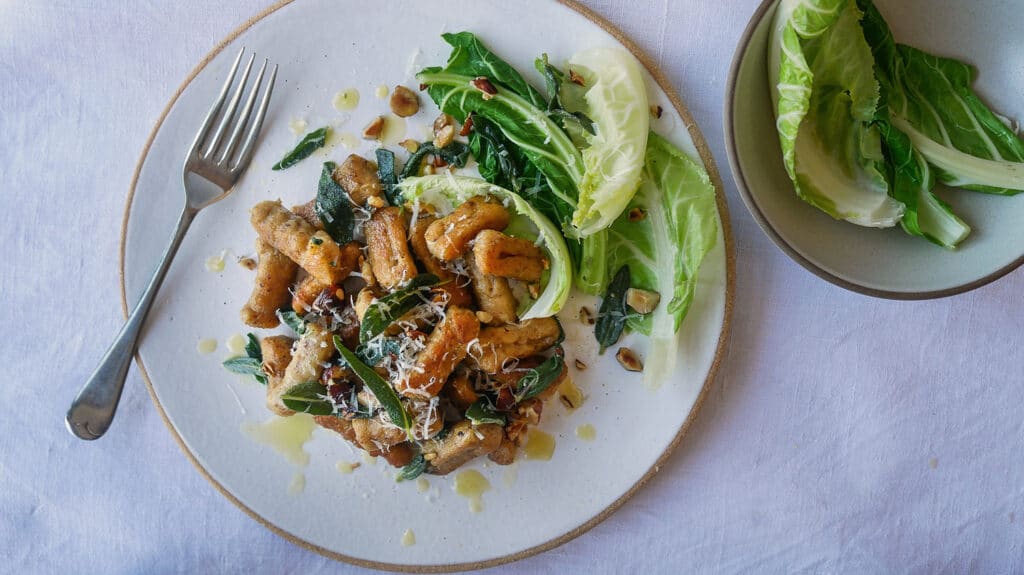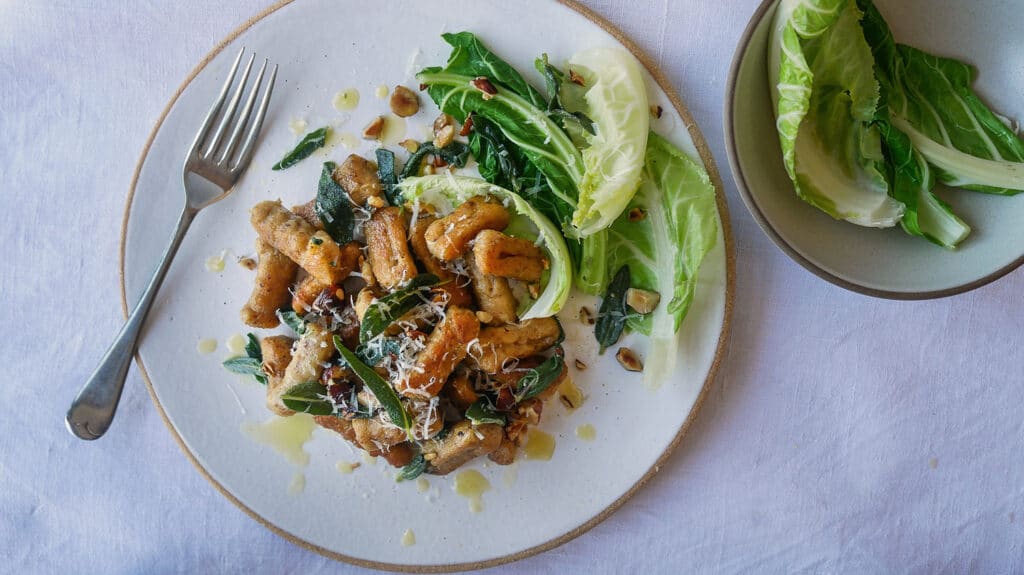 Ingredients
1kg cauliflower
2 tbsp olive oil
200g '00' pasta flour
1 egg
125g salted butter
A small bunch of sage leaves
4 tbsp roasted hazelnuts, chopped
Parmesan, to serve
Method
Heat the oven to 190C. Break the cauliflower into small florets, roughly 2-3cm and set aside the prettier inner leaves. Toss the florets in the olive oil and a pinch of salt then arrange on a large baking tray, leaving plenty of space around each floret. Roast for 30 mins. Give the pan a shake and turn the florets over then roast for a further 10 mins until well cooked and charred at the edges. They will seem overcooked, but fear not – it's important there's not much water left in the cauliflower. Transfer to a food processor and blitz until smooth.
Mix the cauliflower with the egg, flour and a pinch of salt and knead into a soft dough. Be warned, it's a messy job and you will think it too wet to roll, but persevere. Once combined, flour your hands and a work surface and roll out thick ropes of dough around 1cm in diameter. The key to avoiding a sticky mess here is to be very gentle and avoid squashing the dough, so think light, delicate thoughts. Cut the ropes into rectangular pillows and dust with a little more flour to prevent sticking. You can roll the pillows over a fork with your thumb to create the classic gnocchi divots too if you want the traditional look.
Melt the butter in a large frying pan. Pour off most of it into a jug, leaving 2 tbsp in the pan on a low heat.
Bring a large pan of water to a rolling boil, salt it heavily and add the gnocchi. Once the gnocchi rise to the top (around 2 mins) leave them to boil for another minute then fish them out with a slotted spoon and into the butter pan. Keep the water.
Turn the heat up under the frying pan and fry the gnocchi for 3-4 mins, turning occasionally until golden brown – you may need to do this in batches. Add the sage leaves, the hazelnuts and the rest of the butter and cook for 1 min.
Meanwhile, pop the cauliflower leaves in the gnocchi water for 1 min, then drain.
Divide the gnocchi and cauliflower leaves between four warmed plates and serve with a sprinkle of parmesan.
Image: Kathy Slack
Where to buy these ingredients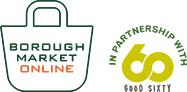 Shop online
If you can't make it to the Market, Borough Market Online offers a wide selection of our traders' produce, delivered direct to London addresses and, where available, by post to the rest of the UK. The service also includes a range of Best of Borough Market hampers and meal boxes.