Blitva – swiss chard and potatoes
Dhruv Baker
A simple Croatian side dish, perfect for grilled fish
Ingredients
1 bunch of swiss chard
300g waxy potatoes, peeled and cut into 2cm dice
3 garlic cloves, sliced
Method
Cut the leafy parts of the chard off the stalks and slice them into even strips about 2cm wide. Chop up the stalks. Wash.
Place the potatoes in a pan of salted water and bring to the boil. Cook for 7-8 mins until starting to soften, drain well and set aside.
Heat 4-5 tbsp olive oil in a large frying pan along with the sliced garlic, and when the garlic starts to sizzle gently add the potatoes. Saute the potatoes for 5-6 mins until they just start to colour, then add the chard stalks and continue to cook for a further 3-4 mins.
Add the leaves, season with salt and pepper and cook until the leaves wilt. Take off the heat, check the seasoning and serve while hot.
Images: Kim Lightbody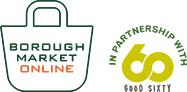 Shop online
If you can't make it to the Market, Borough Market Online offers a wide selection of our traders' produce, delivered direct to London addresses and, where available, by post to the rest of the UK. The service also includes a range of Best of Borough Market hampers and meal boxes.