Braised & roasted duck with spiced cranberry chutney
Saliha Mahmood Ahmed
A fabulous alternative Christmas centrepiece: familiar yet unfamiliar in many ways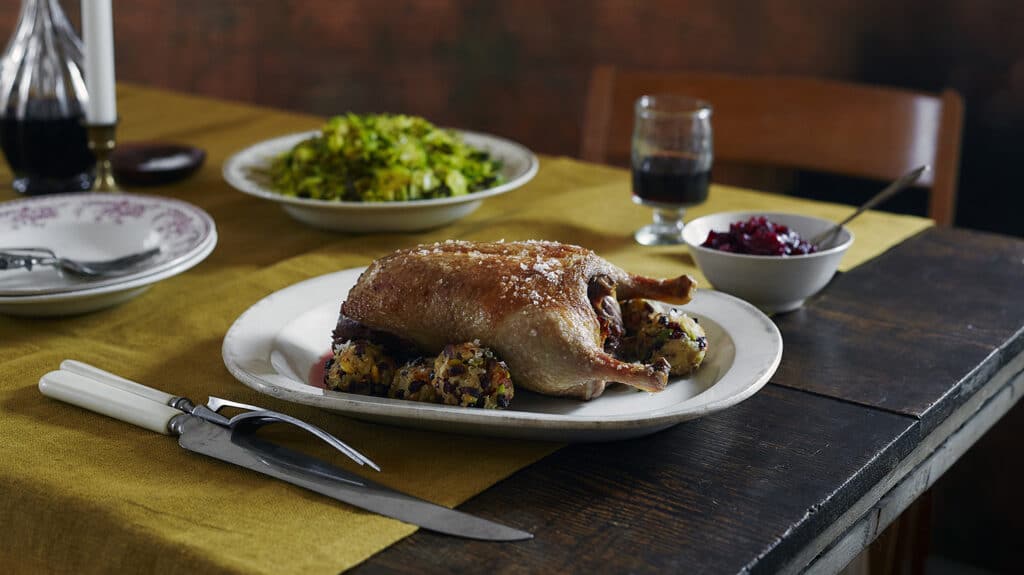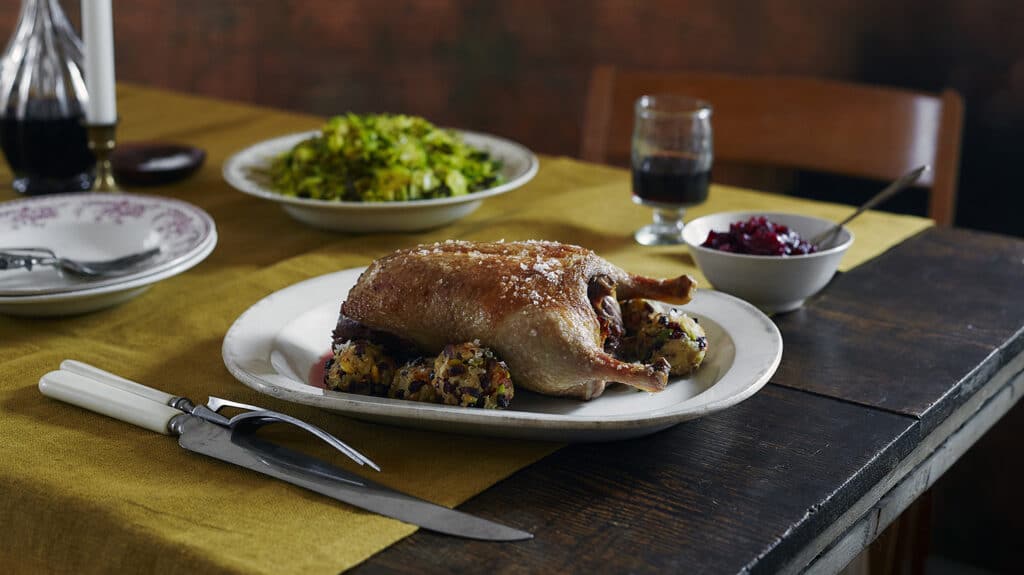 Ingredients
For the duck
1 medium sized duck (roughly 2kg)
2 white onions, chopped
6 cloves of garlic
1 tbsp grated ginger
3 star anise
10 cloves
1 cinnamon stick
2 litres chicken stock
1 tbsp duck fat
For the cranberry chutney
150g muscovado sugar
½ red onion, chopped
2 star anise
1 cinnamon stick
200g fresh cranberries
100g dried sour cherries
1 tbsp finely grated ginger
1 tsp red chilli flakes
1 tsp cumin seeds, toasted
100ml orange juice
200ml apple vinegar
To serve (optional)
20 Chinese rice pancakes
1 cucumber, sliced into long, thin batons
2 spring onions, sliced into similar batons
Method
For the chutney, place the ingredients in a wide shallow pan and bring them to the boil, stirring regularly. Reduce the heat and allow to simmer for approximately 30-45 mins – do not reduce the sauce too far as it will thicken when it cools. Keep at room temperature.
Remove the wing tips and giblets from the duck and pat it dry with some kitchen paper. Heat a large, heavy based casserole dish over a medium heat. When it is hot, brown the duck all over: the duck fat will render down when you do this. Remove the duck from the pan.
Fry the onions in the rendered fat until golden brown. Add the garlic, ginger, star anise, cloves and cinnamon stick and stir well, allowing the spices to release their aroma. Pour the chicken stock over the top and allow the broth to come to the boil.
Gently lower the duck into the broth. Simmer at the lowest possible heat for 30 mins, then remove the duck carefully and place it in a roasting tin. Pat the skin dry, baste with extra duck fat and sprinkle generously with sea salt. Transfer to a 180C oven for 30 mins until the skin turns a deep golden brown. Rest for at least 20 mins before carving.
The duck and chutney make a perfect centrepiece for a roast, accompanied by my barberry and pistachio stuffing. Alternatively, try serving them with Chinese pancakes (steamed for 30 seconds in a microwave or bamboo steamer), cucumber and spring onions, allowing your guests to construct their own pancake rolls.
ALTERNATIVE: The leftover cooking broth will make another delicious meal. Just add noodles and a few fresh herbs or use the stock to make a pilau rice.
Image: Kim Lightbody
Where to buy these ingredients