Spiced yoghurt whole roast cauliflower
Ed Smith
Cauliflower in a coriander and cumin yoghurt marinade, with a rapeseed, lime and chilli dressing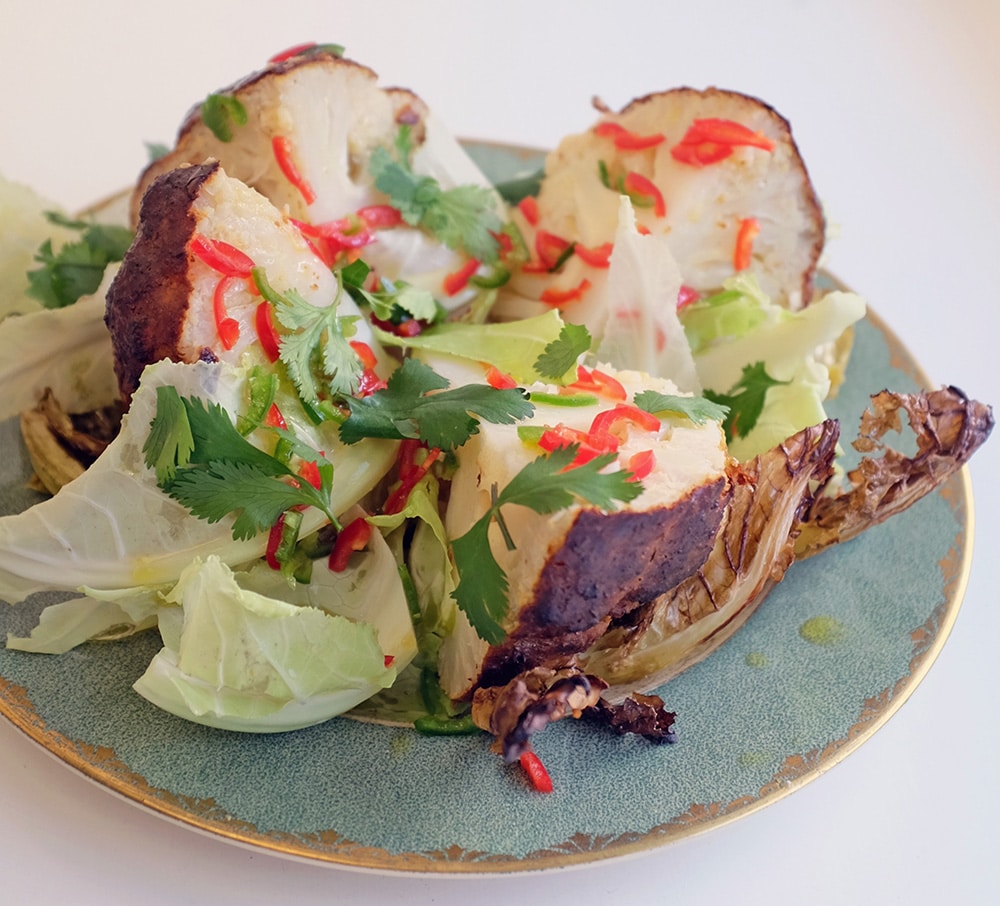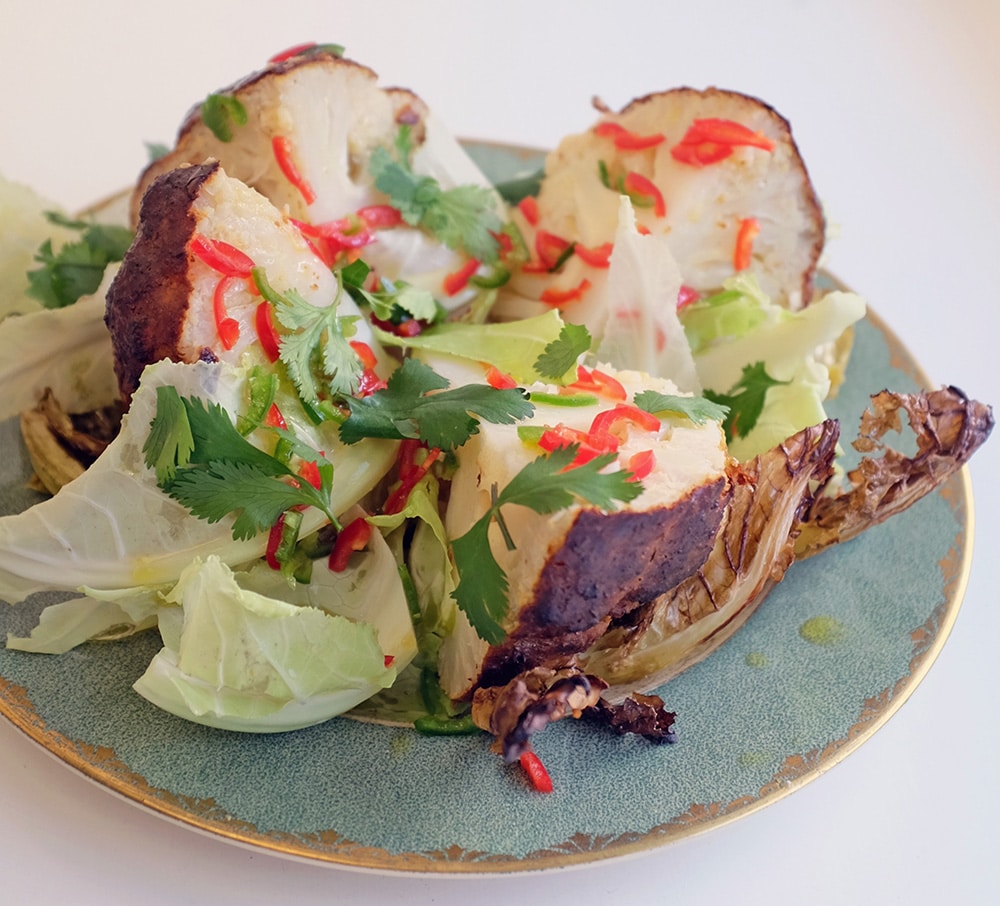 Ingredients
For the yoghurt marinade
1 small-medium sized cauliflower, with plenty of leaves
2 tsp coriander seeds
2 tsp cumin seeds
½ tsp dried red chilli flakes
½ tsp ground ginger
½ tsp turmeric
200g Greek yoghurt
Zest and juice of ½ lime
For the lime and chilli dressing
7 tbsp cold-pressed rapeseed oil
Zest and juice of ½ lime
1 mild red chilli, finely sliced
1 mild green chilli, finely sliced
½ tsp golden caster sugar
Handful of chopped coriander leaves
Method
Preheat the oven to 220C. Trim the greens from the cauliflower head before moving them to a bowl of cold water and rubbing off any dirt and dust. Drain the greens and put to one side. Trim the stem of the cauliflower so that it's level and will sit flat. Find an oven proof pot in which the cauliflower will snuggly sit – ideally the sides will be about the same height as the cauliflower.
Toast the coriander and cumin seeds in a heavy-bottomed pan over a low heat, until they're warmed and aromatic, but not burnt. Decant into a pestle and mortar, add a heavy pinch of sea salt and the chilli flakes and grind into a powder. Mix this into the yoghurt, along with the ground ginger, turmeric, lime zest and juice.
With the cauliflower sitting upright in the centre of the pot, spoon the yoghurt marinade over the top. Pile most of it onto the middle of the flower – gravity will help it slip down the sides, evenly coating the florets. Place uncovered in the middle of the oven and cook for 30 mins, during which time the yoghurt will bronze and set. Remove from the oven. Carefully sit the greens around the base of the pot, without disturbing the cauliflower. Add 100ml water and return to the oven, cooking for about 35-40 mins more. The cauliflower will be brown and crisp on the outside, tender in the middle. The leaves will have softened in the middle and soaked up residual yoghurt flavours.
Make the dressing while the cauliflower is cooking. Pour the rapeseed oil into a mixing bowl. Add the lime zest, juice and sugar, then season to taste with salt and pepper. Whisk until emulsified, then throw in the remaining ingredients and stir together.
When the cauliflower is cooked, lift it onto a chopping board (two spoons should do the trick). Move the cauliflower greens to a platter. Cut the cauliflower into quarters and place on the leaves. Then spoon the dressing over the insides of the cauliflower. Enjoy.
Image: Ed Smith
Where to buy these ingredients