Carottes râpées & celeriac remoulade
Ed Smith
The perfect vegetable accompaniments for a platter of French charcuterie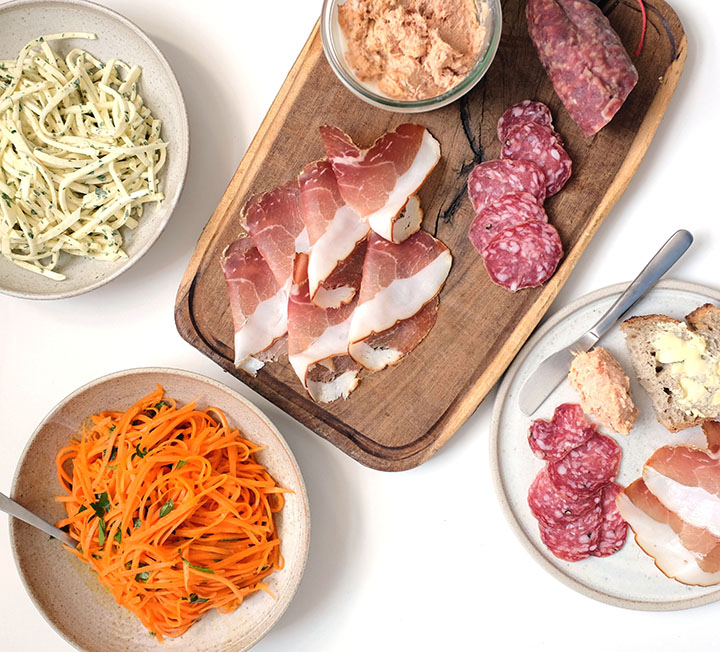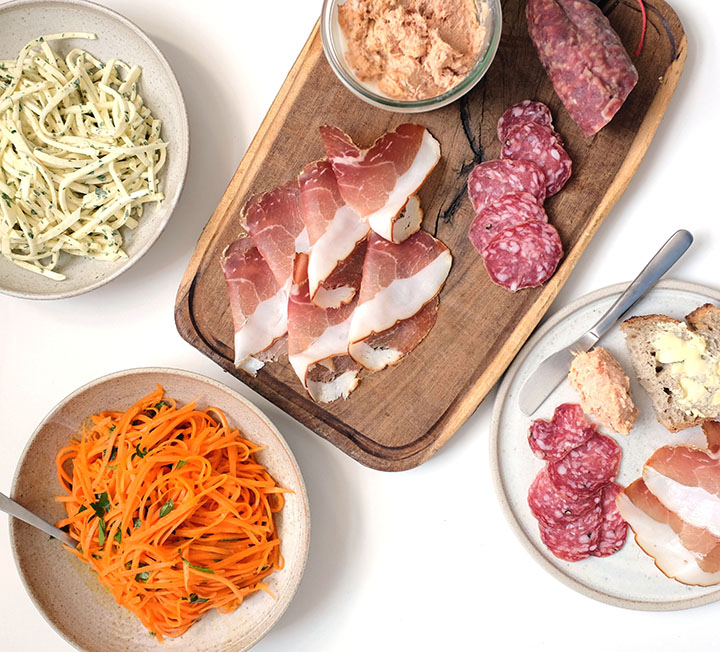 Ingredients
For the carrottes râpées
1kg large carrots, peeled
Juice of 1 lemon
2 tbsp extra virgin olive oil
1 tsp golden caster sugar
1 tsp flaky sea salt
½ tsp white pepper
A handful of flat leaf parsley, roughly chopped
For the celeriac remoulade
Juice of 1 lemon
750g celeriac, peeled
4 tbsp mayonnaise
3 tbsp double cream
1 heaped tbsp Dijon mustard
1 tbsp very finely chopped flat leaf parsley
Sea salt and white pepper
Method
To make the carottes râpées: use a julienne peeler or fine shredding attachment for a food processor to shred the carrots and transfer the result to a large mixing bowl.
Add the lemon juice, olive oil, sugar, salt and pepper and mix well. Leave to macerate for 5-10 mins, then taste to check the seasoning. Add more lemon juice, salt or pepper if you think it needs it. Mix in the flat leaf parsley and set aside or chill until required.
For the celeriac remoulade: squeeze the lemon juice into a mixing bowl and add 1 tbsp cold water. Use a Japanese mandoline to cut the celeriac into 1mm thick strips, then 'julienne' them into fine matchsticks. Alternatively, push the celeriac through your food processor using a fine grater attachment. Immediately transfer the processed celeriac into the lemon juice and mix, to avoid the vegetable oxidising and turning brown.
In a separate bowl, combine the mayonnaise, double cream, mustard, parsley and a pinch each of salt and pepper. Pour this dressing over the celeriac and mix well. Taste to see if the remoulade is to your liking – the dressing should be plentiful but not sickly or sloppy, and the mayonnaise and mustard elements tangy but not overpowering. Add a little cream, mustard, salt and / or more parsley as you see fit.
Image: Ed Smith
Where to buy these ingredients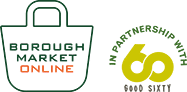 Borough Market Online
If you can't make it to the Market, Borough Market Online offers a wide selection of traders' produce, delivered direct to your door.