Venison loin, wild mushrooms & celeriac puree
Rosie Birkett
A richly flavoured celebration of autumnal ingredients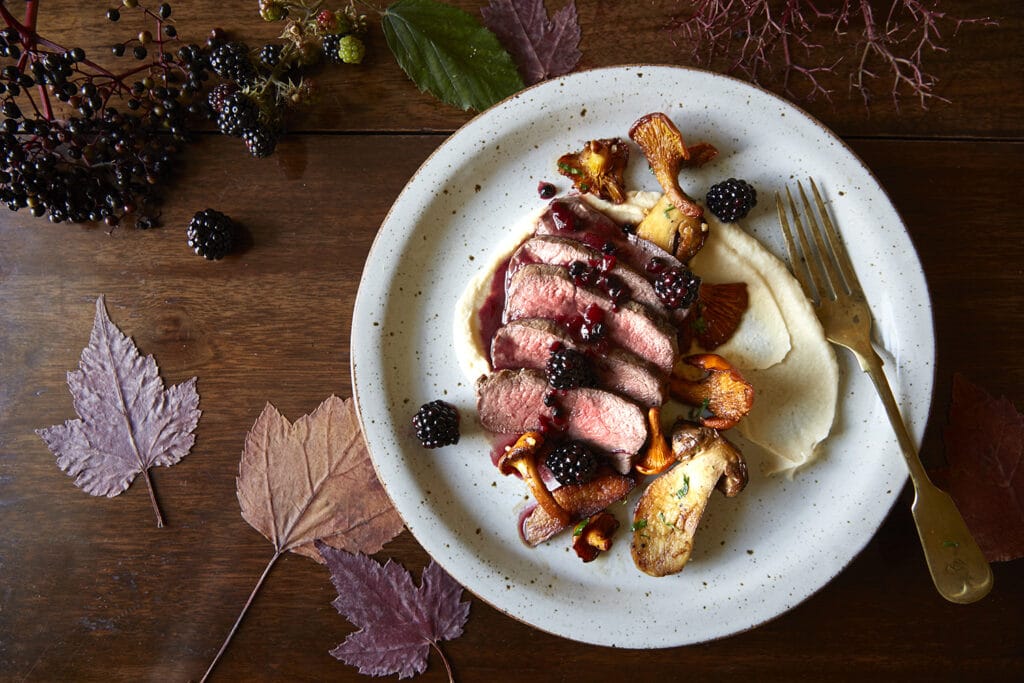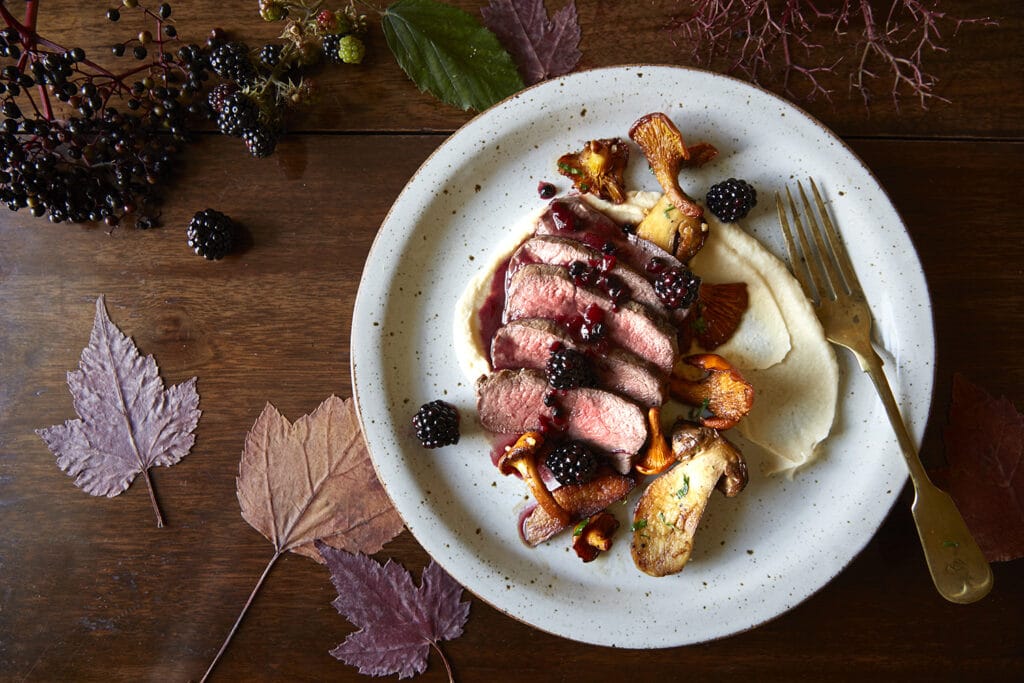 Ingredients
1 celeriac, peeled and chopped
Butter
Fresh horseradish root
1 large head of ripe elderberries
3 sprigs of thyme, leaves picked
1 bay leaf
1 shallot, finely chopped
50ml madeira
150ml beef or game stock
500g venison loin
Rapeseed oil or another high smoke-point neutral oil such as sunflower
200g wild mushrooms, cleaned
1 clove of garlic, finely chopped
A handful of parsley leaves, chopped
A handful of blackberries, washed
Method
Heat the oven to 200C. To make the celeriac puree, put the celeriac into a pan and just cover with water. Add 1 tsp salt and bring to the boil, then reduce the heat to a simmer and cook for 12-15 mins, until the celeriac is fork tender. Drain any excess water then place in a blender with a large knob of butter. Season with salt and pepper and some grated horseradish and blitz until creamy. Transfer to a bowl, cover with foil to keep warm.
Using a fork, gently pull the elderberries off their fine stalks into a bowl. Heat 1 tbsp olive oil and a good knob of butter over a medium heat and add the bay and thyme, followed by the chopped shallot and a pinch of salt. Cook, stirring, for a few minutes until the shallot is translucent, then add the elderberries and cook for a few more minutes, until the berries are starting to break down. Add the madeira and cook off for 2 mins, then add the beef stock and stir. Reduce a little more while you cook the venison, then remove from the heat.
Season the venison with sea salt on both sides. Heat a little rapeseed oil in a heavy-bottomed skillet or frying pan until stinking hot, then add the venison and cook for 2-3 mins, until a caramelised crust has formed on the underside. Flip it over and cook for another 2 mins, then seal any edges that haven't had contact with the pan. Place on a baking sheet and put in the oven for 3-5 mins, depending on how rare you like it. Rest for at least 5 mins, while you cook the mushrooms.
Fry the mushrooms in some butter and olive oil with the chopped garlic (being careful not to burn the garlic) and a pinch of salt and pepper until they are coloured and have lost their moisture – about 5 mins. Stir through the chopped parsley, set aside and keep warm in the oven.
Return the elderberry sauce to a low heat and add a knob of butter. Cook until it's melted into the sauce then add the blackberries and stir. Taste for seasoning.
Slice the venison loin into thin slices against the grain. Spoon some celeriac puree onto warm plates and use the back of a spoon to smooth it out. Lay the venison on top and spoon over some of the sauce. Serve with the wild mushrooms.
Image: Helen Cathcart
Where to buy these ingredients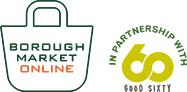 Shop online
If you can't make it to the Market, Borough Market Online offers a wide selection of our traders' produce, delivered direct to London addresses and, where available, by post to the rest of the UK. The service also includes a range of Best of Borough Market hampers and meal boxes.