Scallops with hazelnut herb butter & pickled cherries
Rosie Birkett
A beautiful summer starter of grilled scallops with golden nuts and piquant cherries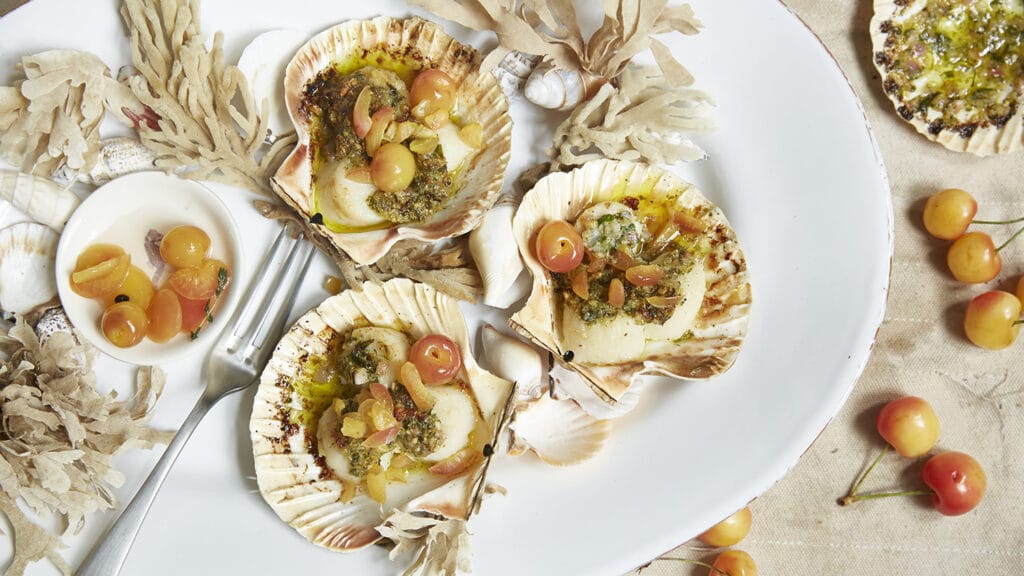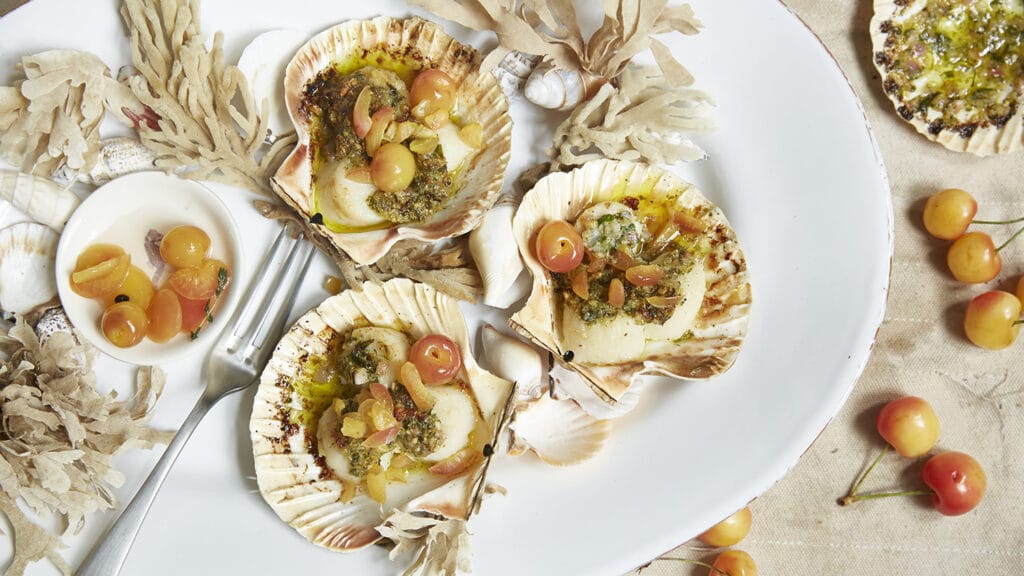 Ingredients
For the pickled cherries
150g white wine vinegar
150ml water
1 star anise
50g caster sugar
A sprig of thyme
3 black peppercorns
1 tsp salt
150g cherries, halved, pitted and sliced
For the butter
30g raw shelled hazelnuts
100g unsalted butter
8g chervil
8g tarragon
1 shallot, finely chopped
2 tsp lemon juice
For the scallops
8 scallops, cleaned
Rapeseed oil
Picked chervil, to garnish
Method
To make the pickled cherries, put the vinegar, water, star anise, peppercorns, sugar and salt in a non-reactive pan with the thyme and bring to the boil, stirring. When the sugar has dissolved add the cherries and simmer for 2 mins. Turn off the heat and pour into a sterilised jar to cool.
To make the herb butter, preheat the oven to 180C. Place the hazelnuts in a roasting tray and roast for 6-8 mins, until they smell nutty. Pour into a clean tea towel and rub them to remove the skins.
Place the nuts in a food processor and blitz lightly to release their oils before adding the butter, herbs, shallot, lemon juice, a large pinch of salt and a grind of pepper. Blitz until you have a green-flecked butter.
Drain a couple of tablespoons of the pickled cherries onto kitchen roll, then chop.
Preheat the grill to high. Brush the scallops on both sides with a little rapeseed oil, and season with salt. Place in their shells or on a roasting tray, and grill for 1-2 mins, until they're starting to colour. Turn them over and dot with the butter, then return to the grill for 1-2 mins more, until the butter has melted.
Scatter the cherries and picked chervil over the scallops, then serve in the shells. I'd serve some crusty bread alongside for moppage.
Image: Helen Cathcart
Where to buy these ingredients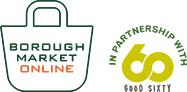 Shop online
If you can't make it to the Market, Borough Market Online offers a wide selection of our traders' produce, delivered direct to your door.