Chocolate, cherry & raspberry tart
Ursula Ferrigno
Crisp pastry filled with chocolate ganache and dotted with juicy summer fruits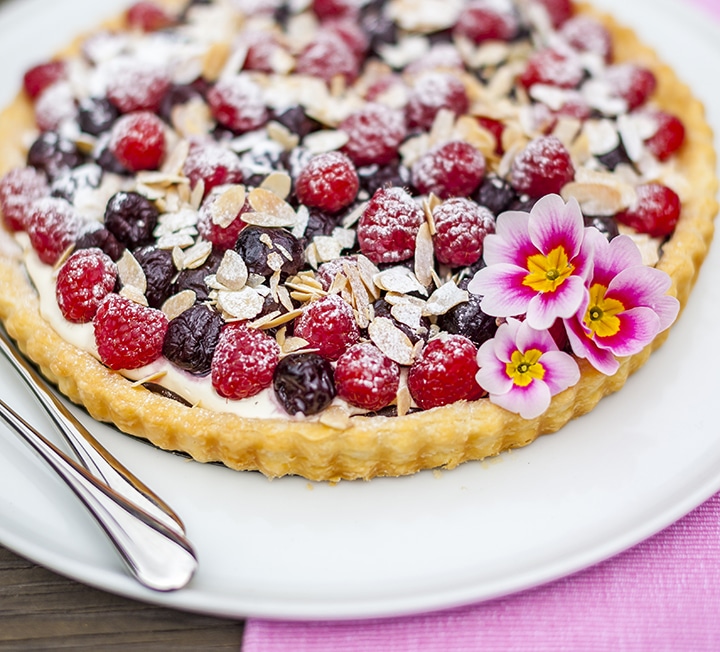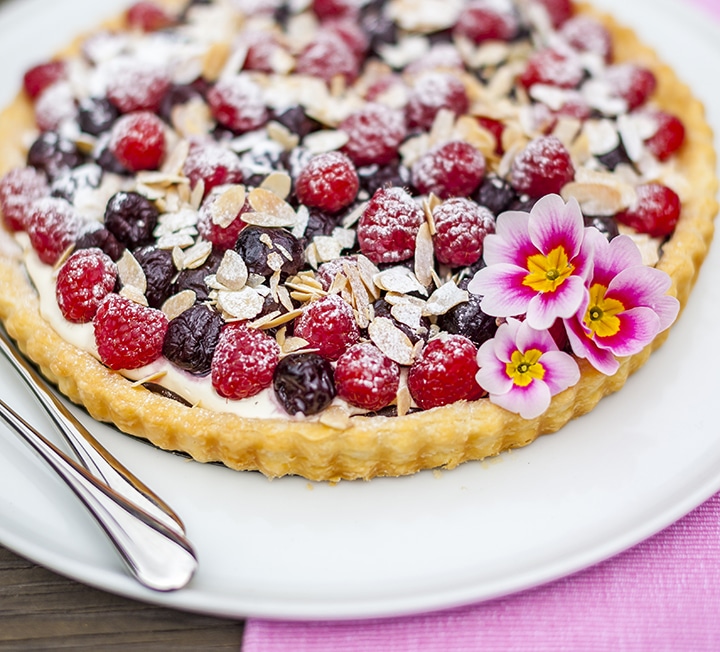 Ingredients
For the pastry
30g icing sugar
1 egg yolk, plus enough water to make up to 60ml
240g '00' flour
200g cold, unsalted butter, cut into small cubes
For the poached cherries
700g fresh cherries, pitted
100ml red wine
140g golden caster sugar
1 star anise
1 cinnamon stick
3 cloves
Thinly peeled rind of 1 orange
For the chocolate ganache
200g dark chocolate, at least 75% cocoa solids
80g unsalted butter
3 tbsp double cream
For the cream
200ml double cream
30g caster sugar
1 tsp vanilla extract or bean paste
50g toasted flaked almonds
200g raspberries
Icing sugar for dusting
Method
For the sweet pastry, mix the icing sugar and egg yolk in a small bowl until smooth. Pulse the flour, butter and a pinch of salt in a food processor until blended, but ensure that the butter is still lumpy.
Turn out onto a work surface and bring the crumbs together in a heap. Make a rabbit hole in the centre and pour in the egg mixture. Lightly mix with your hands, kneading gently. Wrap in clingfilm and rest for 30 mins.
Knead the pastry very gently, roll out to line a 28cm tart tin, trim the edge and prick all over with a fork. Freeze for 15 mins until you are ready to bake.
Preheat the oven to 180C. Blind bake the tart shell for 12-15 mins, until lightly golden. Remove the paper and weights and bake for a further 10 mins. Set aside on a wire rack to cool.
For the poached cherries, combine all the ingredients in a saucepan over a medium heat. Simmer for at least 20 mins until the cherries are tender. Set aside to cool, then chill. This can be done the day before or while the pastry is chilling, but the longer the better.
For the chocolate ganache, melt the chocolate in a bowl over a pan of simmering water. Add the butter and cream, stirring until you have a smooth mixture.
Pour into the cooled tart shell, spread evenly over the base and chill.
For the cream, whisk the cream in a bowl until you have soft peaks, then add the sugar and vanilla. Spoon over the chilled chocolate. Top with drained cherries, raspberries and flaked almonds. Dust with icing sugar.
ALTERNATIVE: Other fruits may be used, for example, blueberries, strawberries, peaches and nectarines.
Image: John Holdship
Where to buy these ingredients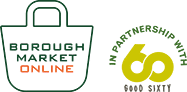 Borough Market Online
If you can't make it to the Market, Borough Market Online offers a wide selection of traders' produce, delivered direct to your door.