Ginger baked figs, butter biscuits & cinnamon mascarpone
Ed Smith
A figgy pudding that's perfect for a mellow autumnal Sunday lunch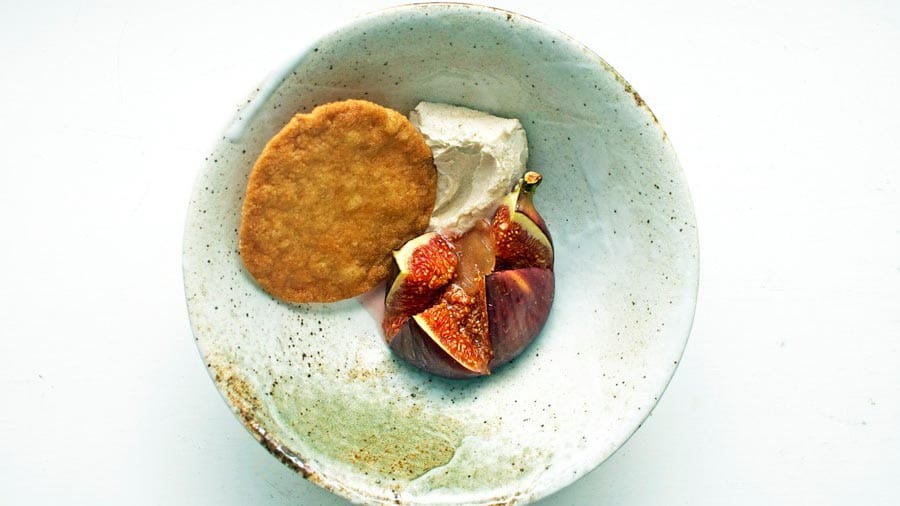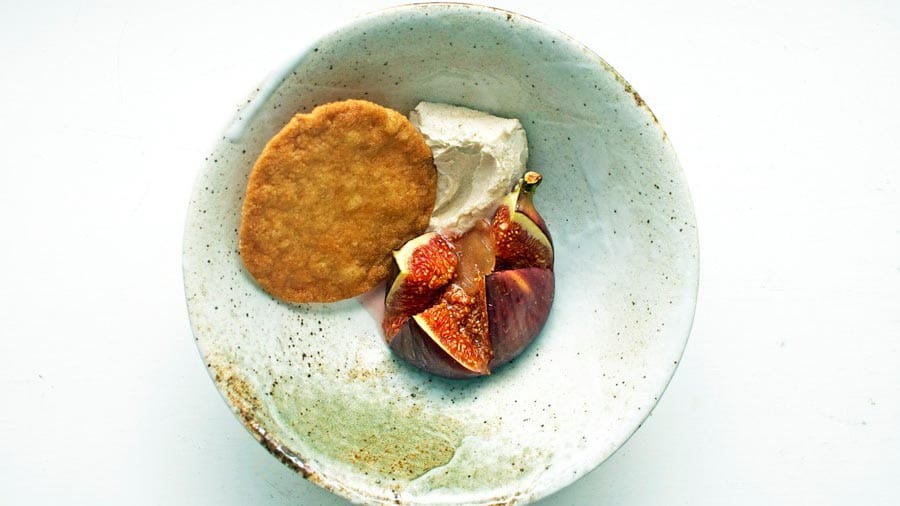 Recipe Meta
Prep
15 mins (plus 25 mins chilling/ cooling time)
Ingredients
For the butter biscuits
100g unsalted butter, room temperature
100g sugar
80g plain flour, sieved
20g corn flour
1 tsp baking powder
1 tsp ground ginger
1 piece of candied ginger, finely diced
For the cinnamon mascarpone
300g mascarpone
2 tsp icing sugar
2 tsp ground cinnamon
For the figs
6 large figs
1 piece of candied ginger, cut into 6 thin slices
4 tbsp syrup from the candied ginger pot
Method
Preheat the oven to 180C. To make the biscuits, use the back of a wooden spoon to cream the butter with the sugar until the mix is light. Add the remaining ingredients and mix well. Put in the fridge for 20 mins, then use a tsp to spoon 6 walnut-sized balls onto a large baking tray (this should use half the mix).
Roll each heaped tsp of biscuit dough quickly in your hands to make the ball shape, then space them evenly and well apart from each other. You don't need to be too precious, just be fairly quick. Press the balls gently with the back of the spoon to start to spread them into a round. It will leave a dimple. That's fine—as it cooks, the biscuits flatten and spread, so don't be tempted to put more than 6 on the baking sheet.
Put in the pre-heated oven for 8 mins, so that they have spread and are turning golden. Remove and allow them to cool and harden for 5 mins, then slide off the tray with a palette knife. Repeat the process with the remainder of the butter biscuit mix. Store in an air-tight container until needed.
To make the spiced mascarpone, simply spoon mascarpone cheese into a mixing bowl, add the icing sugar and stir. The cheese will loosen. Add the cinnamon and mix well. Taste. Add a sprinkle more sugar if you wish.
For the figs, make 2 cuts in a cross-shape half to two thirds of the way down each fig. Pinch the bottom of the figs to open that cross out a little and insert a slice of candied ginger in the cross. Put the figs in a baking tray or ceramic or pyrex dish, then spoon the ginger syrup over each fig. Add 1 tbsp water to the base of the tray to stop things burning as the syrup dries out.
Cook at 180C for 15 mins. The figs will be soft, mellow and sticky. Spoon the cooking juices over the figs and serve with the mascarpone and biscuits.
Image: Ed Smith
Where to buy these ingredients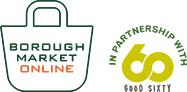 Shop online
If you can't make it to the Market, Borough Market Online offers a wide selection of our traders' produce, delivered direct to London addresses and, where available, by post to the rest of the UK. The service also includes a range of Best of Borough Market hampers and meal boxes.