Ginger, chilli & soy steamed scallops
Ching He-Huang
An easy, elegant starter for Lunar New Year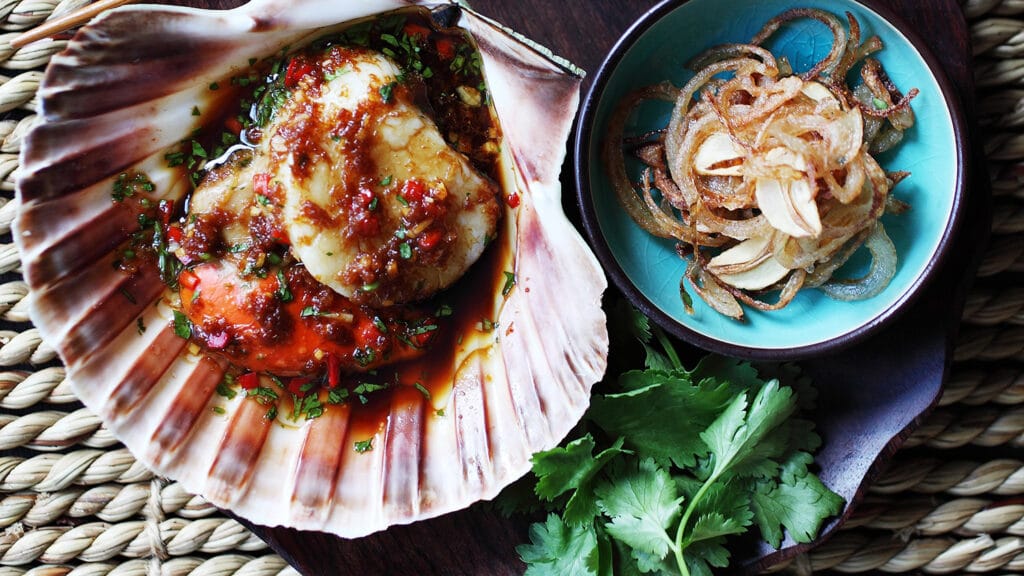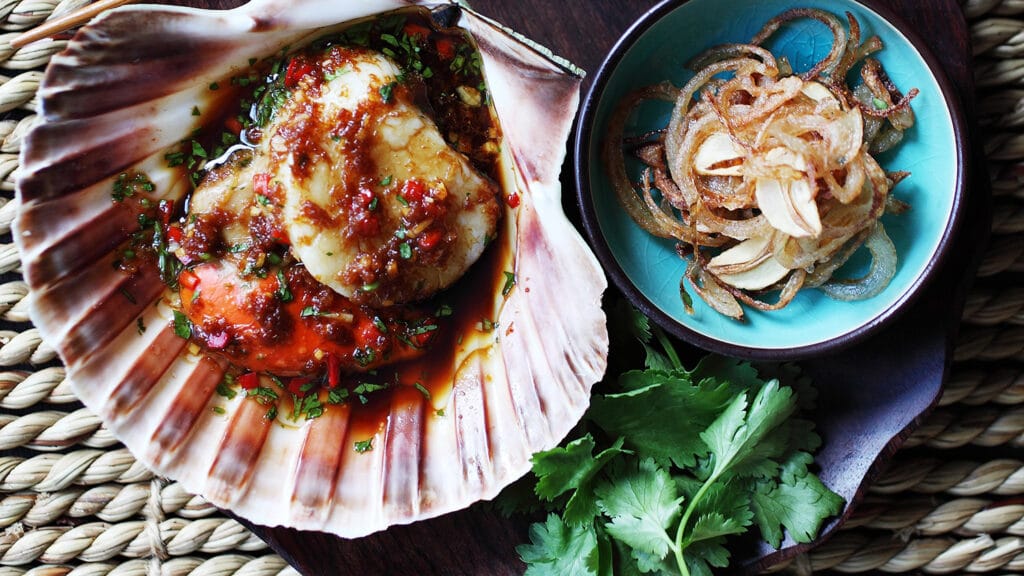 Ingredients
4 large hand-dived king scallops, in their shells
1 red chilli, seeds removed and chopped
6cm piece of ginger, grated
1 tsp toasted sesame oil
1 clove of garlic, finely chopped
2 tbsp light soy sauce
2 tsp coriander, finely chopped
For the topping
250ml groundnut oil, for deep frying
2 medium shallots, chopped
6 large cloves of garlic, roughly chopped
2 tbsp coriander leaves, shredded to garnish
Method
With a sharp chopping knife, prise open the scallop shells by running the knife on the inside of the shell, releasing the attached membrane.
Pull off the frill, the black stomach sack and any other pieces that are around the meat of the scallop and discard, leaving just the white flesh and any coral. Rinse the scallop thoroughly in cold water – ask your fishmonger to prepare the scallops for you, if you'd prefer.
In a small bowl, combine the chilli, ginger, sesame oil, garlic, soy sauce and coriander. Place the scallops on a heatproof plate, and spoon over one teaspoon of the dressing. Set the plate on a bamboo steamer.
Half-fill a wok with boiling water and rest the bottom of the steamer over the wok, making sure it doesn't touch the water. Cover with a lid and steam the scallops for 5-6 mins.
While they're steaming, deep fry the shallots and garlic in hot oil until crisp (it should take less than 1 min). Pour the oil through a sieve, reserving the browned shallots and garlic, and drain on absorbent paper.
Serve the scallops, spoon some of the reserved dressing, and sprinkle over the crispy shallots and garlic. Garnish with fresh coriander leaves.
Where to buy these ingredients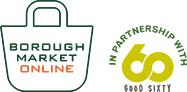 Shop online
If you can't make it to the Market, Borough Market Online offers a wide selection of our traders' produce, delivered direct to London addresses and, where available, by post to the rest of the UK. The service also includes a range of Best of Borough Market hampers and meal boxes.