Scallop & pea aguachile
Ed Smith
A fresh, fragrant, hot and sour dish of Mexican origin – with a British twist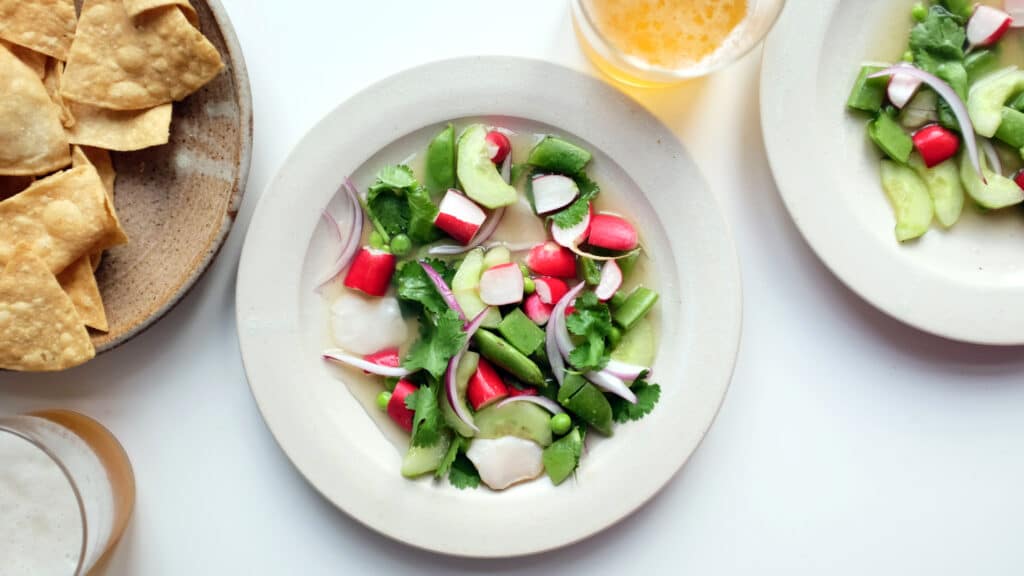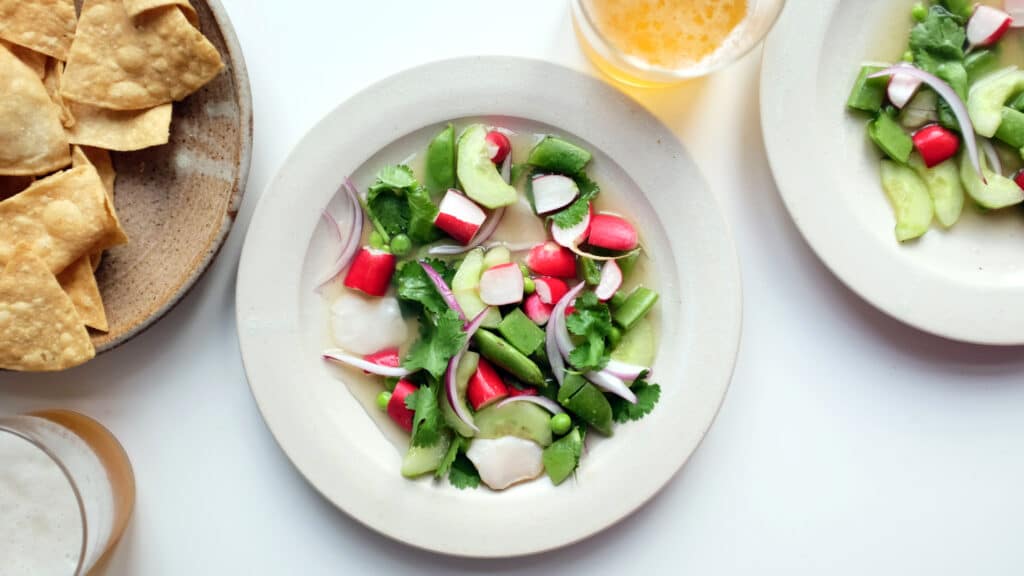 Ingredients
For the aquachile
1-2 green serrano chillies, deseeded
1 medium tomato
½ large cucumber, peeled and cut into chunks
1 large celery stick, roughly chopped
The stalks from a 30g bunch of coriander, chopped
Juice of 1 lime
1 tsp flaky salt
To assemble
2 plump scallops
150g sugar snap peas, sliced into ½cm rounds
8 breakfast radishes, quartered
½ large cucumber, peeled, deseeded and cut in ½cm crescents
100g fresh pea in their pods (pod weight)
A pinch of flaky sea salt
¼ small red onion, very finely sliced
A few coriander leaves
1 serrano chilli (optional), sliced into fine circles
A bag of corn tostadas
Method
Put one chilli plus the rest of the aguachile ingredients in a blender, pulse and blitz thoroughly. Taste and if you'd like more fire, add some or all of the second chilli, then blitz again. Set a fine sieve over a jug, decant the blended liquid into that then leave it for 5 mins to fully drip-strain through, leaving most of the solids in the sieve (discard those).
Sit the scallops flat on a chopping board, then use a very sharp knife to cut laterally and slice into 4-5 thin discs. Move those to a small bowl, pour a quarter of the aguachile over the top of the scallops and leave for 3 mins so as to 'cook' the flesh.
Meanwhile, cut the sugar snaps, radishes and cucumber, pod the peas, then combine in a bowl and add a good pinch of salt. Mix, pause and then arrange first the scallop onto a platter or large plate with a lip, then add the salted vegetables so that everything sits more or less in one layer. Dot with the red onion, coriander leaves and sliced chilli (if you fancy it), then pour over enough of the aquachile to create a generous puddle – more than a dressing, less than a broth.
Eat soon after, using spoons and crunchy corn tostadas to scoop, with cold beers nearby.
Image: Ed Smith
Where to buy these ingredients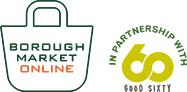 Shop online
If you can't make it to the Market, Borough Market Online offers a wide selection of our traders' produce, delivered direct to London addresses and, where available, by post to the rest of the UK. The service also includes a range of Best of Borough Market hampers and meal boxes.