Hot smoked salmon with beetroot, puy lentils & crème fraîche
Jenny Chandler
A great make-ahead starter from Jenny Chandler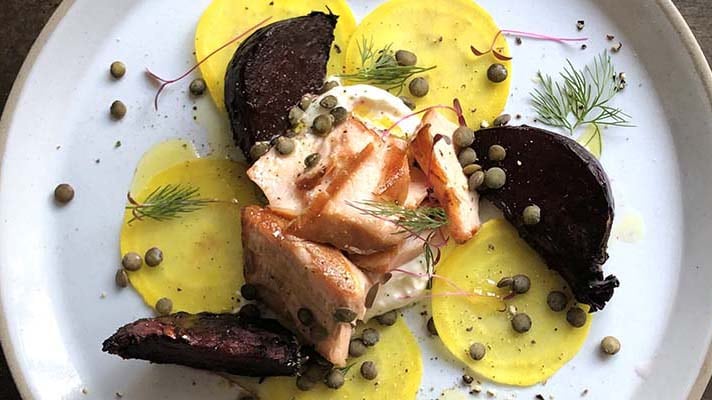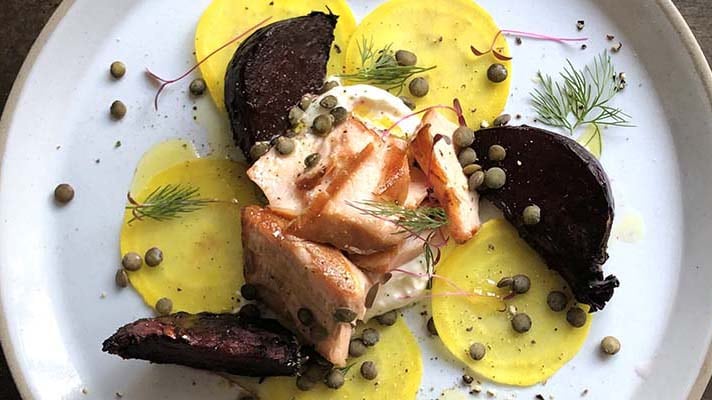 Ingredients
3 medium red beetroot
2 tbsp olive oil
2 medium-sized golden or striped chioggia beetroot
100g cooked puy lentils (it's worth putting a few in the freezer next time you cook a batch)
3 tbsp extra virgin olive oil
2 tbsp wine vinegar
4 tbsp crème fraîche
½ small shallot, finely diced
200g hot smoked salmon
A bunch of dill and perhaps some micro herbs such as pink amaranth or rocket
Method
Preheat the oven to 200C. Scrub then quarter the red beetroot, toss around in the olive oil on a roasting tray and cook in the oven for about 30 mins, or until tender.
Meanwhile, peel the golden or striped beetroot and cut into discs on a mandolin, or using a very sharp knife – the crunchy, raw beetroot really does have to be wafer-thin otherwise it can seem rather tough.
Season the lentils with the extra virgin olive oil, vinegar and salt and pepper. If the lentils are straight from the fridge you may want to warm them a little. Stir the shallot into the crème fraîche with plenty of black pepper and a touch of salt.
Now, assemble the dish laying the raw beetroot slices on the plate, piling most of the lentils in the centre and then arranging the cooked beetroot around them (I like to serve this while it's still slightly warm). Spoon the crème fraîche over the lentils and then flake the salmon on the top. Sprinkle the dish with dill, any micro herbs you are using, black pepper and the few remaining lentils.
Image: Jenny Chandler
Where to buy these ingredients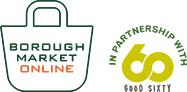 Shop online
If you can't make it to the Market, Borough Market Online offers a wide selection of our traders' produce, delivered direct to London addresses and, where available, by post to the rest of the UK. The service also includes a range of Best of Borough Market hampers and meal boxes.