Lemon & star anise posset & liquorice biscotti
Ed Smith
An excellent dessert for entertaining, with enough anise to keep things interesting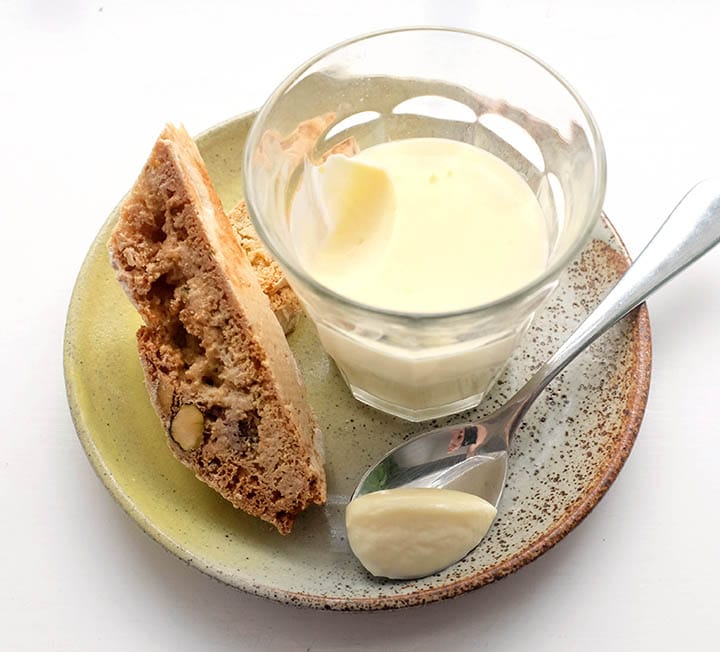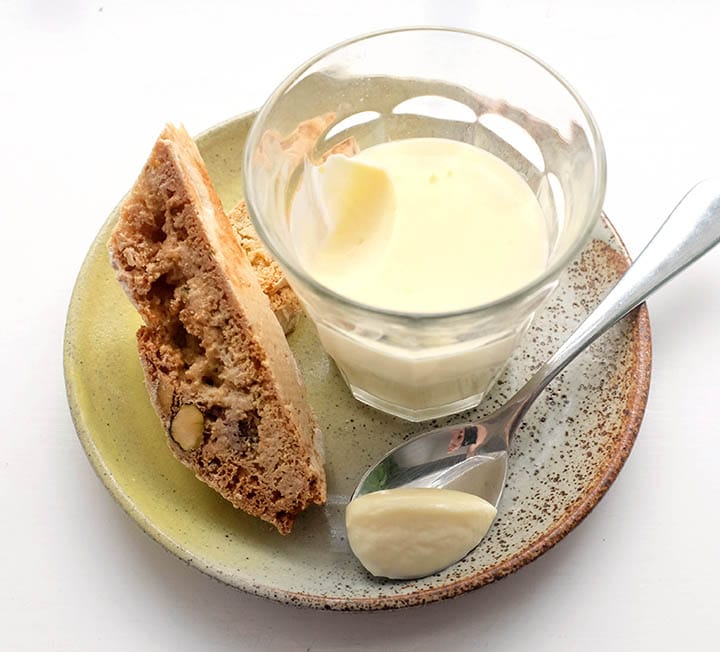 Recipe Meta
Prep
25 mins (plus chilling)
Cook
30 mins (plus cooling)
Ingredients
For the lemon posset
1-2 lemons
300ml double cream
60g caster sugar
1 star anise
For the biscotti
110g plain flour
30g ground almonds
2 tsp fennel seeds, lightly bashed using a pestle and mortar
½ tsp liquorice powder
100g caster sugar
Grated zest from ½ lemon
15g shelled, unsalted pistachios
1 tsp baking powder
1 large egg, lightly beaten
Icing sugar
Method
Pre-heat the oven to 200C. Zest and juice one large lemon. (You need 35-40ml of lemon juice for this, which should be one lemon, though you may require a little squeeze more).
Decant the cream into a small but high sided saucepan. Add the sugar and whisk until dissolved. Add the lemon juice and star anise and place over a low-medium heat. Slowly bring the cream to the boil. When it's properly bubbling, set a timer for 2 mins and watch as it froths up the saucepan – if the cream looks as though it will bubble over, place a metal spoon or fork in the pan and the froth will reduce. Boil for precisely 2 mins and remove from the heat. Leave to cool for 30 mins.
Stir the cooled cream and pour it through a sieve into a pouring jug, discarding the zest, star anise and any claggy skin. Divide the posset into little cups, glasses or ramekins. It's quite rich, so portions should be small. Leave in the fridge for at least 3 hours to chill and set.
Line a small baking tray with greaseproof paper or a silicon / non-stick baking sheet.
Mix all the dry ingredients for the biscotti, except the icing sugar, in a bowl. Add the egg and mix with a fork until most of the dry ingredients are damp and coming together. Now use one hand to push and pat the mix into a firm dough.
Dust a clean surface with a few tbsp of icing sugar. Tip the dough out onto the icing sugar and pat into a long, high sausage shape – about 6cm in diameter. Carefully lift this on to the baking tray and place in the middle of the oven. Cook for 20-25 mins until golden and relatively firm – it will spread a bit. If you're concerned about having a tight biscotti log, you could push the sides closer after 15 mins and they'll hold there from then on.
Remove from the oven and allow to cool and harden.
Image: Ed Smith
Where to buy these ingredients