Paprika & sherry short ribs with deli olives
Ed Smith
Slow-braised beef ribs with the Spanish flavours of paprika, sherry and olives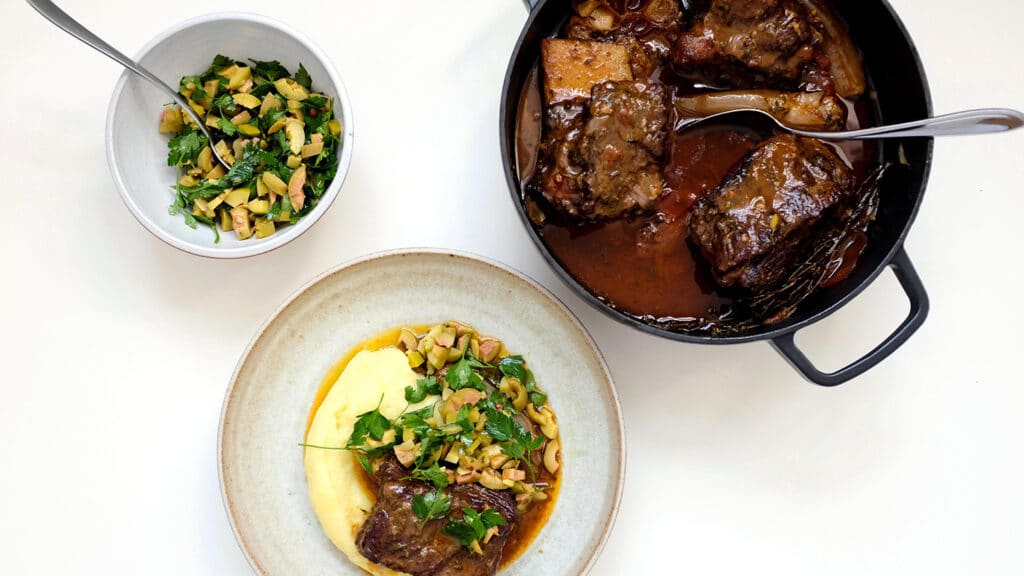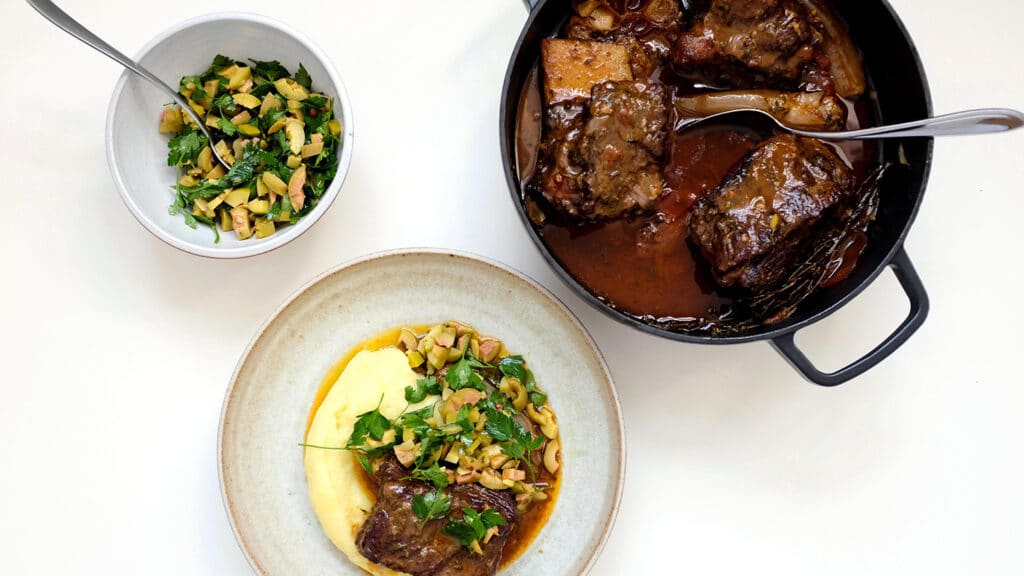 Ingredients
4 echalion (banana) shallots, peeled but kept whole
2 sticks of celery, roughly chopped
4 short ribs, around 1.2kg in weight
3 tbsp plain flour
1 tbsp tomato paste
375ml fino sherry
1 tomato, halved
1 bulb of garlic, unpeeled but halved across the middle
4-5 sprigs of thyme
4 strips of lemon peel (optional)
For the olive embellishment
200g marinated, pitted green olives, roughly chopped 25g flat leaf parsley, leaves picked
4 tbsp extra virgin olive oil
1 tsp sherry vinegar
Method
You will need an oven-proof sauté pan or a casserole with a lid, big enough for the ribs to sit in one layer. Place the pan on a high heat. Add 1 tbsp cooking oil, then the peeled shallots. Fry for 5 mins, so they take on a bit of colour.
Meanwhile, mix the flour on a plate with generous pinches of salt and pepper, then roll the ribs around so all sides are dusted.
Remove the shallots and replace them with the ribs and another 1 tbsp cooking oil. Brown every side of meat. This will probably take 10-12 mins.
Find or make a gap in the pan and add the tomato paste and cook for 1 min more before pouring in the sherry and 300ml water. Squeeze in the tomato, the garlic and thyme. If you have a lemon to hand, use a vegetable peeler to take four strips of peel, and pop those in too. Place a lid on top and cook for 90 mins. At this point, baste the drier areas, and shuffle and jumble the contents of the pan to ensure everything's still dipped in braising liquid. Cook for 30-60 mins more, until the beef is wobbly and soft.
At some point while the ribs are cooking, roughly chop your marinated olives and combine with the extra virgin olive oil, sherry vinegar and parsley leaves (if young and small, just picked; if fairly large, roughly chopped).
Serve with mashed potato, or chickpeas and some crusty bread, with the cooking liquor spooned over the ribs. Spoon the olives on top or nearby.
Image: Ed Smith
Where to buy these ingredients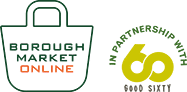 Borough Market Online
If you can't make it to the Market, Borough Market Online offers a wide selection of traders' produce, delivered direct to your door.