Roast plum pavlova
Ed Smith
Billowy meringue topped with jammy plums and fresh tarragon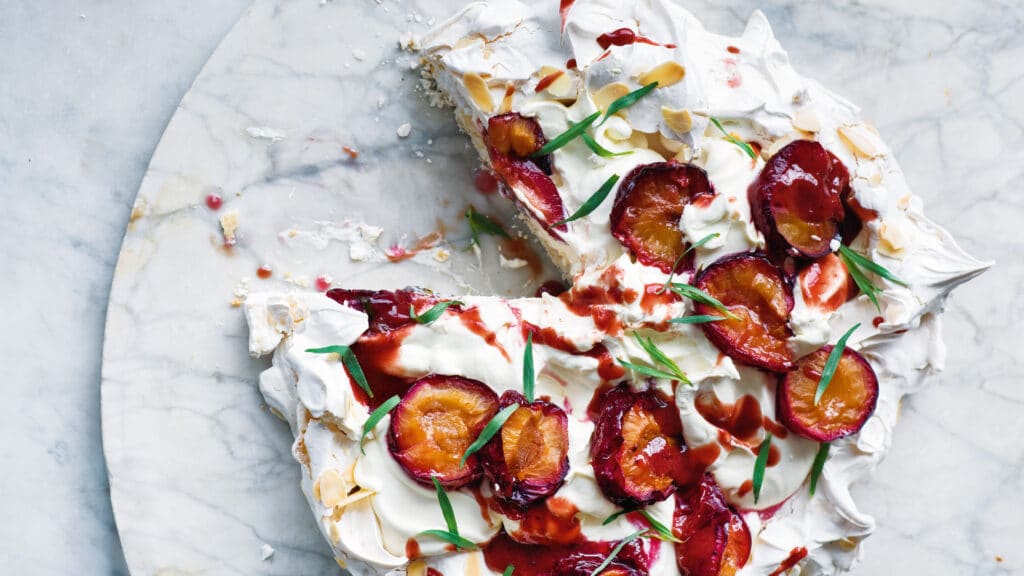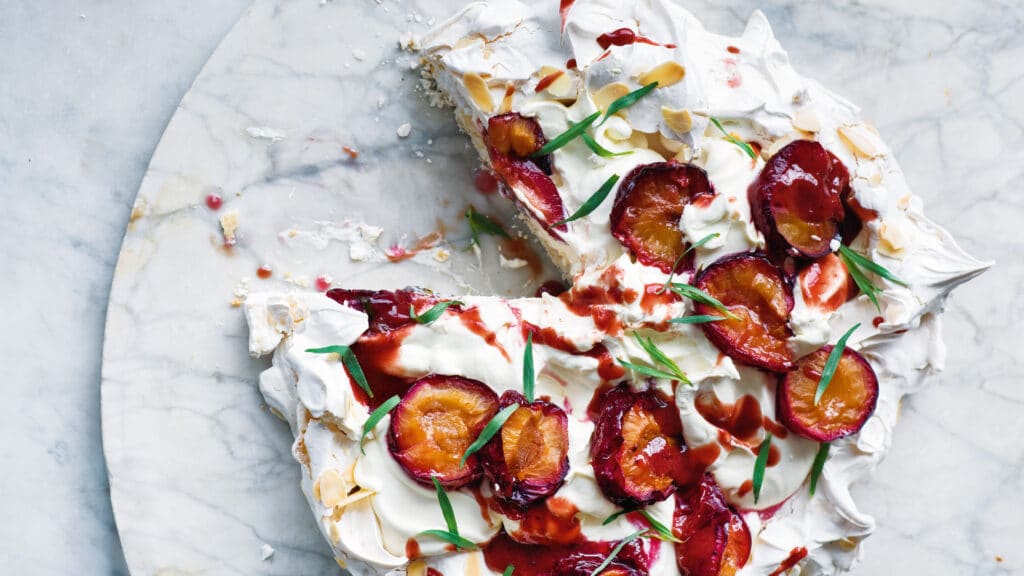 Recipe Meta
Cook
2½ hours (plus 1 hour cooling)
Ingredients
For the roast plums
6 sprigs of tarragon
1kg seasonal plums, halved and de-stoned
40g golden caster sugar
For the meringue
5 large egg whites (about 175g)
350g caster sugar (or twice the weight of the egg whites)
70g flaked almonds, toasted
To finish
600ml double cream
2 tsp vanilla extract
2 sprigs of tarragon, leaves picked
15g flaked almonds, toasted
Method
Preheat the oven to 200C. Place the tarragon sprigs in the base of a ceramic dish or roasting tin with 150ml water. Lay the plums over these, cut side up, ideally in one layer. Sprinkle the sugar onto the plums, macerate for 15 mins, then bake in the oven for 20-30 mins, until soft and puffy but still plum-shaped. Leave to cool for 15 mins, then transfer the plums, juices and tarragon to a smaller vessel and refrigerate until required.
Weigh the egg whites. You will need double the quantity of sugar to whites to make a classic meringue, and ideally a standing mixer fitted with the balloon whisk to do the hard work. Set the oven to 130C and line a baking sheet with baking parchment or a silicone baking mat.
Ensure the mixing bowl is spotless. Add the egg whites and whisk at medium speed until they form stiff peaks. Increase the speed and sprinkle the sugar into the egg whites in a steady stream. Continue whisking for 9 mins, until the mixture is glossy and, if pinched, has no hint of sugary crystals.
Scatter half the toasted almonds over the meringue mixture. Use a large metal spoon to carefully but confidently ripple through the nuts in two or three large swoops. Spoon the mixture onto the lined baking sheet, creating a circle 26-28cm in diameter, with high, wavy sides and an indent for cream and fruit in the middle. Place in the centre of the oven, reduce the oven temperature to 110C and bake for 2 hours, then turn the oven off and leave for 1 hour more. Remove the meringue from the oven and sprinkle the remaining almonds on top.
Whip the cream and vanilla extract in a bowl until they reach loose ribbon stage, then spoon on top of the meringue. Arrange the plums and juices over the cream, then scatter with fresh tarragon and the flaked almonds.
Recipe from The Borough Market Cookbook (Hodder & Stoughton)
Image: Issy Croker
Where to buy these ingredients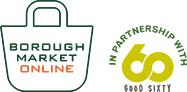 Shop online
If you can't make it to the Market, Borough Market Online offers a wide selection of our traders' produce, delivered direct to London addresses and, where available, by post to the rest of the UK. The service also includes a range of Best of Borough Market hampers and meal boxes.