Smoked pig cheek & farmhouse cheddar sprout gratin
Ed Smith
A Christmas dinner side dish to convert even the most sprout-sceptic of diners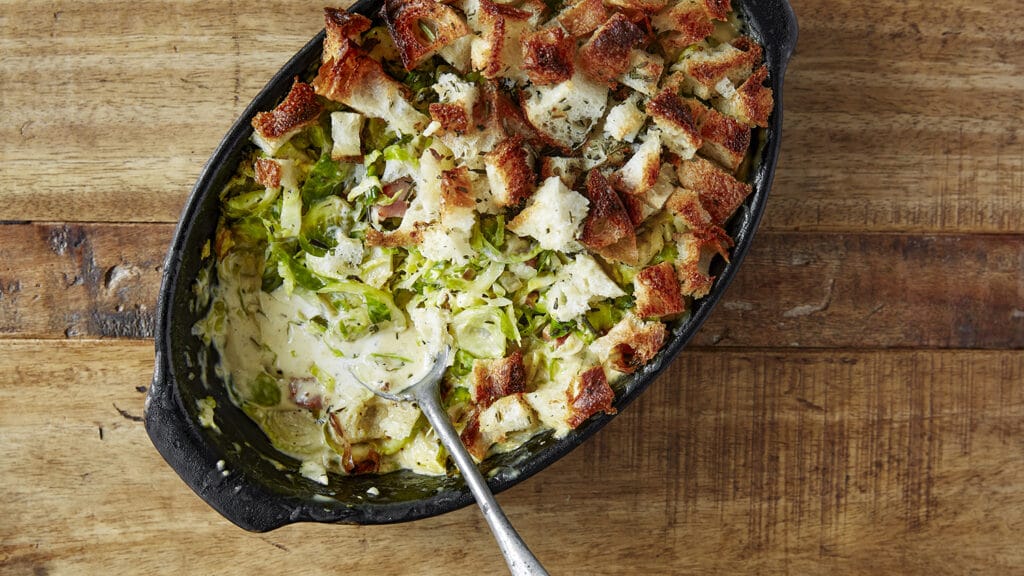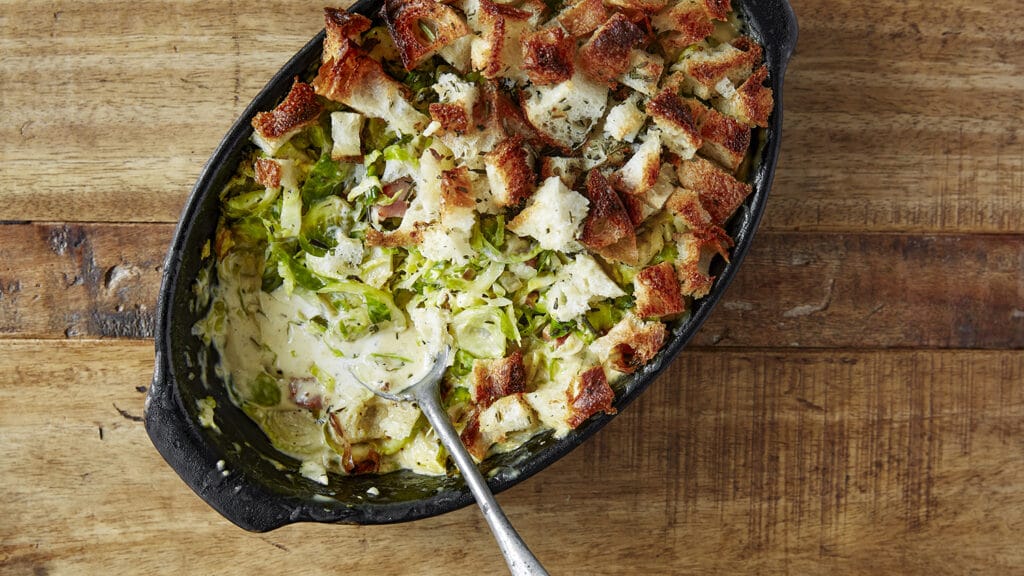 Ingredients
130g smoked pig cheek lardons
600g brussels sprouts, finely shredded
1 large echalion shallot, finely sliced
2 large cloves of garlic, crushed
300ml double cream
60g Isle of Mull Cheddar (or other mature farmhouse cheddar), grated
2 tbsp finely chopped rosemary
1 heaped tsp ground black peppercorns
⅕ nutmeg, finely grated
150g focaccia (or the end of a sourdough), cut into fingernail-sized cubes 1-2 tbsp extra virgin olive oil
Method
Trim any woody bases from the sprouts then shred very finely (use the shredding attachment on a food processor if you like).
Set a large frying pan or saucepan over a medium-high heat. Add the lardons into the pan while it's still cold, then let these render and fry for 7 mins until crisp. Reduce the temperature a little, add the shallot and soften for 5 mins without colouring, stirring occasionally. Add the sprouts and crushed garlic and cook for 2-3 mins, stirring occasionally, just until the sprouts change to a vivid and glossy green.
Add the cream, 100ml water, the cheese, half the rosemary plus the black pepper and nutmeg. Allow the liquid to bubble up and warm through for 1-2 mins maximum (we don't want to overcook the sprouts). Remove from the heat and decant into a gratin dish or low-sided casserole (around 2 litres).
If assembling in advance, stop at this point, cover the dish and refrigerate. On the day, tumble the bread and remaining rosemary in extra virgin olive oil (1 tbsp if focaccia, 2 tbsp if sourdough) and scatter over the dish.
Heat the oven to 220C, then bake for 15 mins or so, until the bread layer is browning and the cream is bubbling through.
Image: Kim Lightbody
Where to buy these ingredients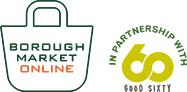 Shop online
If you can't make it to the Market, Borough Market Online offers a wide selection of our traders' produce, delivered direct to London addresses and, where available, by post to the rest of the UK. The service also includes a range of Best of Borough Market hampers and meal boxes.