Strawberry, tonka bean & pistachio butter kaju burfi
Gurdeep Loyal
Diamond-shaped Diwali sweets topped with a decadent pistachio butter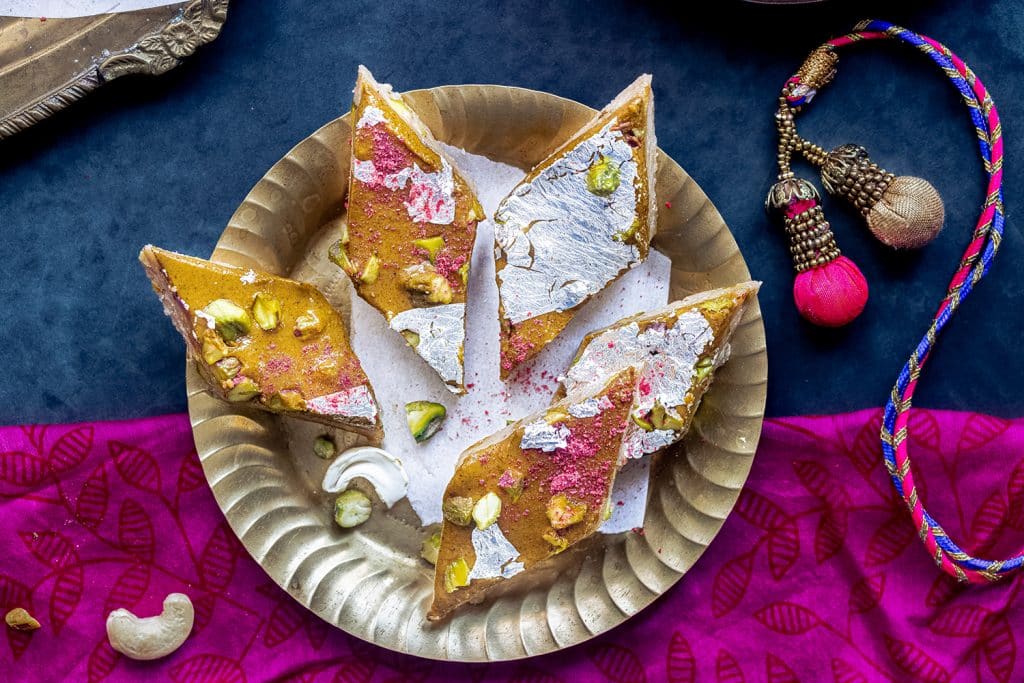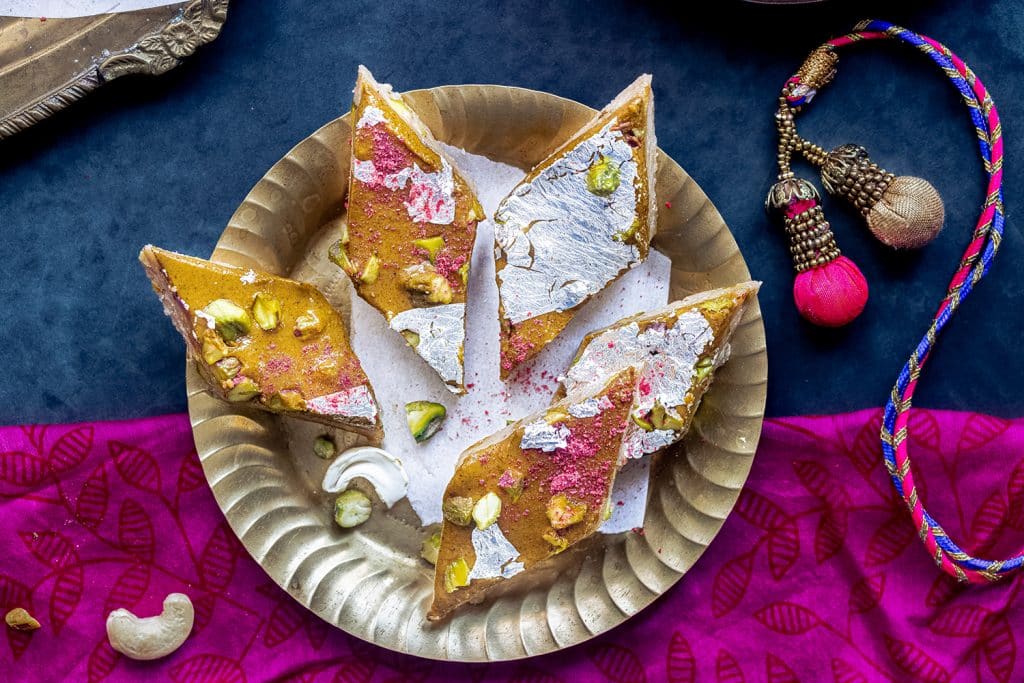 Recipe Meta
Prep
45 mins + 30 mins freezing
Serves
Makes 18-20 pieces
Ingredients
350g raw cashew nuts
225g caster sugar
2 whole tonka beans, very finely grated
3 tbsp coconut oil
1 tsp vanilla bean paste
2 tbsp strawberry or raspberry powder (I used a mix)
215ml jar of 100% pistachio butter
65g roasted pistachios, finely chopped
¾ tsp fine sea salt
Edible silver leaf, to garnish (optional)
Method
Place the raw cashews in a freezer bag and put into the freezer for 30 mins so their oils firm up. Put the cold cashews into a food processor, and pulse to a very fine powder – do this in batches so you don't overcrowd it. Sift into a bowl, blitzing any larger chunks again until it's all very fine and powdery.
In a large non-stick frying pan, add the sugar along with 125ml water. Gently heat for 3-4 mins until the sugar has fully dissolved and the liquid is only just starting to boil. Remove from the heat, then tip in the fine cashew powder, 1 tbsp coconut oil and the fine sea salt. Use a rubber spatula to mix well.
Return the pan to a low-medium heat and continuously stir for another 4 mins, scraping the mix from the bottom of the pan continuously with the spatula to stop it catching (this will take a little elbow grease).
When it's starting to thicken, stir in the fruit powder, grated tonka beans and chopped roasted pistachio nuts. Continue to cook on a low-medium heat – scraping, folding and turning the fudgy mixture continuously – for another 6-7 mins until it's starting to come together as one from the sides of the pan. Be patient, and don't be tempted to turn up the heat – it will eventually start to come together.
Remove from the heat and cool for 25-30 mins, using your spatula to turn and fold it every 5 mins, resulting in one large ball of cashew fudge. Line a 23cm x 23cm square cake tin with cling film while you wait.
When cool enough to touch, empty the ball of cashew fudge onto a silicon matt or piece of baking parchment and knead for 1 min. Then either roll out or press the strawberry fudge into the lined cake tin in an even layer approximately 1cm thick. Leave to one side.
If the pistachio butter in the jar has separated, mix together so it's a homogenous consistency. Add 2 tbsp coconut oil to a small saucepan and heat gently, just to the point where the coconut oil has fully melted. Remove from the heat, then add all 215ml pistachio butter, using a rubber spatula to mix the oil and pistachio butter together into a silky pourable topping.
Pour the pistachio topping over the layer of fudge, sprinkle over more chopped roasted pistachios, then leave to set in the fridge for at least 5 hours, ideally overnight.
When it's set, the bottom strawberry layer will be a dense burfi fudge, while the pistachio topping will be just softly set. Cut into 18-20 Diwali diamond shapes, garnishing with extra strawberry powder and festive silver leaf if you like.
Image: Sandhya Hariharan (Sandhya's Kitchen)
Where to buy these ingredients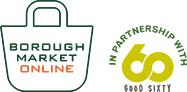 Shop online
If you can't make it to the Market, Borough Market Online offers a wide selection of our traders' produce, delivered direct to London addresses and, where available, by post to the rest of the UK. The service also includes a range of Best of Borough Market hampers and meal boxes.