Stuffed picnic loaf
Angela Clutton
Chargrilled vegetables, burrata, capers and fresh herbs, encased in bread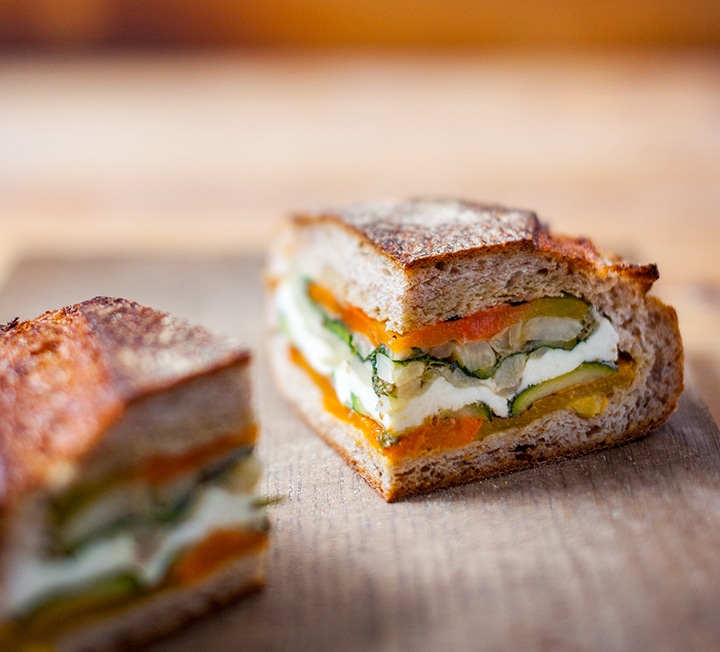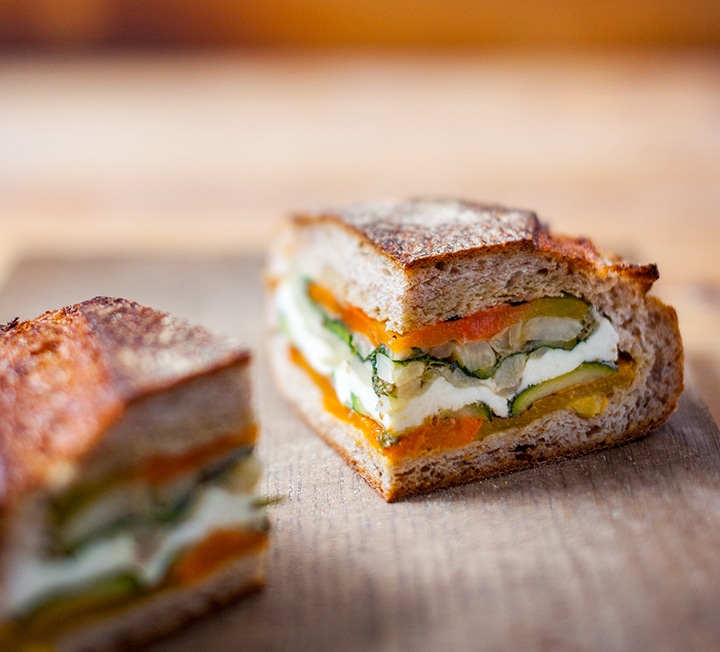 Ingredients
1 small red or orange pepper
1 small yellow pepper
1 courgette
1 fennel bulb
4 tbsp olive oil
3 tbsp extra virgin olive oil
2 tsp red wine vinegar
1 tbsp chopped fresh oregano leaves
1 garlic clove, cut into slivers
1 small round sourdough loaf
170g mozzarella or burrata
2 tsp capers
6 basil leaves
1 tbsp chopped mint leaves
Method
Prepare the vegetables first: quarter and de-seed the peppers; slice the courgette on the diagonal into rounds around 5mm thick; cut the top and bottom off the fennel, discard its outer layer then slice to the same thickness. Toss all the vegetables in 4 tbsp olive oil and season.
Get a grill or griddle pan very hot and lay the vegetables out in a single layer. Cook until lightly charred and tender. Keep an eye on them, as the different vegetables will be done at different times. Do in two batches if necessary for your size of pan.
While the vegetables are cooking, mix together in another large bowl 2 tbsp of the extra virgin olive oil, the red wine vinegar, oregano, garlic slivers, salt and pepper. As the vegetables are done, put them into that bowl and toss. Set aside to marinate.
Cut the top off the sourdough loaf about a third of the way down. Remove the inner breadcrumbs from the loaf's base and sides, leaving an edge of a few centimetres. (Keep what you take out to use as breadcrumbs.)
Rinse and pat dry the cheese. Slice 5mm thick. Rinse, pat dry and chop the capers. Lift the vegetables out of their bowl and pat dry.
Line the base of the loaf with some peppers, then layer up with the courgette, fennel, basil, cheese, capers and mint, finishing with peppers on the top. Keep seasoning as you go. Press down to fit as much in as you can.
Brush the remaining 1 tbsp of extra virgin olive oil on the underside of the loaf's 'lid'. Press it down on top of the filled loaf, then wrap it all up tightly in clingfilm. Sit the wrapped loaf on a tray, put another tray on top and weight it down with four food tins or a pile of cookbooks. Leave for a couple of hours or overnight in the fridge.
To serve, unwrap, then slice or cut into wedges.
Image: John Holdship
Where to buy these ingredients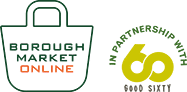 Borough Market Online
If you can't make it to the Market, Borough Market Online offers a wide selection of traders' produce, delivered direct to your door.