Venison & black bean chilli with whole baked squash
Ed Smith
A rich and warming chilli from The Borough Market Cookbook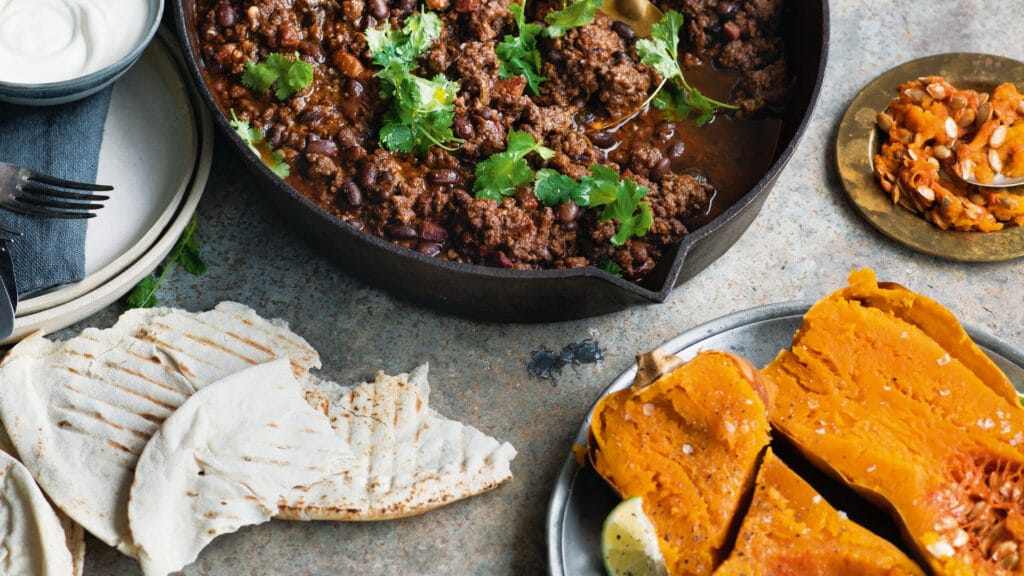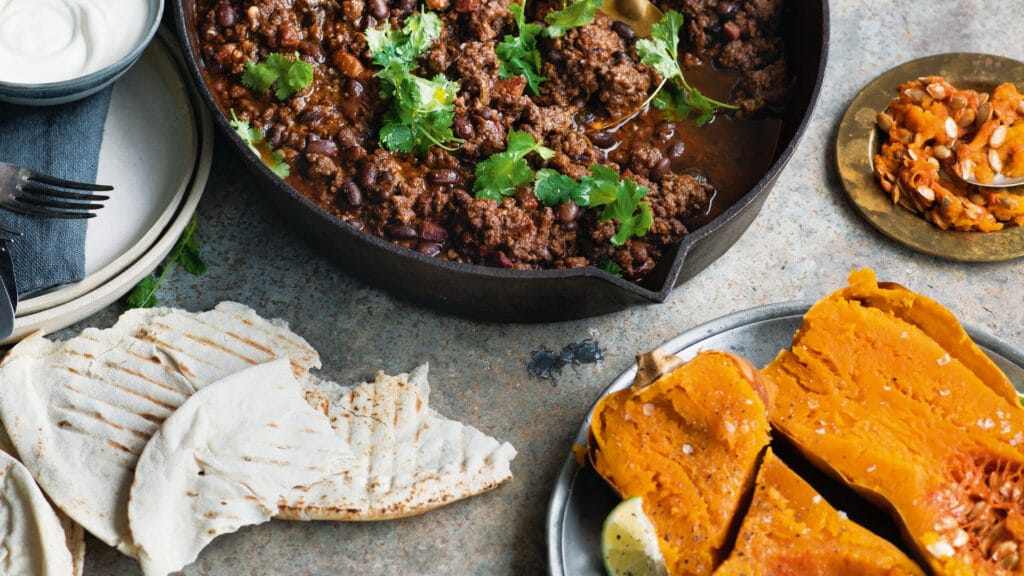 Recipe Meta
Prep
1 hour (soaking time)
Ingredients
200g dried black turtle beans (or 2 x 400g tins of cooked beans, drained)
2 dried ancho chilli peppers
1 x 400g tin chopped tomatoes
3 tbsp cooking oil
200g smoked lardons
1 onion, diced
1 garlic clove, crushed
800g minced venison (shoulder, or a mix of shoulder, leg and trimmings)
1 tsp ground cumin
1 tsp chipotle chilli powder
1 tsp Mexican pasilla chilli powder
330ml dark porter beer
2 bay leaves
2 pieces of cassia bark or 1 cinnamon stick
1 tbsp golden caster sugar
1 large butternut squash
Extra virgin olive oil, for drizzling
To serve
Sour cream
Coriander (optional)
Flatbreads and/ or rice (optional)
Method
If using dried beans, rinse them with cold water, then put them in a heatproof bowl or pan, cover with just-boiled water and leave to soak for 1 hour. Drain and set aside. At the same time, place the ancho chillies in a small heatproof bowl, cover with just-boiled water and soak for 30 mins. Then put the chillies, their soaking water and the tomatoes in a blender. Fill the empty tomato tin with water and add that too. Blitz until smooth. Preheat the oven to 160C.
Put 1 tbsp cooking oil and the lardons in a flameproof casserole dish or ovenproof saucepan (for which you have a lid). Fry over a medium-high heat for 5 mins, stirring occasionally. Add the onion, reduce the temperature and cook for 5 mins, then add the garlic and cook for a further 2 mins.
Meanwhile, heat the remaining cooking oil in a separate large, heavy-based frying pan over a high heat. Add the venison, brown it for 8-10 mins, then stir in the cumin and the chilli powders. Cook for 1 min, then transfer to the casserole. Increase the heat, move the meat to one side and pour the beer in.
Allow it to bubble for 20 secs before adding the tomato and ancho chilli purée, black beans (if using pre-cooked beans wait until the last 30 mins of cooking time), bay leaves, cassia bark or cinnamon stick, sugar and a good few grinds of pepper. Stir, bring to a lively simmer, put the lid on and place in the oven for 1½ hours. Remove the lid and cook for 30 mins more, by which time the beans should be tender and the liquid thickened and intensely flavoured. Taste and season with flaky sea salt and black pepper.
Wipe the squash clean and bake it whole on a small roasting tray next to or under the casserole for around 1½-2 hours, until the skin colours and sinks. To serve, slice it in half and remove the seeds. Tip any juice that's cooked out back over the flesh and season generously with salt, black pepper and extra virgin olive oil. Serve the chilli and squash with sour cream, plus flatbreads or rice.
Recipe from The Borough Market Cookbook (Hodder & Stoughton)
Image: Issy Croker
Where to buy these ingredients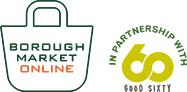 Shop online
If you can't make it to the Market, Borough Market Online offers a wide selection of our traders' produce, delivered direct to London addresses and, where available, by post to the rest of the UK. The service also includes a range of Best of Borough Market hampers and meal boxes.