Wild mushroom kievs with slow-roasted tomatoes
Ed Smith
A Borough Market spin on an old classic: the chicken kiev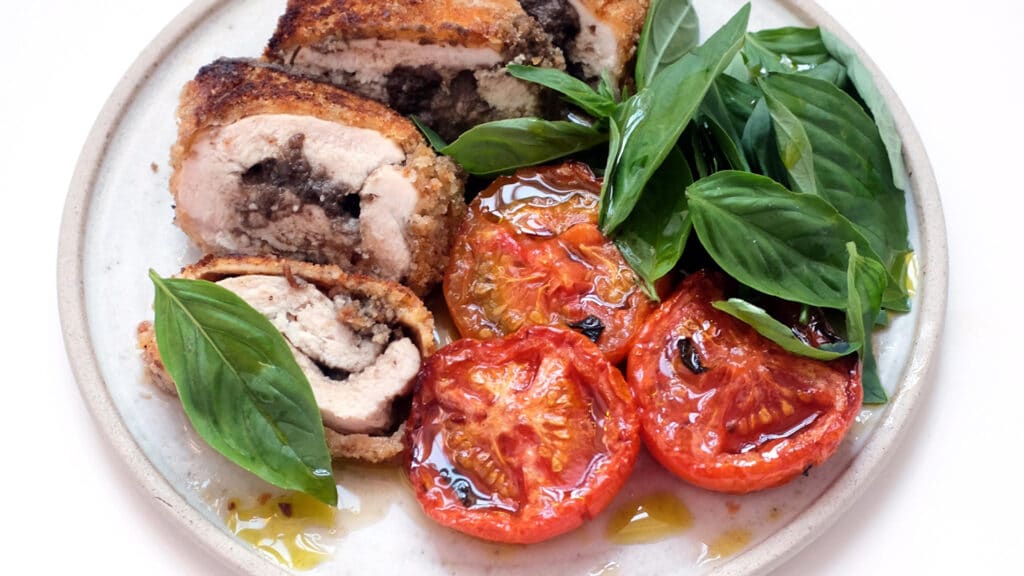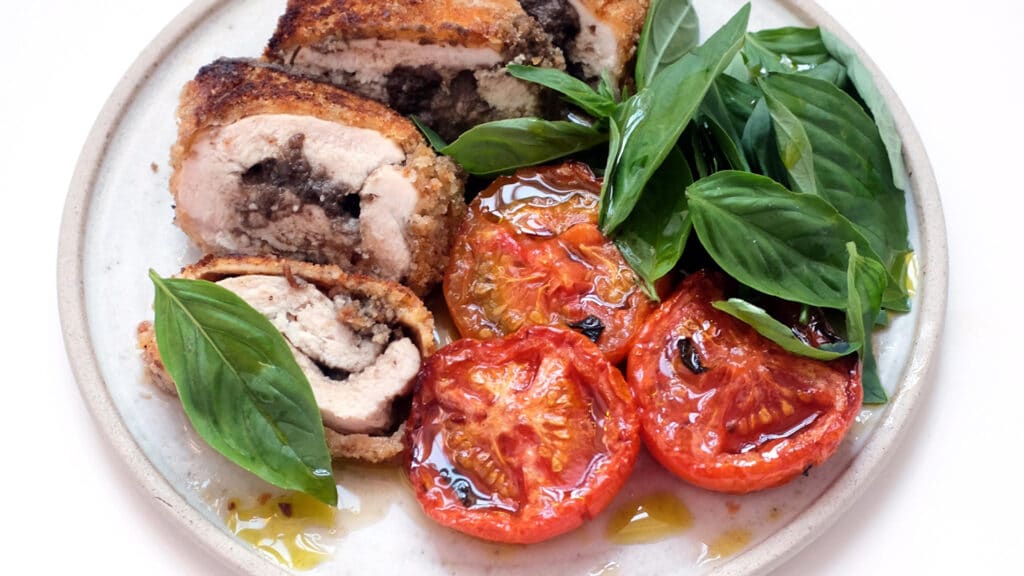 Ingredients
For the tomatoes
8 medium-sized tomatoes
1 tbsp sherry or red wine vinegar
5 tbsp extra virgin olive oil
3 tbsp golden caster sugar
4 cloves of garlic, flattened
10 sprigs of fresh oregano
4 sprigs of fresh basil, to finish
For the chicken kievs
200g white bread, no crusts, for breadcrumbs
80g plain white flour
2 eggs
2 tbsp milk
4 chicken breasts, chilled
1 tub of mushroom pâté, chilled
15g salted butter
To serve
Rice
Extra fine green beans
Method
It's important to begin this process with well-chilled chicken and similarly cold mushroom pâté, as the process is much easier and less messy if both are as firm as possible.
Heat the oven to 150C. Cut the tomatoes in half through their middles (not tip-to-stem) and place cut-side up in a roasting tray that fits them snuggly. Add a pinch of salt to the cut side of each tomato. Do the same with the sugar, vinegar and olive oil. Fit the garlic cloves and oregano between the tomatoes, then place in the lower-middle section of the oven to cook for 1¼ hours and possibly longer. Check on them from 30 mins onwards, basting with the
juices and oil – they're done when soft and browned, but still just holding their shape.
Whiz the bread to fine crumbs in a food processor. Spread out in a thin layer on a baking tray and dry in the oven while the tomatoes roast, occasionally turning and breaking up the crumbs until dry and golden.
Tip the flour onto a plate, stirring in a good pinch of salt and pepper. Beat the eggs and milk together, then pour onto a second plate. Scatter the breadcrumbs evenly over a third.
Remove the mini fillets from each chicken breast and save for another occasion. Cut a pocket in each breast, slicing along the thickest length, almost (but not quite) opening the meat like a book. Spoon in 2-3 tsp pâté, then secure the edges with cocktail sticks or a thin skewer. Roll one chicken breast in flour, then the egg, then the breadcrumbs. Repeat the process so it's well covered, then place on a baking tray or another plate. Do this with the remaining kievs, then return to the fridge for 30 mins.
Place a heavy-bottomed frying pan over a medium-high heat and add the butter and
2 tbsp cooking oil. When the butter is melting, place the breaded chicken into the pan, curved-side first. Cook for 90 secs, until a little golden and crisp, then carefully flip to cook for another 90 secs. You may need to do this is in batches. Transfer the chicken to a baking tray and place towards the top of your oven for
15-20 mins.
Serve with the warm tomatoes, with their juices spooned over the top, plus freshly picked basil, with rice and green beans on the side.
Image: Ed Smith
Where to buy these ingredients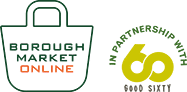 Borough Market Online
If you can't make it to the Market, Borough Market Online offers a wide selection of traders' produce, delivered direct to your door.