Venison sausage, swede, smoked cheddar & peppercorns
Gill Meller
A comforting cold weather game dish from Gill Meller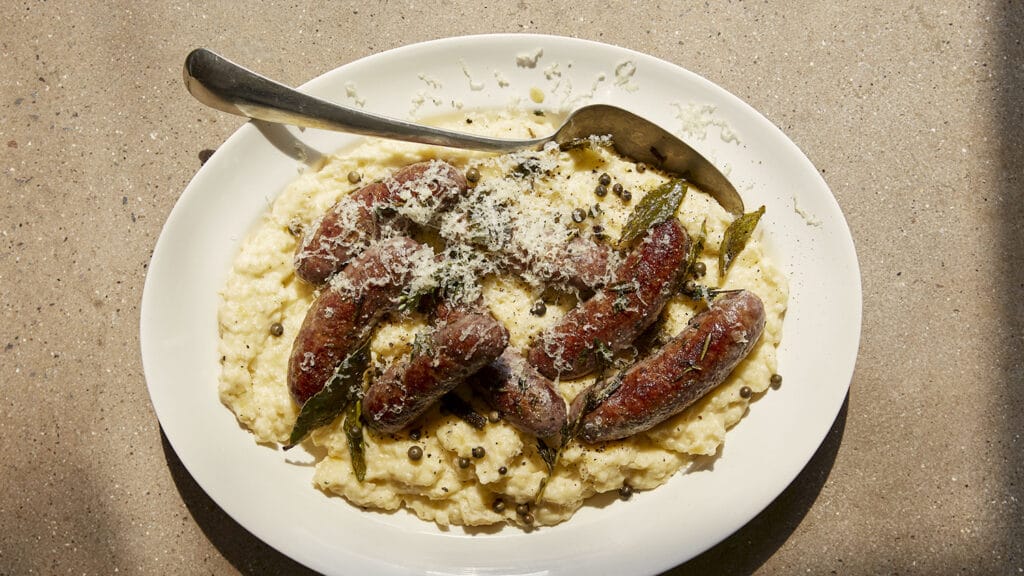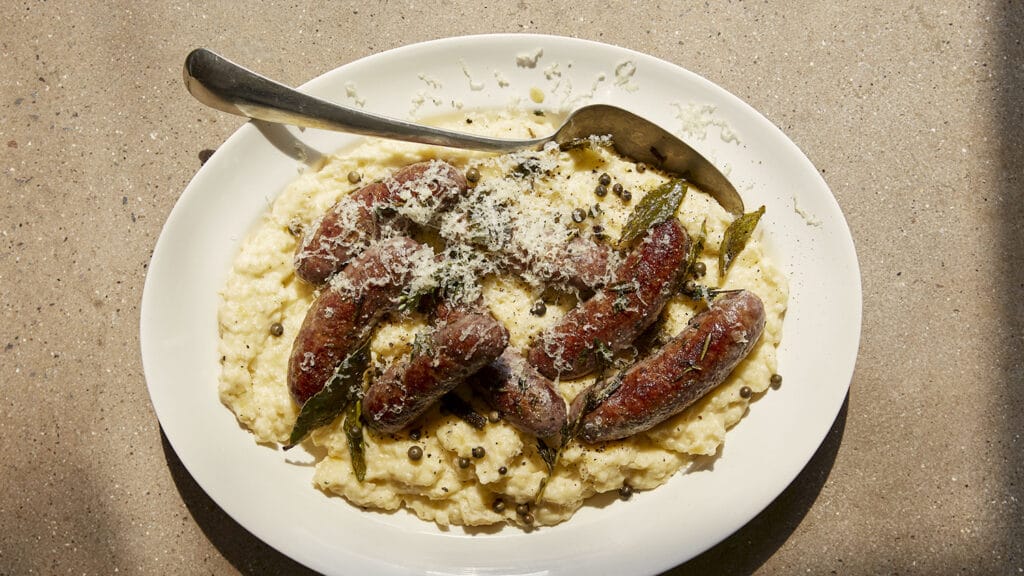 Ingredients
1 swede, cut into 2-3cm cubes
6-8 large venison sausages
A few herbs, such as rosemary, bay and thyme
50g butter
100ml double cream
50g smoked cheddar, grated
2 tsp green peppercorns in brine
Method
Place a large pan of salted water over a high heat and bring to the boil. Add the swede and cook for 30-40 mins, until tender.
Meanwhile, set a medium frying pan over a medium heat. Add a dash of extra virgin olive oil, followed by the sausages and the herbs (if using) and let them gently sizzle away, turning occasionally, until well browned and cooked through – this should take a good 20 mins or more, as cooking the sausage slowly actually helps to tenderise the meat inside and stops the casing splitting. Don't be tempted to prick the sausage with a fork – this just lets out all the fat and juices, which are far better kept inside. Keep the sausages warm once cooked.
Once the swede is tender, remove the pan from the heat, drain and leave in the colander to allow the steam to evaporate. Meanwhile, return the pan to a low heat and add the butter and cream. When bubbling away, tip in the cooked swede. Use a potato masher to smash and bash the swede into the butter and cream (you could use a potato ricer, if you prefer). The result should be relatively smooth. Stir in all but a smattering of the grated cheese and season well with salt and pepper.
To serve, spoon the swede out over a plate or platter. Top with the sausages, then sprinkle over the green peppercorns. Finish with a sprinkling of the remaining cheese and bring to the table.
Alternative: You can replace the sausages with another type of game sausage or, perhaps, some lovely venison steaks
Images: Kim Lightbody
Where to buy these ingredients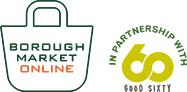 Shop online
If you can't make it to the Market, Borough Market Online offers a wide selection of our traders' produce, delivered direct to London addresses and, where available, by post to the rest of the UK. The service also includes a range of Best of Borough Market hampers and meal boxes.