Zaffran murgh korma – saffron chicken korma
Asma Khan
Mughlai saffron chicken from chef and restauranteur Asma Khan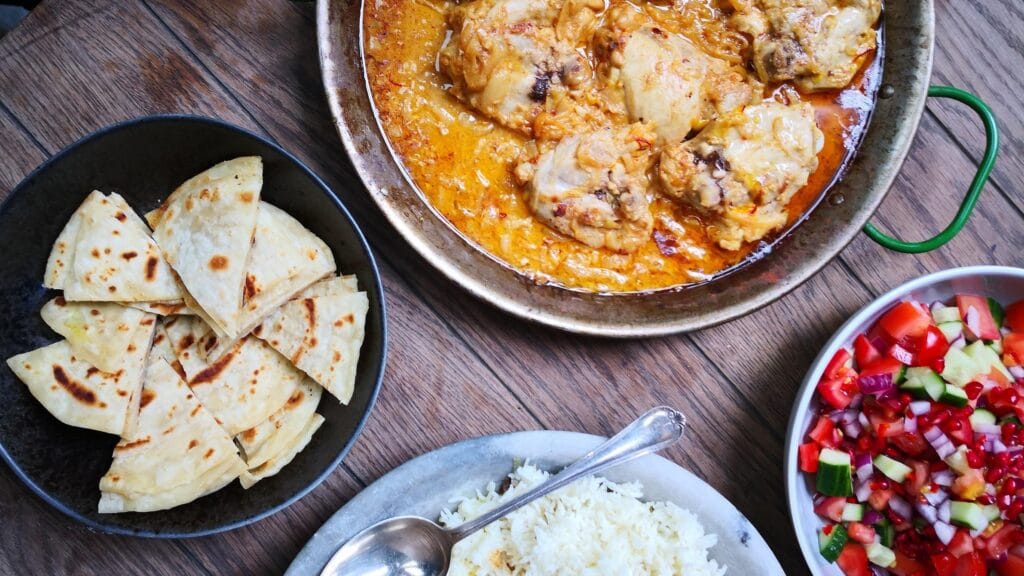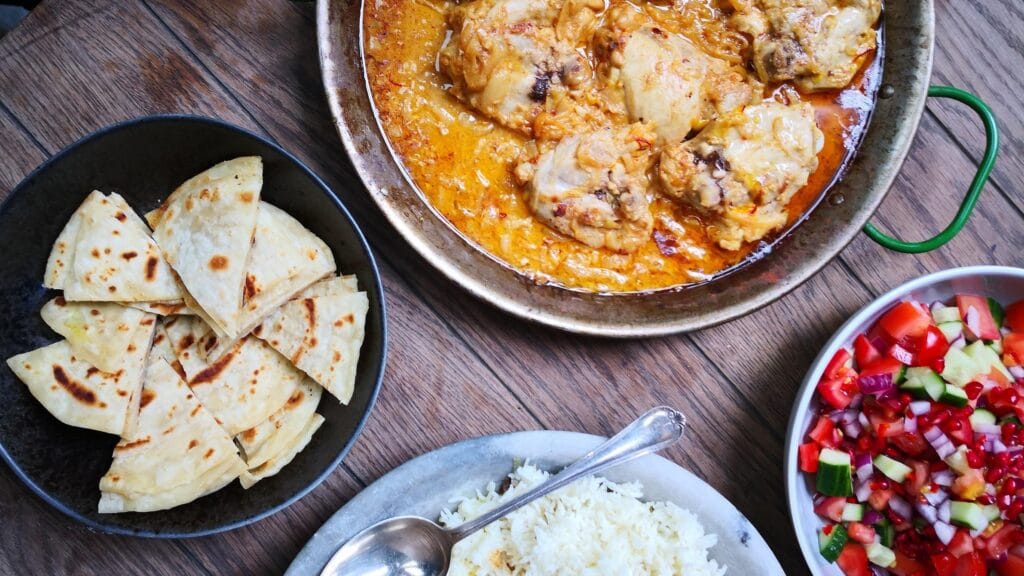 Recipe Meta
Prep
10 mins (plus 30 mins resting)
Serves
4 (as mains; 8 as a multi course meal)
Ingredients
2 tbsp ginger paste
1 tbsp garlic paste
500g Turkish/Greek full fat yoghurt
8 medium skinless chicken thighs on the bone (around 500g)
2 tbsp whole milk
A large pinch of good quality saffron strands
6 tbsp vegetable oil
3 medium white onions, thinly sliced into rings
Whole garam masala (2 Indian bay leaves, 1-inch piece of cassia bark, 3 green cardamom pods, 1 clove)
1 tbsp ground coriander seeds
¼ tsp chilli powder
1 tbsp sugar
2 tbsp ground almonds
Flaked almonds, to garnish
Method
Mix the garlic and ginger paste with the yoghurt in a non-reactive bowl and marinate the chicken thighs. Ensure that every part of the chicken is covered in the yoghurt. Cover and keep in a fridge for a minimum of 30 mins. When you are ready to start cooking, take the chicken out and bring it to room temperature.
Heat the milk to blood temperature – if the milk is too hot it will scald the saffron strands. Infuse the saffron strands in the tepid milk, cover and set aside at room temperature.
Use a deep pan with a lid to cook the chicken. Warm the oil on medium-high heat and fry the onion rings until caramelised. Remove with a slotted spoon, leaving as much of the oil behind in the pan as you can. Add the whole garam masala into the oil and stir for a few secs, then follow with the ground coriander powder and the marinated chicken. Cook on a medium-high heat for 5 mins, turning the chicken to ensure both sides are sealed.
When the oil starts separating from the yoghurt, add 1 tsp salt and the chilli powder and continue to cook. Lower the heat, cover and simmer for 35 mins, or until the edges of the thighs seems to be curling. When the chicken is cooked add the sugar, almond powder and the saffron-infused milk and mix. Serve the chicken garnished with almond flakes.
Where to buy these ingredients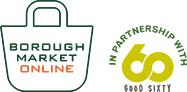 Shop online
If you can't make it to the Market, Borough Market Online offers a wide selection of our traders' produce, delivered direct to London addresses and, where available, by post to the rest of the UK. The service also includes a range of Best of Borough Market hampers and meal boxes.