The perfect Christmas cured meat platter
Ed Smith sets out his vision for the perfect selection of Borough Market cured meats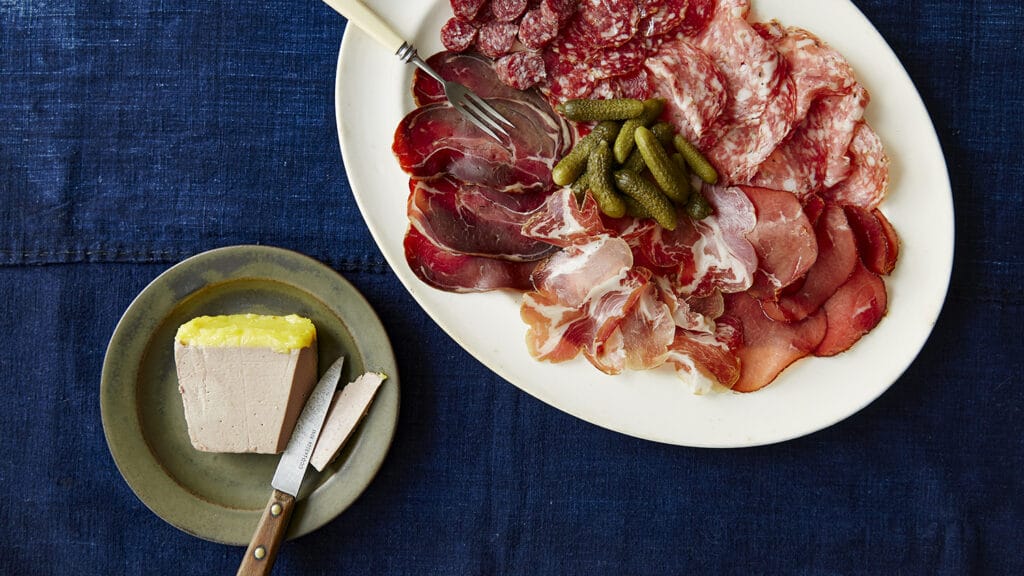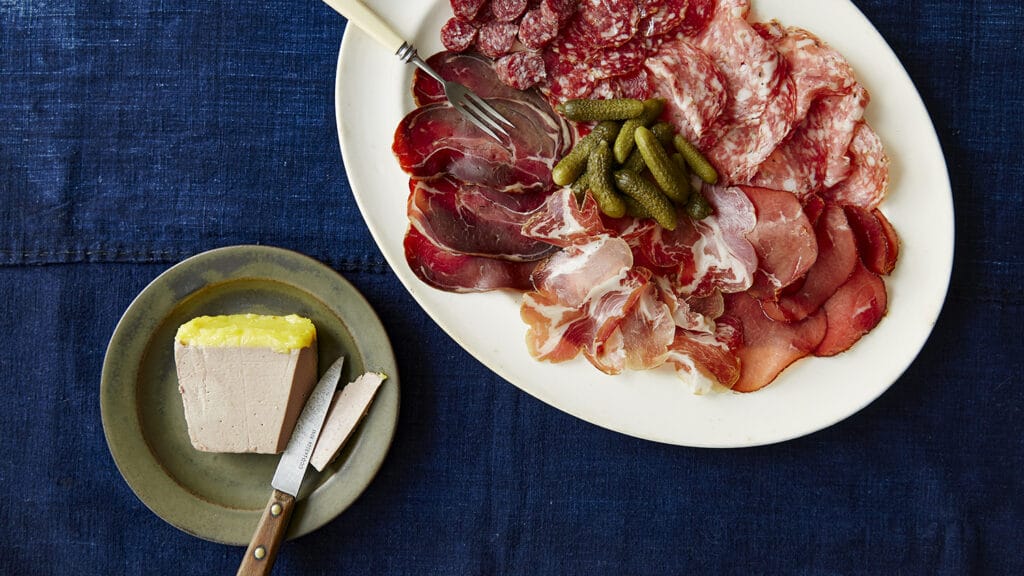 "LOOK FOR A MIX OF SLICED MUSCLE MEATS, SLICED LARGE SALAMIS, SMALLER SALAMIS AND A TERRINE OR PÂTÉ"
Images: Kim Lightbody
Given the likely presence of leftover turkey, stuffing, glazed ham, maybe even a rib of beef, you'd be forgiven for thinking that your home does not require any more meat over the festive season. And yet if a meal is taking too long to come together, if people presumptively 'drop round', if you can't stand the thought of yet another hour of cooking, then having a collection of cold and cured meats on hand could well be a (very tasty) lifesaver.
As with my cheese board, there's a part of me that sees the appeal of focussing on one thing done well. Romantic Iberophiles might aspire to buy a whole jamón, from which a wafer-thin slice can be carved whenever they walk past. Francophiles might hanker after a three-pound terrine, ready to be attacked at any point. As it happens, one of my life goals is to have a meat slicer on my worktop, plus a whole coppa hanging close to hand.
And yet, in reality, a) the constraints of things like, ooh I don't know, money and space, loom large; and b) it's actually impossible to limit yourself to just one thing when walking round the many cured meats specialists at Borough Market. This is a place where, within just a few steps, as well as the aforementioned jamón, terrine and coppa, you can also sample (and, again, purchase) spicy, spreadable cured sausage from Calabria, speck from the South Tyrol, cecina (air-dried smoked beef) from Spain, Dalmatian prosciutto, Tuscan lardo, saucisson from Normandy and little salamis from Dorset.
On second thoughts, I'm not quite so green-eyed of those who carve from their own jamón. One thing alone will never do. A varied selection of cold meats trumps one lump.
But where to begin? And where to end? To ensure a balanced spread, I suggest considering a mix of sliced muscle meats, sliced large salamis, smaller salamis to cut yourself (these also last well, so have you covered beyond Boxing Day), and a terrine or pâté or something spreadable. Within that selection, think about mixing up piggy classics, with some non-porcine things too: beef, lamb, goat, venison, duck. And finally, ensure you've a range of lean and fatty cuts.
My personal selection for Christmas 2021 follows. I think each of the meats are impressive enough to star as a solo plate, magically produced at the start of a film or a round of charades. But there's also balance across the board, should you decide to make a platter comprising all of them. As a general rule, 75-100g of thinly sliced cured meat will fill a large plate and is a pretty decent amount – particularly if part of a selection like this one.
Here is my Borough Market cured meat platter for Christmas 2021:
---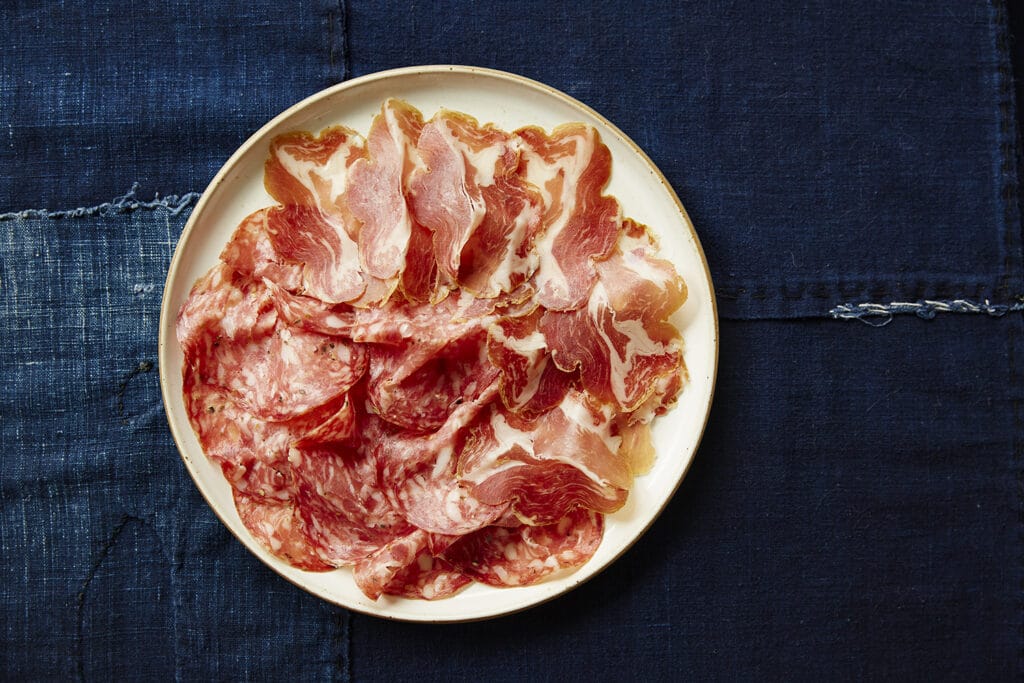 COPPA DI ZIBELLO
The Parma Ham and Mozzarella Stand
This cut, taken from the hard-working collar of a pig, represents the best of all worlds: thanks to the balance of lean meat and a marbling of intramuscular fat, it is both silky and flavourful. Most varieties are pretty good, but this version so is pure and unadulterated, it's wonderful.
---
VENISON SALAMI
Make the most of the offer at Alpine Deli and walk away with not one but three Tyrolean salamis. A mix of venison, boar and spicy pork sausages will see you through the period. Cut each one into slices slightly thinner than a pound coin (or, if that reference is too dated, half the thickness of an iPhone). When it comes to assembling this particular platter, use the venison.
---
IBERICO DE BELLOTA SALCHICHON
One of those concentric swirls of Jamon Ibérico de Bellota would go down a treat, wouldn't it? But maybe that's something to go for when in the 'just one thing' mood I mentioned at the start. It's worth remembering that the acorn-fattened pigs from whom those hind legs hail are used for other cured meats too, including these rich, salty and pleasingly fatty slices of salchichon.
---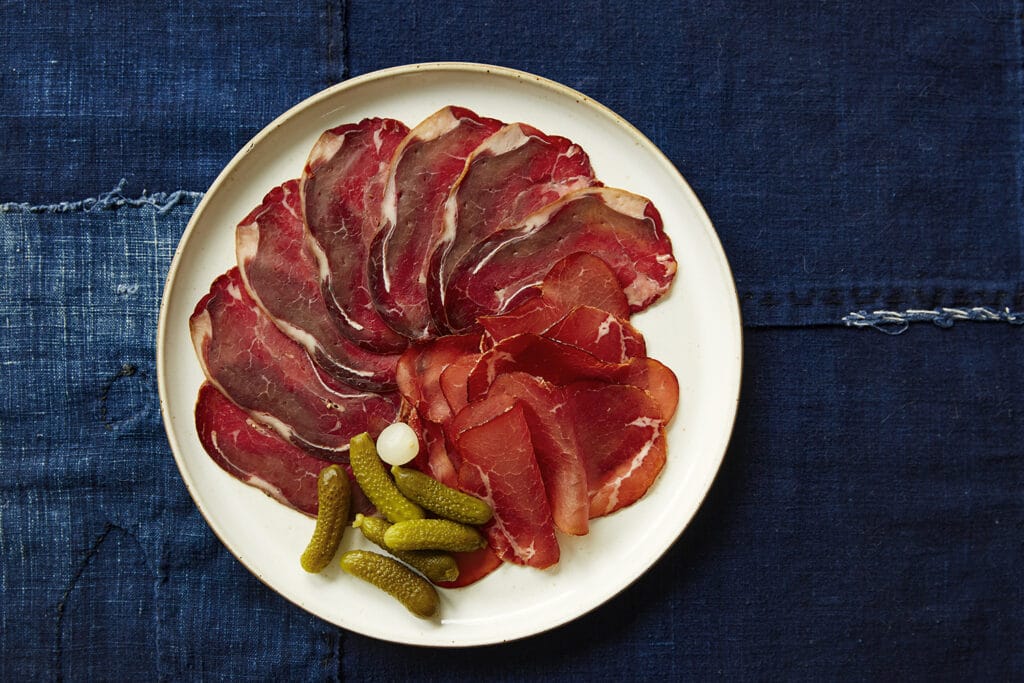 SMOKED MUTTON
To my palate at least, this is one of the great British cured meats. It is very much of this isle, and a wonderful expression of 'lambiness'. Sweet, smoky, slightly tangy, very grassy, a little bit of Marmite too. Unique and memorable.
---
MOUSSE DE CANARD
Some soft charcuterie is always a good call. I was tempted by pâté de campagne or duck rillettes from the same trader, but something about this silky-smooth beige mousse grabbed me and demanded I take a slice. Rich and luxurious.
---
BRESI
Dark red and absolutely bursting with flavour, as you would expect from cured beef fillet. It's lightly smoked, too, so there's another thing that'll bounce off your tongue. But perhaps the thing that make this cured meat so special is that the fillet originally belonged to a Montbéliarde cow – the breed that provides the milk for comté cheese. And as we all know, that is very tasty indeed.
---
FINOCCHIONA
And finally we return to pork, with perhaps its perfect partner: the fennel seed. Light, sweet, tangy and aromatic, with hints of anise, finocchiona is one of the very best styles of large salami and will round this festive platter off nicely.