Coppa, bitter leaves, figs & nib vinaigrette
Sue Quinn
A pretty, flavourful starter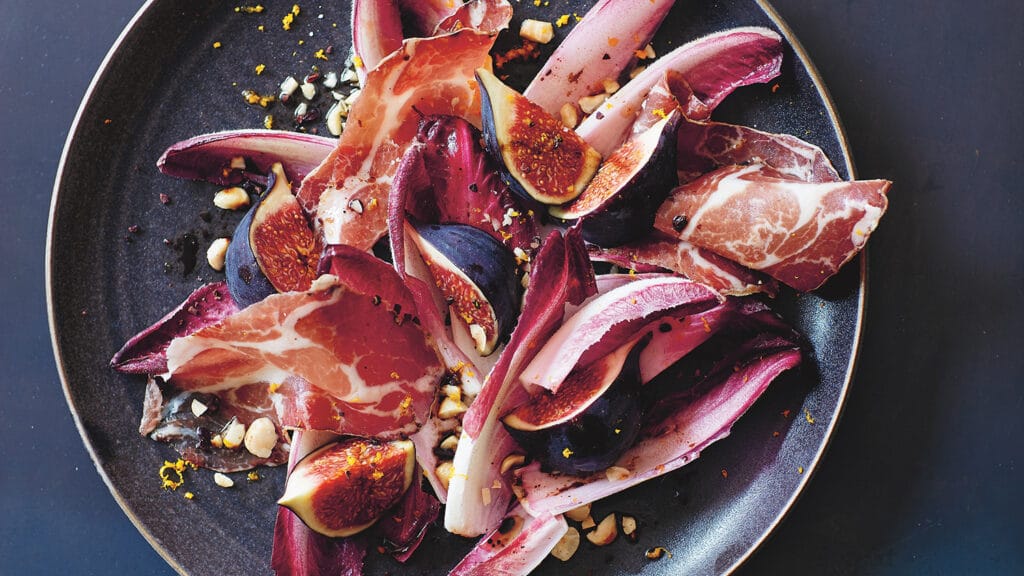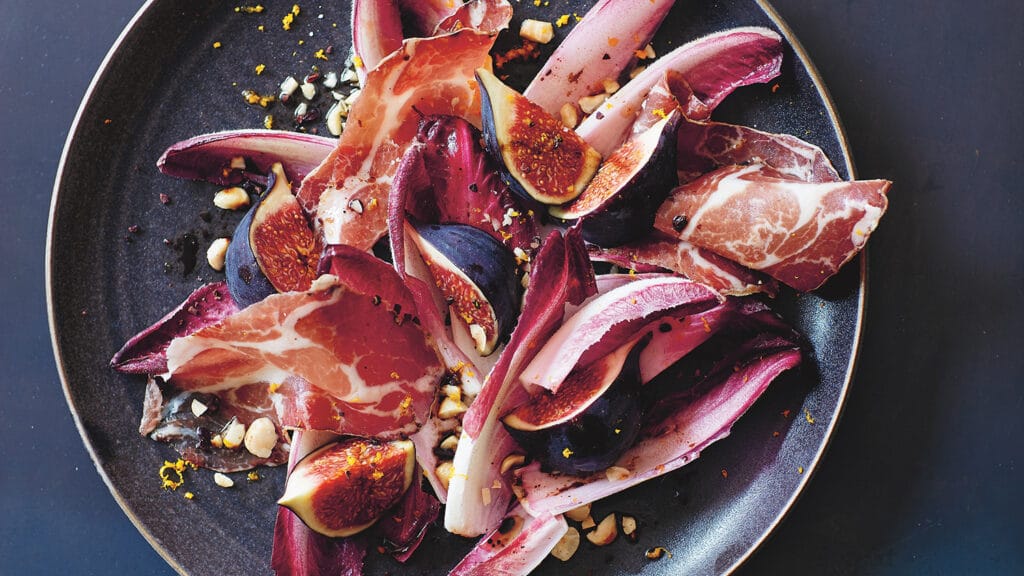 Ingredients
For the dressing
21 tsp grated dark chocolate (100 per cent cocoa solids) or crushed cacao nibs
3 tbsp extra virgin olive oil
1 tbsp hazelnut oil (extra virgin olive oil is fine)
2 tbsp good quality balsamic vinegar
1 tsp finely grated orange zest, or more to taste
Sea salt flakes and freshly ground black pepper
For the salad
15g skinless hazelnuts
4-6 purple endive leaves or pink radicchio (castelfranco)
4-6 slices coppa (about 40g) or prosciutto
2 large ripe figs, quartered
Method
Preheat the oven to 180C. Place all the dressing ingredients in a screw-top jar, close and shake well. Set aside for the flavours to get to know each other and then taste, adding a little more orange zest or salt and pepper if needed.
Spread the hazelnuts out on a rimmed baking sheet and roast for about 12 mins, or until pale gold. Be careful not to let them go too dark, or the salad will taste bitter. When cool enough to handle, roughly chop.
Arrange the endive or radicchio in the centre of 2 plates and top with the coppa slices and fig quarters. Drizzle over the dressing – you'll want to use all of it – and scatter with the hazelnuts. Serve immediately.
Image: Yuki Sugiura
Where to buy these ingredients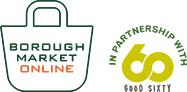 Shop online
If you can't make it to the Market, Borough Market Online offers a wide selection of our traders' produce, delivered direct to your door.