Mixed fruit crumble with pedro ximenez custard
Angela Clutton
The perfect Sunday dessert, topped with sherry-laced custard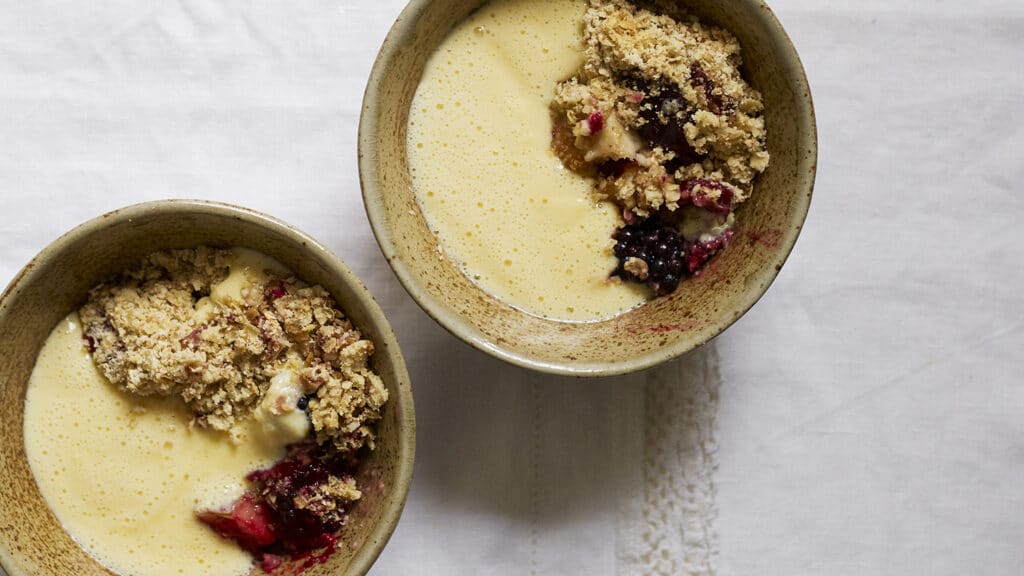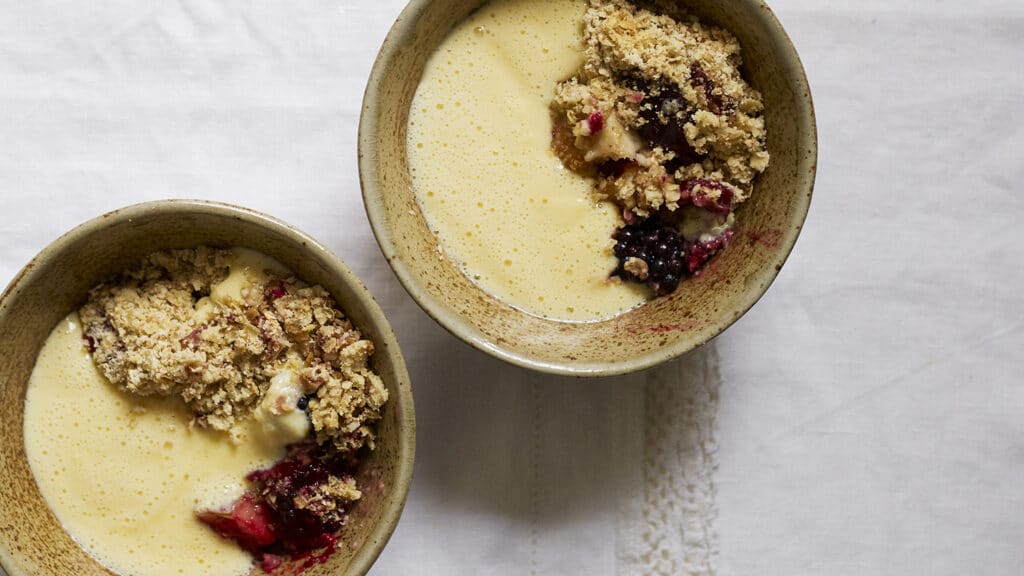 Ingredients
For the fruit crumble
150g plain flour
80g butter + extra for greasing
50g ground almonds
75g demerara sugar
75g rolled oats
6 plums
200g blackberries
1 tbsp caster sugar
1 tbsp red wine vinegar
For the custard
1 vanilla pod
500ml whole milk
5 egg yolks
60g caster sugar
2 tbsp pedro ximenez sherry
Method
Heat the oven to 200C. To make the crumble topping, put the flour into a mixing bowl then use your fingers to rub in the butter until it feels like breadcrumbs. Stir in the ground almonds, demerara sugar and rolled oats, add a pinch of salt, then set aside.
Grease a baking dish with 1.5-2 litre capacity with a little butter. Remove the stones from the plums, slice the flesh and mix with the berries in the baking dish. Scatter the caster sugar and vinegar onto the fruit, then top with the crumble mix. Bake for 30 mins.
Meanwhile, make the custard. Split the vanilla pod in half lengthways and scrape out its seeds. Put the seeds and the empty pod into a small saucepan along with the milk. Bring to a low simmer, then turn the heat off and set aside for 5 mins to infuse.
Mix the egg yolks and sugar together in a bowl. Remove the vanilla pod from the milk. Pour a little of the hot milk into the egg yolk mix and whisk. Gradually add the rest of the milk, whisking continuously, then pour into a clean pan. Set that over a gentle heat and whisk constantly, taking care not to let the custard simmer at any point or it will split.
After about 5 mins it will begin to thicken slightly and become the consistency of single cream (it will thicken more when it cools down). Whisk in the sherry and serve with the crumble.
Image: Kim Lightbody
Where to buy these ingredients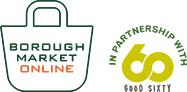 Shop online
If you can't make it to the Market, Borough Market Online offers a wide selection of our traders' produce, delivered direct to London addresses and, where available, by post to the rest of the UK. The service also includes a range of Best of Borough Market hampers and meal boxes.