Lemongrass chicken wing ramen, pickled radishes & baby fennel
Nicole Pisani
A bowlful of fresh Asian flavours with easy-to-make pickled radishes and torched fennel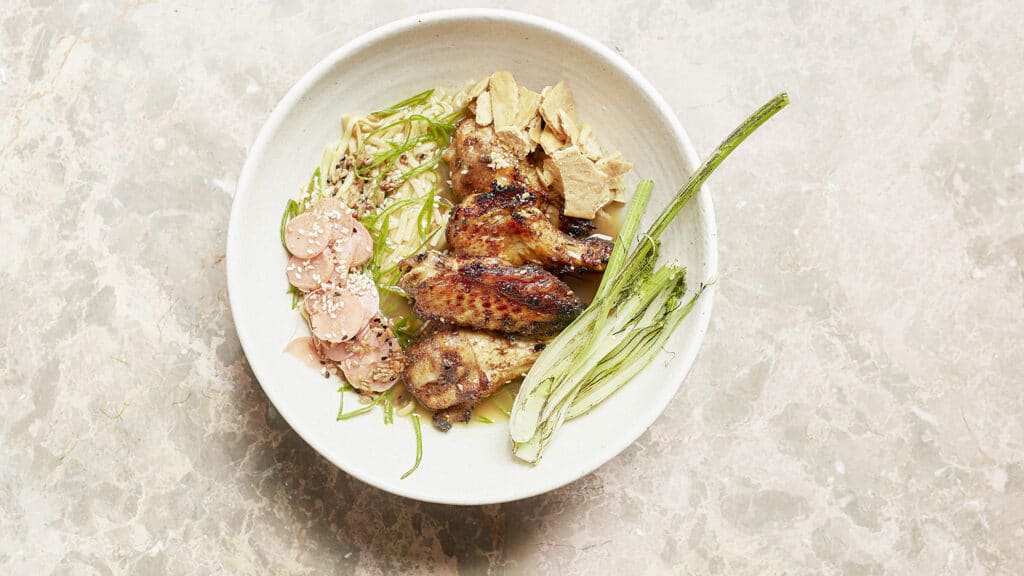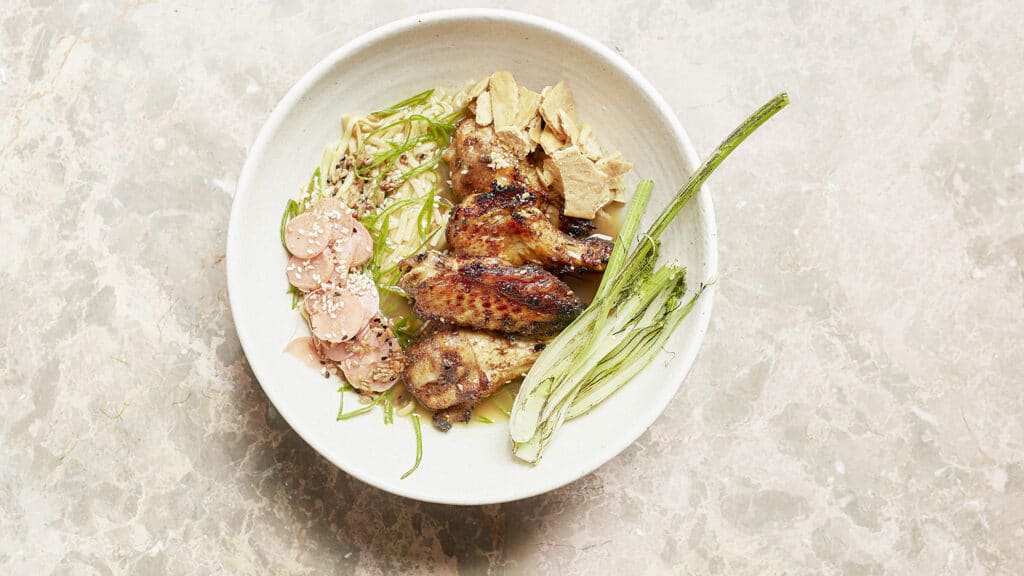 Ingredients
For the radishes
50ml rice vinegar
1 tbsp brown sugar
8 red radishes, thinly sliced
For the chicken wings
3 garlic cloves, crushed
5cm piece of ginger, peeled and chopped
1 red chilli, deseeded and chopped
1 shallot, chopped
2 tbsp runny honey
2 tbsp tamari
250g chicken wings
For the ramen
2 lemongrass sticks, bashed
1 tbsp fish sauce
2 tbsp tamari
250g udon noodles
To serve
4 baby fennel
1 tsp toasted black and white sesame seeds
1 spring onion, finely sliced
Method
For the pickled radishes, put the vinegar, sugar and 50ml water into a small saucepan and simmer until the sugar has dissolved. Place the radishes in a small sterilised jar and pour over the hot pickling liquid. Allow to cool, then put the lid on the jar and chill for at least 2 hours.
To prepare the chicken wing marinade, mash the chopped garlic, ginger, chilli and shallot into a paste.
In a small saucepan, bring the honey, tamari and a little water to the boil, stirring to dissolve the honey. Lower to a simmer, and leave to reduce until you have a consistency that will coat the chicken wings. Mix the sauce with the ginger, garlic and chilli paste and coat the chicken wings evenly. Cover and refrigerate for 2 hours, or overnight.
When you're ready to cook the wings, preheat the oven to 220C. Spread the wings out evenly in a roasting tin and roast for about 25 mins.
For the ramen base, infuse the lemongrass in 300ml simmering water for 10 mins, then add the fish sauce and tamari. Discard the lemongrass. At the same time, cook the noodles in a large pan of boiling water until just tender – around 5-7 mins. Drain and add to the lemongrass broth.
Torch or griddle the baby fennel to colour. To serve, ladle the broth and noodles into deep bowls. Top with the chicken wings, pickled radishes, baby fennel, toasted sesame seeds and spring onion.
Image: Kim Lightbody
Where to buy these ingredients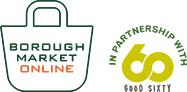 Shop online
If you can't make it to the Market, Borough Market Online offers a wide selection of our traders' produce, delivered direct to your door.