Mussels with oloroso sherry & venison chorizo
Ed Smith
A full flavoured and remarkably economical recipe from The Borough Market Cookbook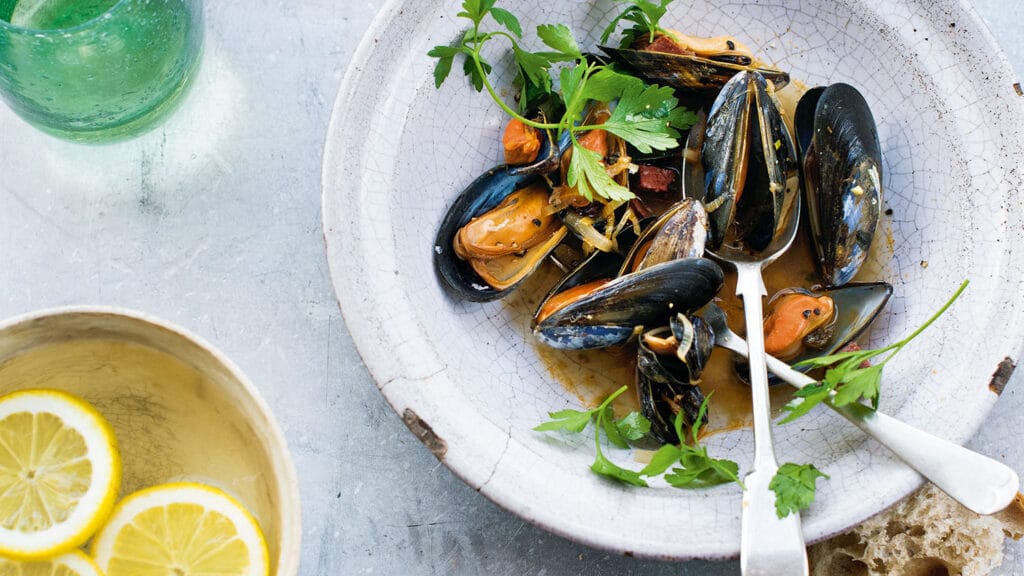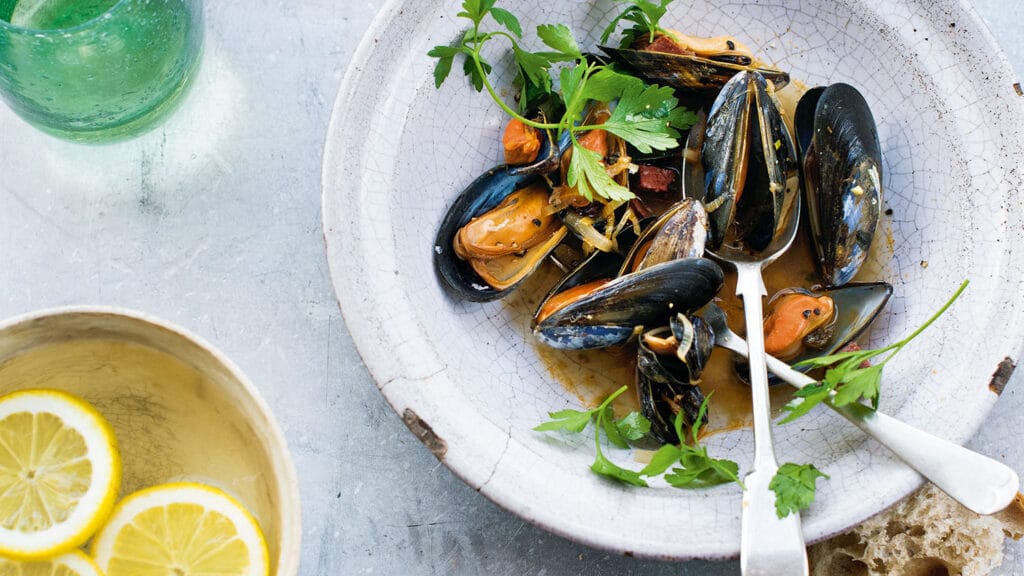 Recipe Meta
Prep
10 mins (plus 30 mins soaking)
Ingredients
2kg mussels
2 tbsp light olive oil
2 banana shallots, very thinly sliced
2 tsp sweet smoked paprika (pimentón de la Vera)
2 garlic cloves, very thinly sliced
10 sprigs of parsley, leaves picked, stalks finely chopped
1 small venison chorizo (80–100g), diced
200ml oloroso sherry fresh bread, to serve
Method
Purge (clean) the mussels by leaving them to soak in cold water for 30 mins, changing the water 3-4 times. Over this time you'll see plenty of grit and dirt emerge from the molluscs. Pull off any straggly beards from the mussels and sort through the mix for shells that are open or broken – if open mussels do not close up when tapped against a hard surface, discard them.
Place a large saucepan over a high heat (you might even split the mussels between two saucepans). Add the oil, the shallots and a pinch of flaky sea salt and sauté for 1-2 mins, without colouring. Add the paprika, garlic and parsley stalks and soften for 1 min, then tip in the mussels and diced venison chorizo. Shake the pan for 30 secs, move the mussels to one side of the pan and pour in the sherry, letting it bubble, then place a lid on and cook for about 4 mins, until the majority of the mussels have fully opened and they look plump and inviting. The remainder should work their way open in the residual heat as you finish the dish (which is better than waiting for the last shell to pop and overcooking the rest as a result).
hrow in the parsley leaves then ladle the mussels into bowls, ensuring everyone has a fair share of the cooking liquor. You will need extra bowls on the table for empty shells, plus a few napkins to mop messy hands. Serve with hunks of fresh bread.
Recipe from The Borough Market Cookbook (Hodder & Stoughton)
Image: Issy Croker
Where to buy these ingredients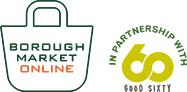 Shop online
If you can't make it to the Market, Borough Market Online offers a wide selection of our traders' produce, delivered direct to London addresses and, where available, by post to the rest of the UK. The service also includes a range of Best of Borough Market hampers and meal boxes.