Olive oil, herb & garlic marinated goat's cheese
Angela Clutton
Mediterranean-style cheese with cucumber ribbons and rocket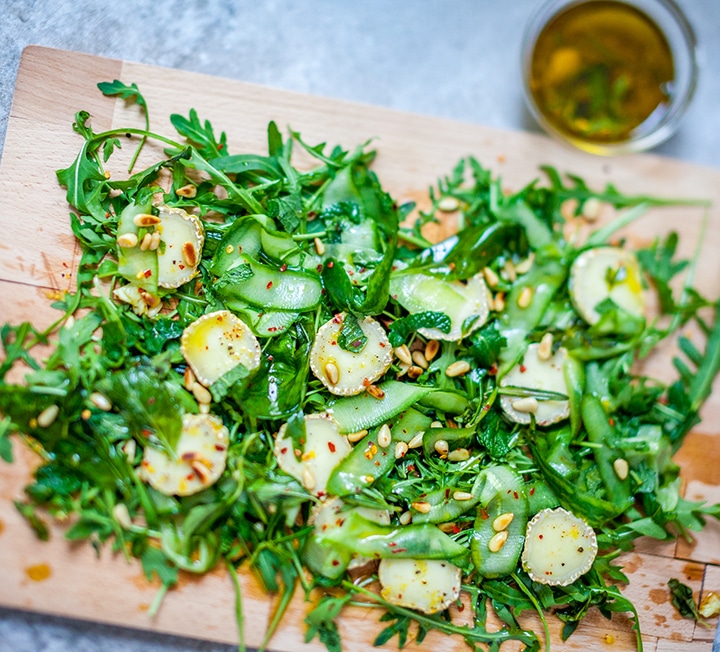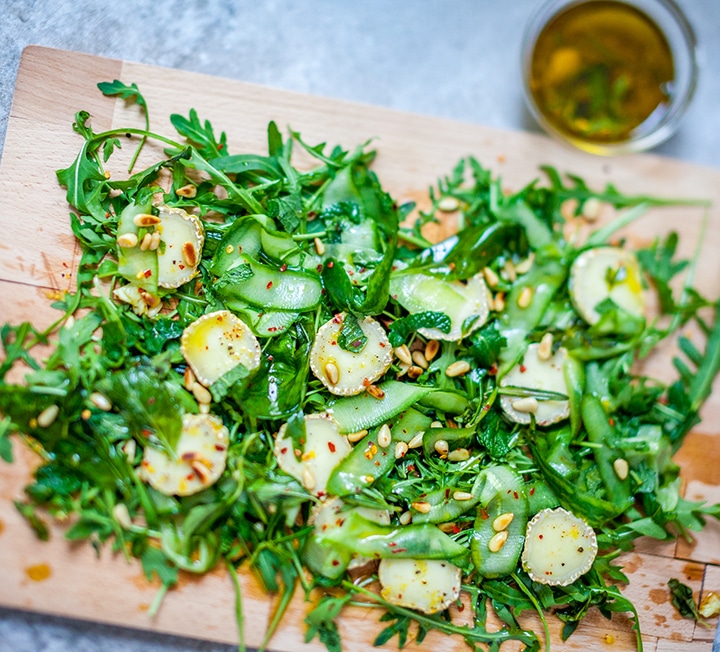 Ingredients
170g soft goat's cheese
6 basil leaves
2 tbsp oregano leaves
2 tbsp rosemary leaves
Zest of 1 lemon, grated
¼ tsp chilli flakes
1 clove of garlic, peeled and crushed
300ml mild and fruity extra virgin olive oil
1 large ridge cucumber
4 tsp moscatel vinegar
1½ tsp fine salt
1 tbsp mint leaves, chopped
4 handfuls of rocket
3 tbsp pine nuts, toasted
Method
Slice the goat's cheese approximately 1cm thick. Sit them in a single layer in a dish and scatter over the basil, oregano and rosemary (scrunching at the herbs to release the oils), lemon zest, chilli flakes, garlic, salt and pepper. Toss and pour over enough olive oil to immerse the cheese. Cover. If the dish will be eaten soon, let it sit at room temperature for 1 hour; otherwise, leave to marinate for up to 3 days in the fridge and be sure to return it to room temperature before serving.
Use a vegetable peeler to remove the skin from one edge of the cucumber. Discard (or eat it, or use to garnish a gin and tonic) and then keep peeling more ribbons which should now be edged by a thin strip of green skin. Go as far as the seeds, then repeat on the opposite side of the cucumber. Do the remaining two sides of the cucumber and then pile all the ribbons into a bowl.
Sprinkle over the vinegar and salt, loosely toss the ribbons with your fingers, and set aside for 10 mins for the flavours to meld together. Sprinkle over the chopped mint and toss again.
Spread the rocket on a serving plate and arrange the goat's cheese slices over top. Lift some of the herbs out of the oil marinade, tear and sprinkle over the cheese. Arrange the cucumber ribbons over the top, sprinkle with pine nuts, and drizzle over the marinade as needed. Serve.
Image: John Holdship
Where to buy these ingredients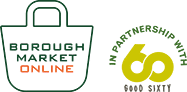 Borough Market Online
If you can't make it to the Market, Borough Market Online offers a wide selection of traders' produce, delivered direct to your door.