Poached eggs with elderflower hollandaise
Nicole Pisani
A tasty spring recipe that's perfect for Sunday brunch – or a Mother's Day breakfast in bed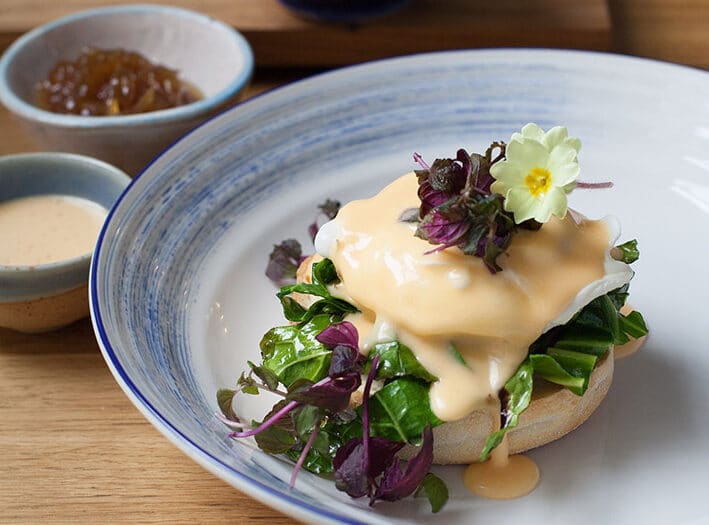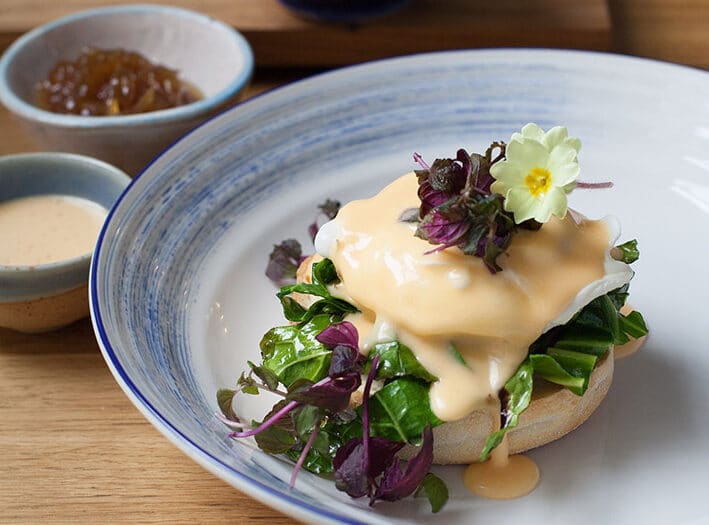 Ingredients
4 eggs
1 tbsp white wine vinegar
150g unsalted butter
3 tsp elderflower vinegar
English muffin
200g spring greens, shredded
Onion jam
Primrose flowers & red shiso leaves to garnish (optional)
Method
Begin by poaching two of the eggs. Bring a saucepan of water to the boil, add a splash of white wine vinegar and reduce to a simmer. Crack each egg into a cup first and then slide into the water. Poach for 3-4 mins, depending on how soft you like your egg. Remove with a slotted spoon.
Sauté the shredded spring greens in a little butter to soften, then season.
For the hollandaise, melt 125g unsalted butter and skim away any white solids. Keep the butter warm while you bring a pan of water to a simmer. In a bowl that fits over the top of the pan, whisk together the yolks of the two remaining eggs, plus the elderflower vinegar, until you have an airy foam (sabayon). Remove this from the heat and whisk in a little of the butter before putting back over the heat, whisking all the time. Repeat until all the butter is added and you have a mayonnaise texture. Season with sea salt and freshly ground black pepper to taste.
Halve and toast the muffin, spread over a little sweet onion jam, then add the spring greens followed by the poached egg. Pour over some elderflower hollandaise and garnish with cress or edible spring flowers.
Image: Regula Ysewijn
Where to buy these ingredients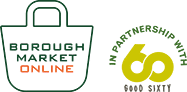 Borough Market Online
If you can't make it to the Market, Borough Market Online offers a wide selection of traders' produce, delivered direct to your door.