Pork & plum meatballs with cauliflower puree
Ed Smith
A delicious way to use up surplus ingredients: over-ripe plums, stale bread and cauliflower greens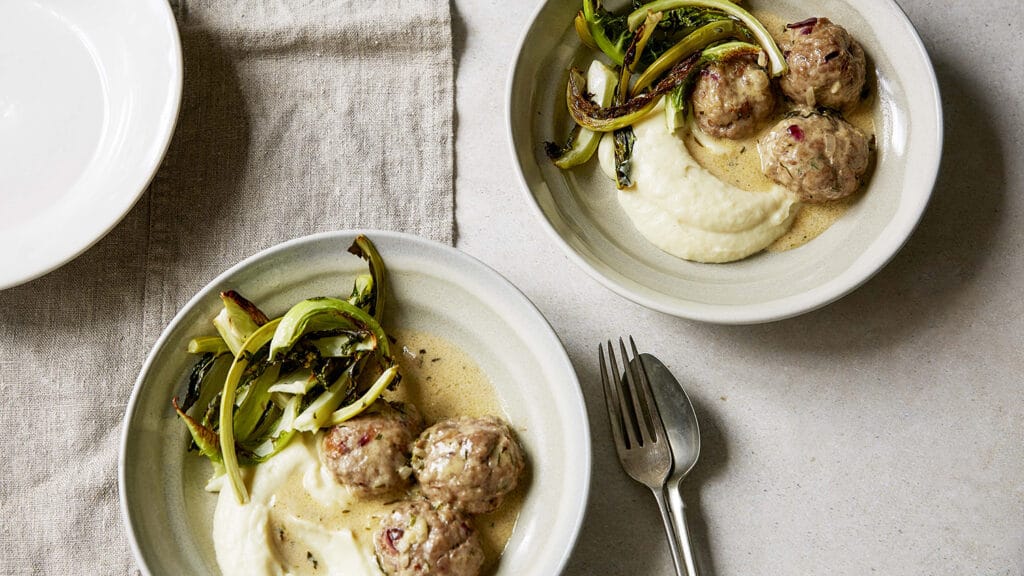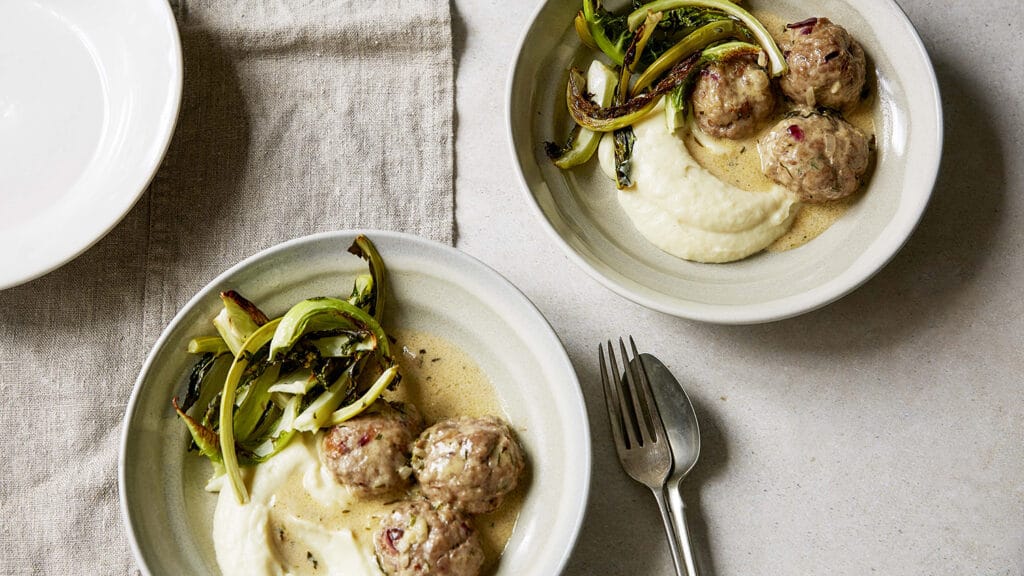 Recipe Meta
Prep
15 mins (plus chilling)
Ingredients
For the meatballs
60g soft white breadcrumbs
70ml whole milk
100-150g plums, halved and de-stoned
600g minced pork
1 medium egg
¼ nutmeg, freshly grated
12 sprigs of thyme, leaves picked
½ tsp flaky sea salt
For the cauliflower sides
1 medium cauliflower, including leaves
1 clove of garlic, peeled
600g whole milk
30g butter
For the sauce
1 banana shallot, finely diced
1 clove of garlic, minced
250ml chicken or vegetable stock
300ml full fat creme fraiche
6 sprigs of tarragon, leaves picked and chopped
Method
Put the breadcrumbs in a bowl and add the milk. Stir and leave to soak.
Mince the plums by finely chopping. In a mixing bowl, use your hands to combine all of the meatball ingredients.
Wet your hands and roll the meatball mixture into 60g spheres (slightly larger than golf balls). Arrange the meatballs on a baking sheet, then chill for at least an hour.
Make the cauliflower puree, which can be reheated on a low heat just before serving. Trim the green leaves and set aside. Cut the florets and stem into 2cm wedges, then place in a saucepan with the garlic and milk. Simmer over a medium heat for 15-20 mins, until soft. Scoop into a blender, add a good pinch of salt and pepper, the butter and three quarters of the warm milk. Blend until smooth and silky – it should be quite light and loose, but not soupy.
Wash the greens and cut the thick stems in half lengthways. Place on a roasting tray, toss in olive oil and season with sea salt and black pepper.
When ready to eat, heat the oven to 200C. Bake the meatballs for 10 mins. Put the cauliflower leaves in the oven at the same time.
Meanwhile, find a saucepan or sauté pan large enough to hold the meatballs in one layer. Place over a low-medium heat and briefly warm 1 tbsp light olive oil. Add the shallot and a pinch of salt. Soften for 3 mins without browning, stirring occasionally. Add the garlic and cook for 1 min more. Increase the heat, wait for 10 seconds, then pour in the stock. Reduce by a quarter, then stir in the creme fraiche and turn down to a very gentle simmer. Add the meatballs and tarragon and simmer for 10 mins more.
Reheat the puree and keep an eye on the cauliflower greens – they should soften and brown a little, but not dry out. If your cauliflower lacked plentiful layers of green, serve with blanched or wilted curly kale.
Image: Kim Lightbody
Where to buy these ingredients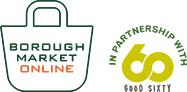 Shop online
If you can't make it to the Market, Borough Market Online offers a wide selection of our traders' produce, delivered direct to your door.