Pumpkin pancakes
Nadja Auerbach
American-style pancakes for Halloween, packed with sweet-spicy pumpkin puree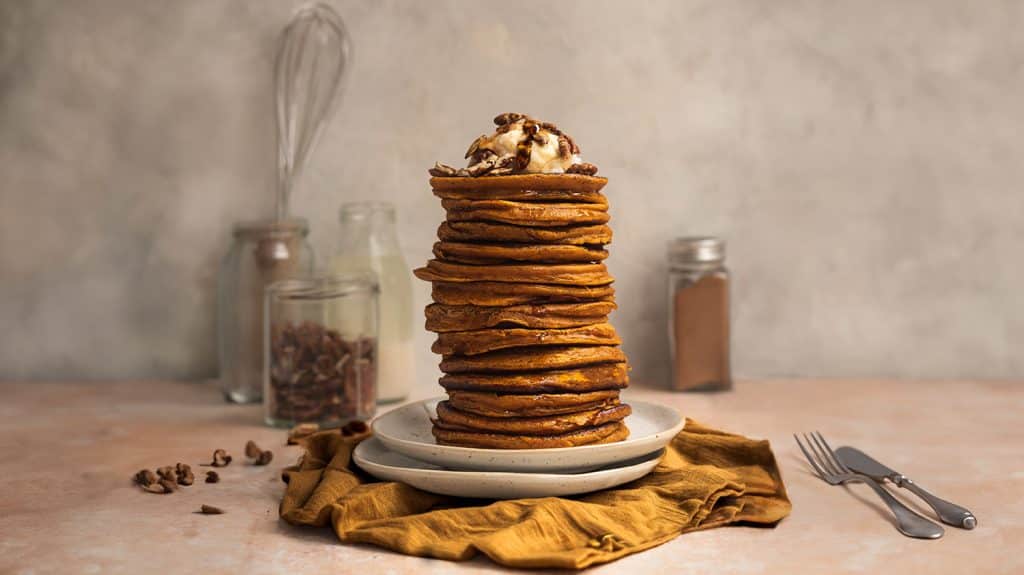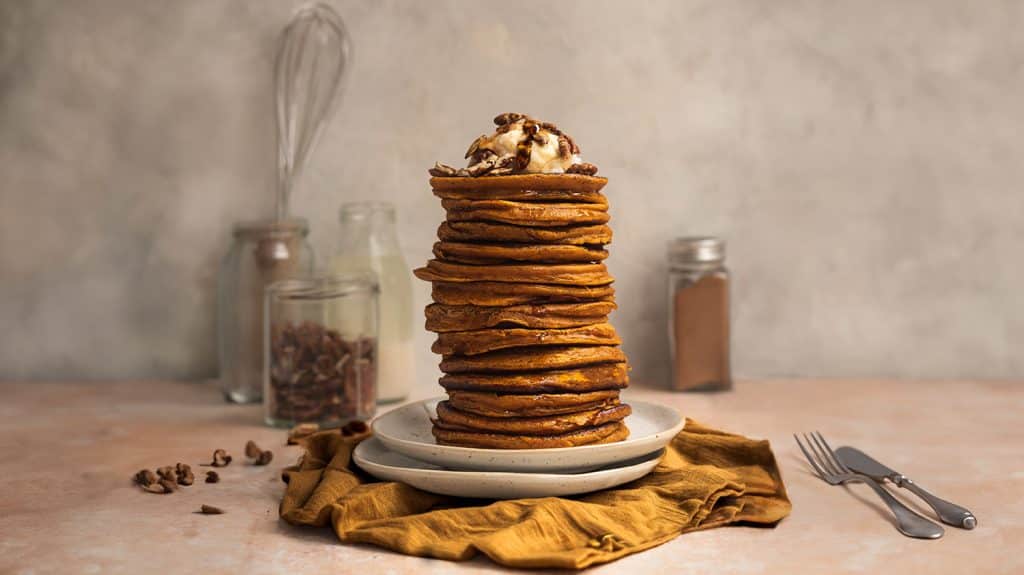 Recipe Meta
Serves
Makes 14-16 pancakes
Ingredients
For the pumpkin puree and roasted seeds
1 medium pumpkin (approx 400-600g)
A drizzle of maple syrup
A sprinkle of cinnamon
For the pancake batter
250-300g pumpkin puree (see above)
250g plain flour
2 tsp baking powder
1 tsp baking soda
¼ tsp salt
2 tsp cinnamon
½ tsp nutmeg
½ tsp ground ginger
½ tsp allspice
60g light brown sugar
10g caster sugar
1 large egg
45g butter, melted
350ml milk
Method
Start by making the pumpkin puree and toasted pumpkin seeds. Preheat the oven to 200C. Chop the pumpkin into halves or quarters and scoop out the seeds. Set the seeds aside.
Place the pumpkin pieces flesh-side down on a baking tray. Roast in the oven for 30-40 mins, until a fork pierces the flesh easily.
While the pumpkin is roasting, separate the seeds, toss them in a bowl with a drizzle of maple syrup and a sprinkle of cinnamon, then spread them out on their own baking tray.
When the pumpkin has approximately 20 mins remaining, add the tray of pumpkin seeds to the oven, placing them on the shelf below. Roast until golden brown, but not burnt (15-20 mins). When ready, set both trays aside until the pumpkin and roasted seeds are cool enough to handle.
If the pumpkin appears very watery, place in a mesh strainer and gently press out some of the excess liquid. Removing the skin is optional. Transfer the flesh to a high-powered food processor or blender and blend until smooth.
Place the blended pumpkin into a cotton or muslin cloth and wrap up tightly. Over a bowl or the sink, squeeze the cloth until most of the water has drained out. This may vary significantly depending on the type of pumpkin.
You will be left with a much smaller volume of pumpkin puree. Using a spatula or a spoon, scrape this from the cloth and transfer to a bowl. You will need 250-300g pumpkin puree for the pancakes. If your puree is still looking too watery, heat in a frying pan over a medium heat, until more of the liquid evaporates. Set side.
In a large bowl, mix together the flour, spices, baking powder, baking soda and salt until well combined.
Add the sugars, eggs, melted butter, milk and pumpkin puree to a food processor or high-speed blender. Add the dry ingredients, and blend until well combined.
Preheat a frying pan with a drizzle of oil or butter. When hot, add a scoopful of batter (depending on the size of your pan, you can cook two or three scoops at a time, making sure they're well spread out). Flip once you see bubbles forming at the edges. Cook until golden brown on both sides. Top with your cinnamon-toasted pumpkin seeds and any other toppings you like, such as Greek yoghurt, pecan nuts or maple syrup.
Image: Nadja Auerbach (Made by Nadja)
Where to buy these ingredients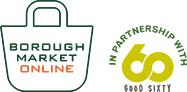 Shop online
If you can't make it to the Market, Borough Market Online offers a wide selection of our traders' produce, delivered direct to London addresses and, where available, by post to the rest of the UK. The service also includes a range of Best of Borough Market hampers and meal boxes.