Roast summer veg with Graceburn & spiced walnut sauce
Angela Clutton
A colourful vegetarian centrepiece for a Sunday lunchtime feast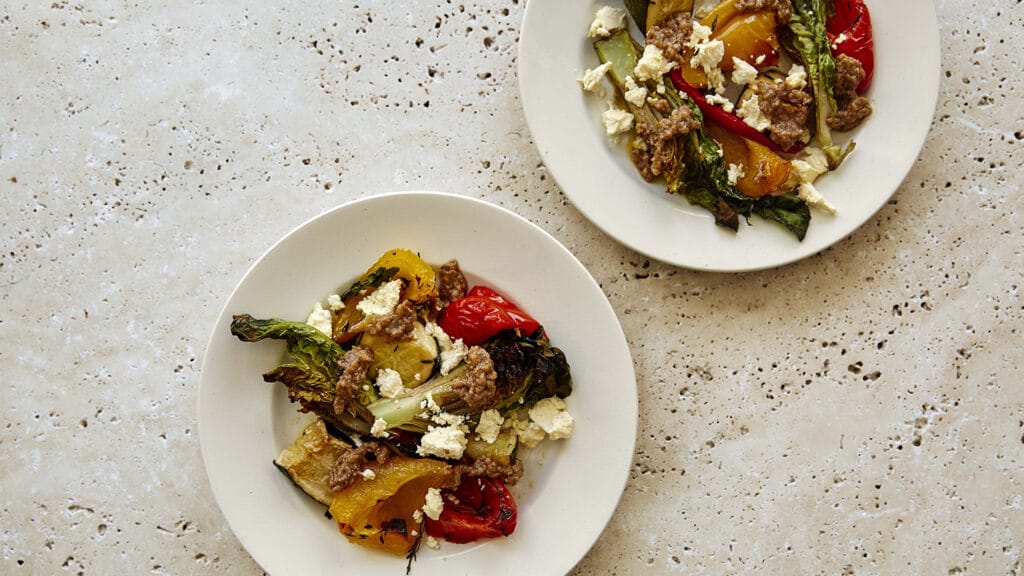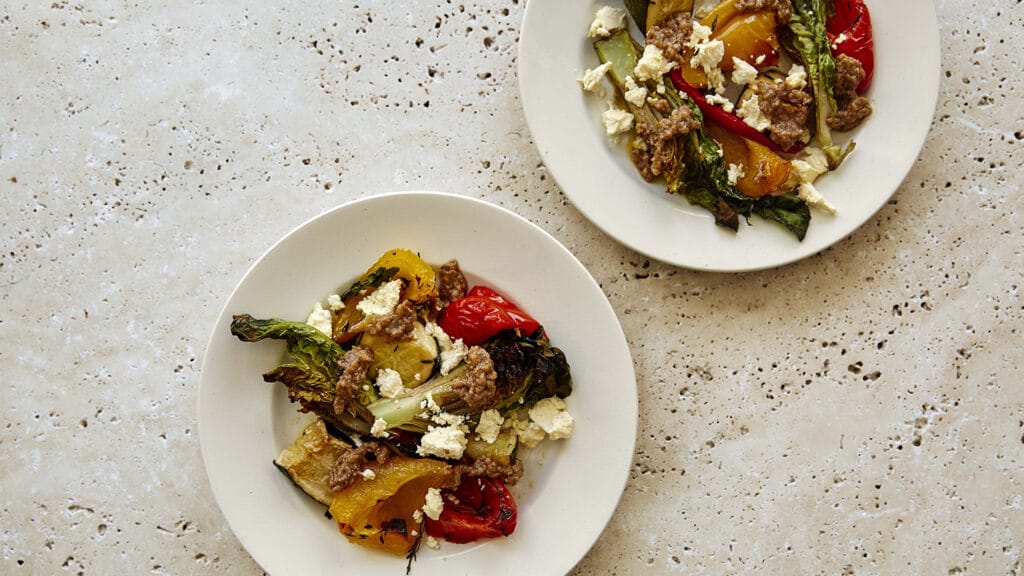 Ingredients
For the roast veg
3 large green courgettes
1 red pepper
2 yellow peppers
100ml olive oil
2 tbsp sherry vinegar
6 thyme sprigs
6 garlic cloves
2 little gem lettuce
For the spiced walnut sauce
50g shelled walnuts
½ tsp ground cinnamon
½ orange
2 tsp pomegranate molasses
1½ tsp sherry vinegar
50-75ml extra virgin olive oil
To finish
250g Graceburn cheese
3 sprigs of mint
3 sprigs of basil
Method
Heat the oven to 220C. Cut the courgettes into chunks. Deseed the peppers and slice thickly. Transfer to a roasting tray that can take all the vegetables in a single layer. Toss round with the olive oil, sherry vinegar, thyme sprigs, garlic cloves (still in their skin) and plenty of salt. Roast for 30 mins, turning occasionally.
Prepare the little gem lettuce by removing any very loose or damaged outer leaves, then cutting the lettuce into quarters length-wise through the root so each piece holds together. Add to the roasting tray, basting the little gem lettuce with hot oil from the tray. Roast for another 10 mins. It's ready when everything is just about tender and pleasingly slightly charred.
Let it all cool down a little while you make the sauce. Put the walnuts into a mortar along with the tender garlic flesh from the 6 cloves that roasted with the vegetables, discarding the skins. Pestle into a rough paste. Add the ground cinnamon, juice from the orange half, the pomegranate molasses and vinegar. Season and add just enough olive oil to get the consistency you want.
Arrange the roasted vegetables on a platter. Crumble over the Graceburn. Chop the herb leaves and toss together. Serve with the sauce alongside for everyone to help themselves to, spooning it over.
Image: Kim Lightbody
Where to buy these ingredients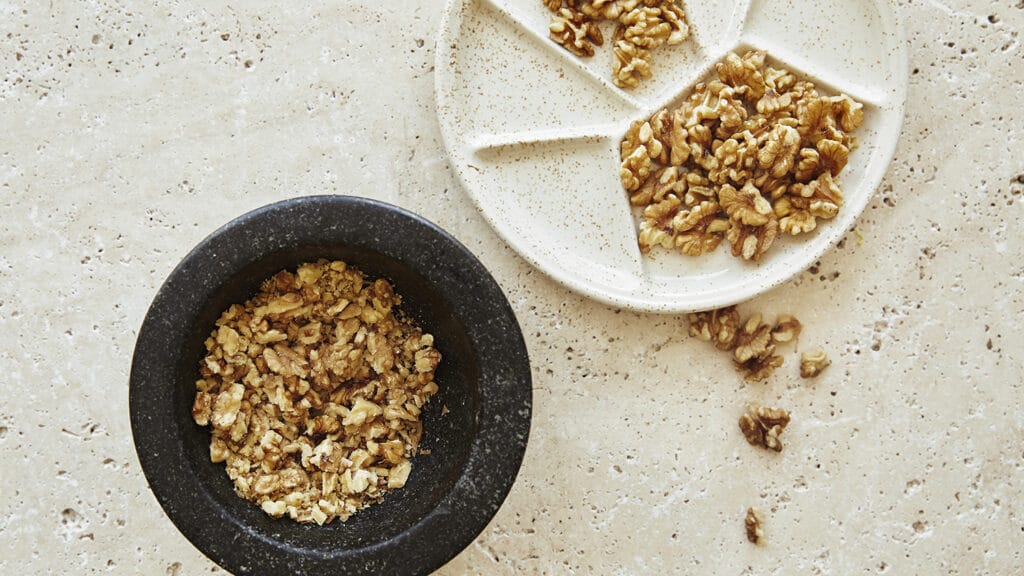 Sunday lunch specials: noix de Grenoble walnuts
How the French walnuts from Food & Forest can make this dish even more special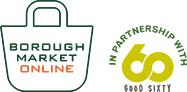 Shop online
If you can't make it to the Market, Borough Market Online offers a wide selection of our traders' produce, delivered direct to London addresses and, where available, by post to the rest of the UK. The service also includes a range of Best of Borough Market hampers and meal boxes.