Toffee apple mille-feuille
Ed Smith
An autumnal 'assemble-your-own' pudding from The Borough Market Cookbook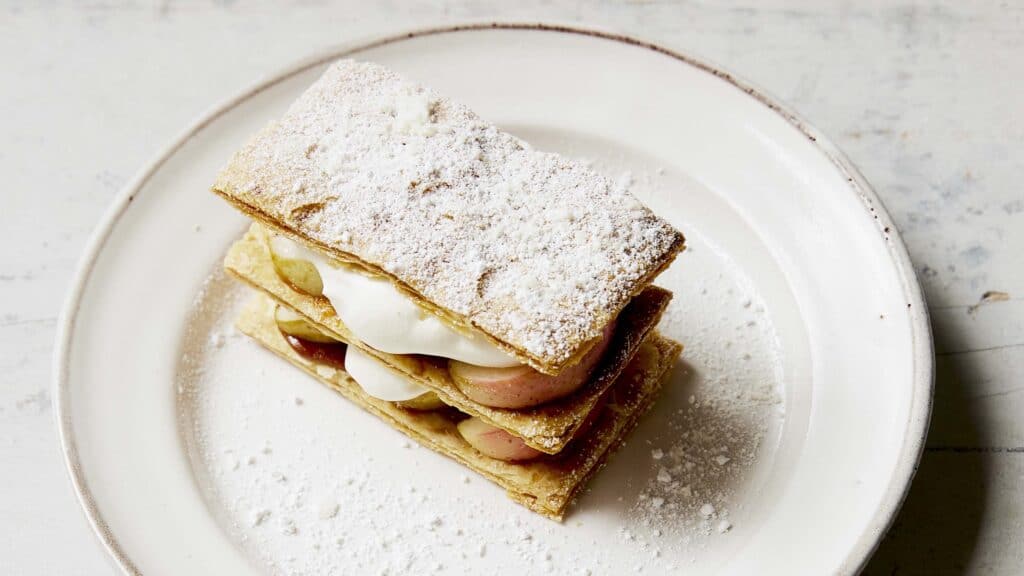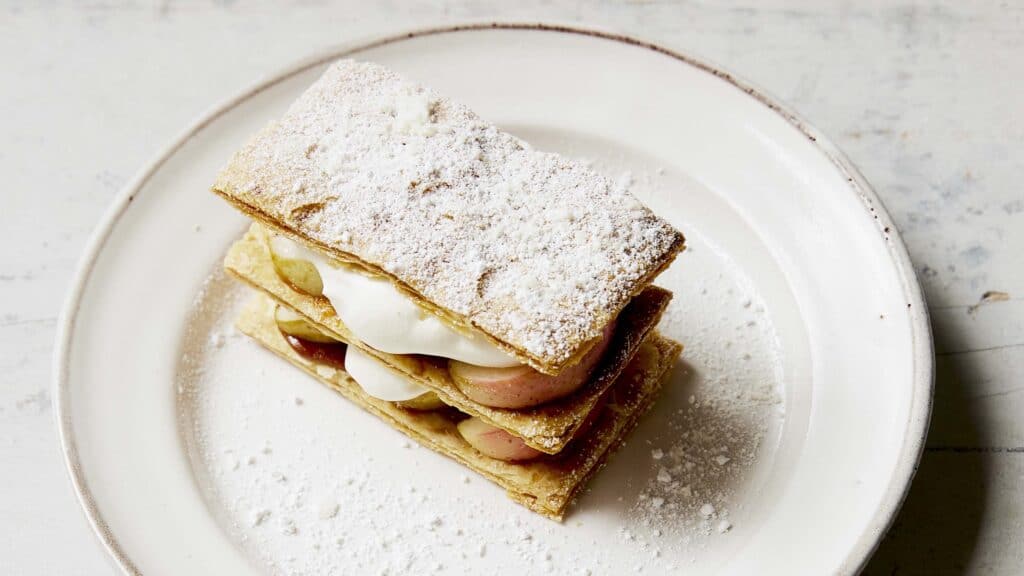 Ingredients
320-375g ready-rolled all-butter puff pastry
Juice of ½ lemon
3 discovery apples
4 tbsp golden caster sugar
100g dulce de leche
200ml double cream
½ tsp vanilla essence
A bag of ice or frozen peas
Icing sugar for dusting
Apple powder for dusting (optional)
Method
Heat the oven to 200C. Dig out a roll of baking parchment and two similarly sized baking sheets or trays.
Cut two pieces of baking parchment the same size as your largest baking sheet. Put one piece on the sheet, then unroll the puff pastry onto it. Lay the second piece of paper on top, and put the second baking sheet or tray on top of that. Place the trays in the oven and bake for 15 mins. Remove from the oven and, leaving the pastry on the bottom parchment, allow to cool and harden for 3 mins, before using a long knife to cut into 12 equally sized rectangles (make three incisions lengthways, then two across). Return to the oven, without the top sheet this time, and bake for 5-10 mins more until the rectangles are golden.
Squeeze the lemon juice into a large mixing bowl. Quarter each of the apples and cut away the core, then cut each quarter into three 1-2cm wedges. As you do this, toss the wedges in the lemon juice to avoid browning. Then, add the sugar and mix well. Arrange the apple wedges on a baking sheet in one layer and bake in the oven for 6 mins. Carefully turn each wedge over and bake for 4-5 mins more, so that the wedges are soft but still hold their shape. Leave to cool.
Decant the icing sugar and dulce de leche into small serving bowls. Then, when ready to eat, whip the cream into a light chantilly by pouring into an (ideally metal) mixing bowl and placing that on top of a bag of ice or frozen peas. Add the vanilla essence, then use a balloon whisk to thicken the cream just about to ribbon stage.
To assemble the mille-feuilles, encourage everyone to take three pastry pieces each. Spread two of them with dulce de leche. Use one as the base, top with apple and a spoonful of cream, then the second dulce de leche slice, more apples and cream, and the final pastry piece on top. Finish with icing sugar and apple powder if you wish
Recipe from The Borough Market Cookbook (Hodder & Stoughton)
Images: Kim Lightbody
Where to buy these ingredients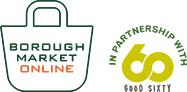 Shop online
If you can't make it to the Market, Borough Market Online offers a wide selection of our traders' produce, delivered direct to London addresses and, where available, by post to the rest of the UK. The service also includes a range of Best of Borough Market hampers and meal boxes.