Crunch time
Angela Clutton on how the arrival each spring of sharp, crunchy radishes coincides perfectly with her sun-induced desire for laid-back cooking and eating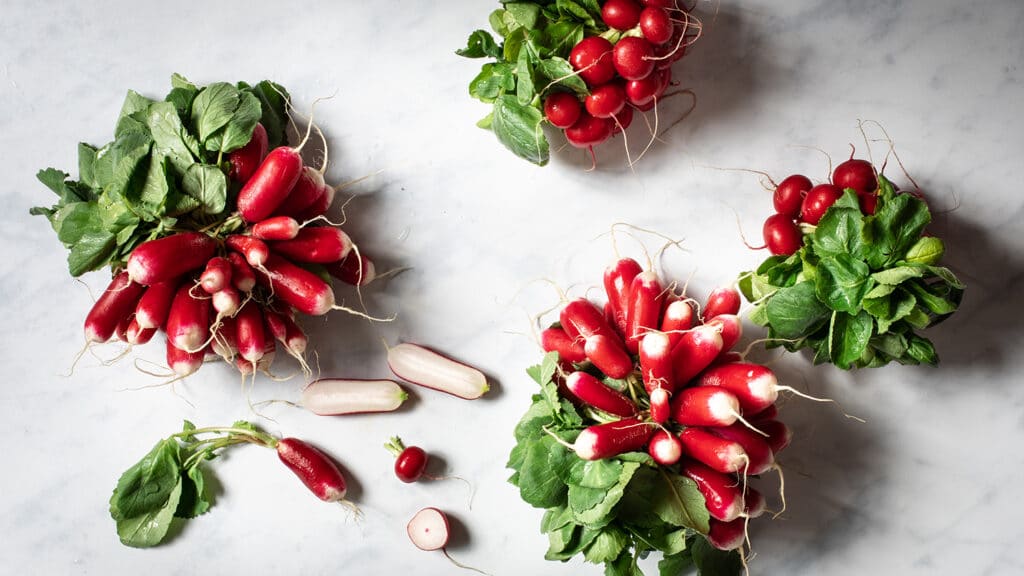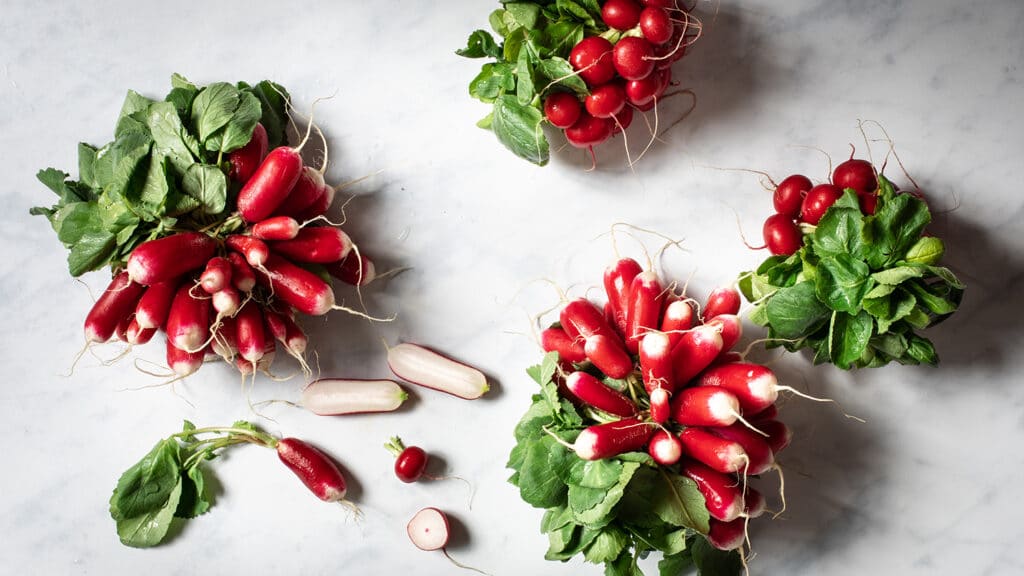 "FRESHNESS IS KEY. RADISHES NEED TO BE BOUGHT – AND EATEN – WHEN SMOOTH AND FIRM, WITH UNBLEMISHED, BRIGHT SKIN"
Image: Regula Ysewijn
Picture the scene, if you will, of an early Saturday evening in April or May. My husband is fixing us a cocktail and I'm preparing a little bit of something to go with it. I'm happy because it's spring, meaning that all I need do is put out a plate of bright radishes and some salt flakes to dip them into. Simple as that: we will have crunchy, refreshingly sharp bites of deliciousness to accompany our drinks.
Those radishes – the small, peppy little buttons of heat in gemstone colourways that appear in April and last right through the summer months – may include the scarlet globe or cherry belle (both of which look rather like little cherry tomatoes), or the longer french breakfast radish, which runs from white to blushing pink along its length and is my go-to as a cocktail partner.
The perfection of the radish season is in its timing: radishes abound exactly when the warmer, longer days demand laid-back cooking and eating. In her 1960s opus Summer Cooking, Elizabeth David extols the simple pleasures of a dish of long red radishes served with olives, tomatoes, hard-boiled eggs, salt and pepper, olive oil, bread and butter. "Not very original, perhaps," she writes, "but how often does one meet with a really fresh and unmessed with hors d'oeuvre?" It's a good question – and I am happy to say the answer is, round at mine, most Saturday nights.
Freshness is key. Radishes need to be bought – and eaten – when smooth and firm, with unblemished, bright skin. That's when they'll be at their crunchiest and tastiest. It's worth remembering, though, that radishes are still revivable if you've kept them in a fridge a little too long and they've begun to resemble your wrinkled fingers after a lengthy soak in the bath. Older radishes can be crisped-up by sitting them in a bowl of iced water for a few hours. The water seeps into their flesh, rehydrating it. Similarly, you can make retro radish water-lilies by scoring four slits down the length of the radish without cutting through the base; after a few hours in iced water they will have opened up into kitschy-cool flowers.
If vegetable art somehow isn't your thing, instead slice the radishes thinly into salads with a simple dressing of olive oil, lemon juice and mint or dill to bring out the flavours. There's an Alice Waters recipe for a radish, fennel and dandelion salad, which couldn't be any more seasonal if it tried, and I have fond memories of making Claudia Roden's vibrant radish and orange salad from her iconic A Book of Middle Eastern Food for a summer party for the Borough Market Cookbook Club.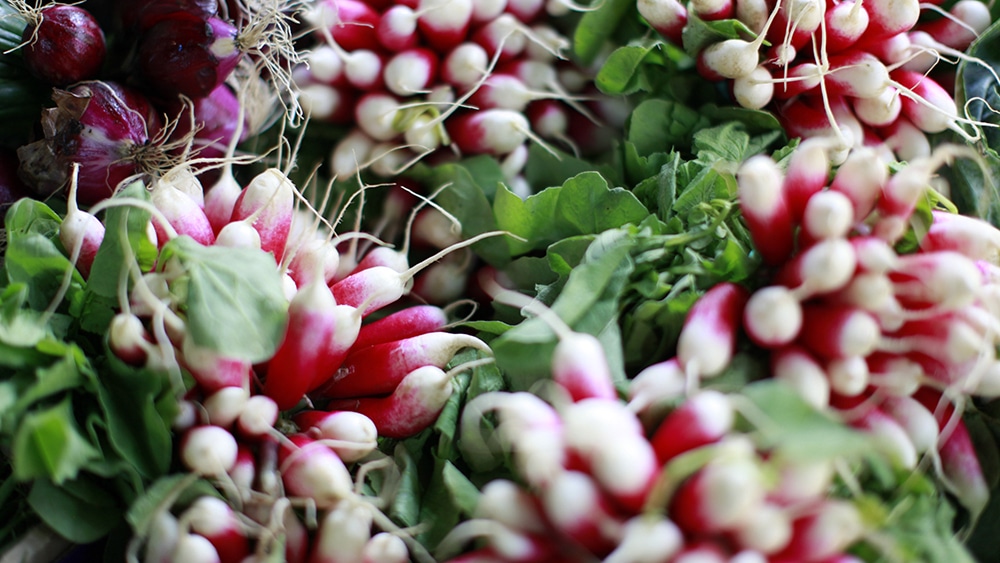 Spring and summer radishes also work marvellously as a quick pickle. The same principal by which water is easily absorbed into the flesh is just as true if the steeping liquid is a mild vinegar. Slice the radishes thinly, sit them in the vinegar with some herbs and spices and a little sugar and in barely an hour you'll have punchily pickled radish, fabulous on a Scandi-style open sandwich, layered up on rye bread with smoked salmon and chives or parsley. A side benefit to doing this is that the ensuing pickling liquid can be watered down into a prettily pink drink.
Larger, milder watermelon radishes are my favourites for quick-pickling. With their green-tinged white skin and vivid pink flesh, they're apparently being hailed as the latest hot Instagrammable ingredient. Food futurists (yes, that is a job) are tipping the watermelon radish as the "next avocado". Maybe so. Maybe this spring and summer we will all be endlessly posting pics of pickled, stir-fried or sliced raw watermelon radishes. I hope so, if only because it means that more of you will be enjoying this heirloom member of the daikon radish family, which is already hugely popular in China, where it originates from.
The Chinese have long prized radishes for their medicinal qualities. They'd ferment them in pots for a long time – sometimes as much as 40 years – before using them to treat a range of medical problems, from fever, to intestinal infections, to ulcers. The ancient Greeks and Romans also valued radishes as a medicine, although admittedly in slightly less conventional (to our eyes) ways: as an antidote to poison, to alleviate the pains of childbirth, or – mashed with honey and dried sheep's blood – in a concoction used to cure baldness. I feel on surer ground with the ancient Roman poet Horace who wrote that radishes "excite the languid stomach" – my pre-dinner Saturday night radishes essentially fulfil the same role.
Western medicine has historically had a rather more wary take on radishes for health. Nicholas Culpepper, the 17th century apothecary, wrote rather despairingly of those who "in wantonness eat garden radishes as salad and then regret it". I have to say I have never felt especially wanton when eating radishes. Nor regretted it. But the raised eyebrows with which I read that pale next to the recommendation of a 10th century collection of remedies that recommends men eat radishes at night to protect against "women's chatter".
Let's breeze on past that truly bizarre claim and go back to Culpepper, and the distinction he makes of 'garden' radishes. By that he means the small, peppery spring and summer radishes that I have been writing about thus far, which are – as these things go – a relative newcomer to Britain. Before that, our native radishes were larger, rather more turnip-like varieties.
You can still find some of these varieties, such as the china rose with its rose-coloured skin and strong taste, or the black spanish round, whose white flesh is a glorious contrast to the dark skin. (How I love the naming of radishes – each so evocative of how it looks.) They can be boiled into soups, thinly sliced for eating raw, quick-pickled, or grated like horseradish, which is part of the same family. Spring is a great time for horseradish, too – try giving an extra something to a chicken or fish salad by adding mayonnaise that has a tablespoon of grated horseradish and some chopped herbs stirred into it. If you are lucky enough to get horseradish root with its green tops still attached, do not throw those away. They are delicious when cooked, as you might kale, or enjoyed raw like rocket. Likewise, the tops of the smaller radishes. Even the flowers can be delicious, especially if chopped and mixed through butter. Like that, they epitomise why it is that I look forward so much to the arrival of radishes – for the elegant simplicity with which they meld themselves to exactly the things I will want to eat all spring and summer long.