Partridge & kale caesar salad
Tim Maddams
A crisp and smoky salad for autumn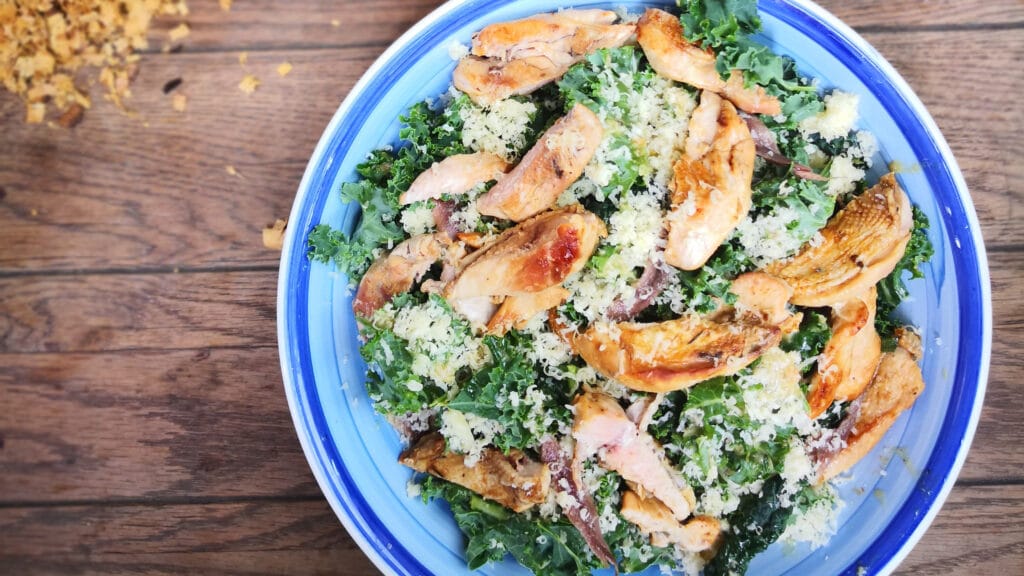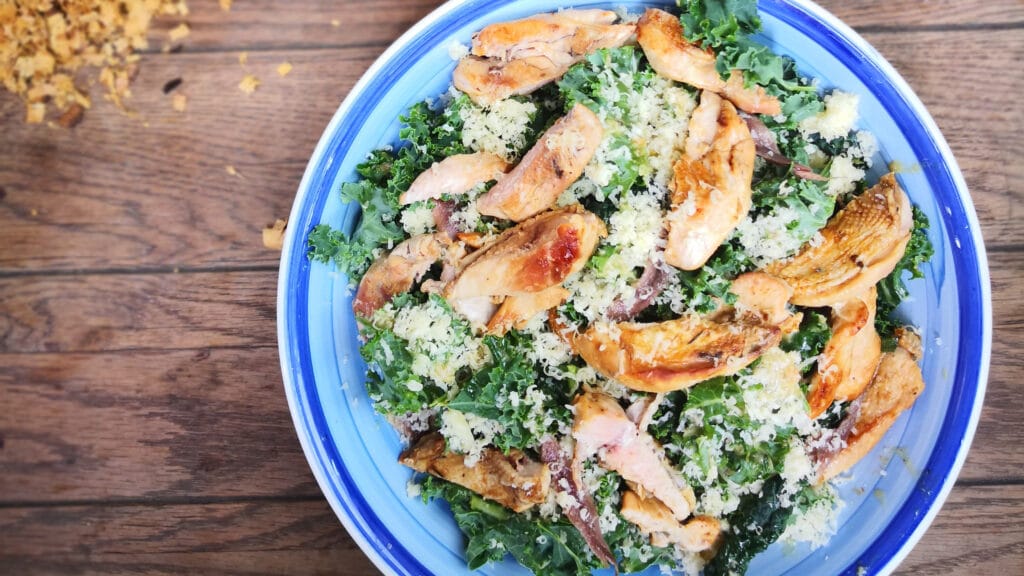 Ingredients
For the cure
25g fine sea salt
25g soft light brown sugar
4 fresh bay leaves
10 crushed black peppercorns
For the dressing
1 egg yolk
1 garlic clove, finely chopped
Juice of 1 lemon
1 tsp French mustard
4 anchovy fillets, chopped
Light olive oil
For the salad
Kale (very fresh so it's not too old or tough), washed
Shaved mature cheddar cheese
Croutons, (just tear up some good bread and bake in the oven with salt, pepper and olive oil)
More anchovies
Method
Mix all the cure ingredients together. Liberally season the meat with the dry cure mix and leave to cure for about 1 hour. Wash, and pat dry with a clean cloth. Leave to air dry for a further few mins or so to allow the meat to form a light pellicle – this is the lightly sticky and dry looking layer on the outside of the meat that the smoke sticks to later.
Get out your smoker. If you don't have one you could, at a push, smoke the meat on a rack between 2 baking trays (wrapping everything in foil so no smoke escapes). Essentially what you need to do is suspend the partridge in hot smoke for about 5 mins. The smoke is best created by heating some oak sawdust or shavings – you can use other woods, but oak is a great place to start.
After 5 mins, the meat should be cooked – if it isn't but you think it's smoky enough, you can finish it in a hot pan with a little butter, taking care not to overcook it.
Make a simple dressing by beating the egg yolk, chopped garlic, lemon juice, mustard and chopped anchovies together in a bowl. Whisking continuously, slowly drizzle in enough oil make the dressing thicken slightly and to balance out the acidity of the lemon juice. Season well with black pepper.
Assemble your salad in a serving dish, starting with the kale, followed by some of the cheese, then the croutons and plenty of the dressing drizzled over. Adorn with the chopped warm smoked partridge meat and some more shavings of the cheddar cheese, some more anchovies, and finally place a good dollop of the dressing right on the top.
Best enjoyed with a well-chilled, crisp and dry cider.
Where to buy these ingredients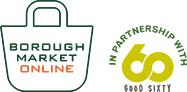 Shop online
If you can't make it to the Market, Borough Market Online offers a wide selection of our traders' produce, delivered direct to London addresses and, where available, by post to the rest of the UK. The service also includes a range of Best of Borough Market hampers and meal boxes.